Football Coach Wins Right to Pray on Field | Opinion
It's hard to imagine, but until Monday a high school coach could be fired for taking a knee to pray at a football game in America.
A coach was well within his constitutional rights to take a knee to protest the national anthem, but petitioning the Almighty was forbidden.
All that changed thanks to a man named Joe Kennedy of Bremerton, Washington—a Marine Corps veteran, a high school football coach and a devout Christian.
In 2015 Coach Joe was fired from his job as an assistant coach at the local high school after he disobeyed a school directive banning him from saying post-game prayers on the 50-yard line.
Coach Joe had been offering those prayers for eight years without incident—inspired by the faith-based football film Facing the Giants.
The coach was moved by the film's message to praise God regardless of what happened on the field.
But the school district determined that the coach's brief prayers constituted a violation of the law—separation of God and gridiron.
Nearly seven years later, the Supreme Court decided in a 6-3 ruling that Coach Joe had a constitutional right to pray at the 50-yard line after his team's games.
"The Constitution and the best of our traditions counsel mutual respect and tolerance, not censorship and suppression, for religious and nonreligious views alike," Justice Neil Gorsuch wrote for the majority.
It's been a long and arduous journey for a man who is more comfortable under the Friday night lights than in front of the bright lights of television cameras.
I wrote about Coach Joe's journey in my book Culture Jihad: How to Stop the Left From Killing a Nation. And I was glad to celebrate with him on my national radio program just hours after the Supreme Court's decision was released.
"Everybody should be celebrating that the First Amendment is alive and well," the coach told me. "It's just great to know that we won."
It's appalling that an American citizen was forced to spend years litigating the right to do on the football field what George Washington did on the battlefield.
But for decades a mob of culture jihadists waged a relentless war in American courtrooms to eradicate Christianity from the public square.
Opponents of religious freedom cloaked themselves in "separation of church and state" as they successfully banned prayers from graduation ceremonies and Nativity scenes from military bases.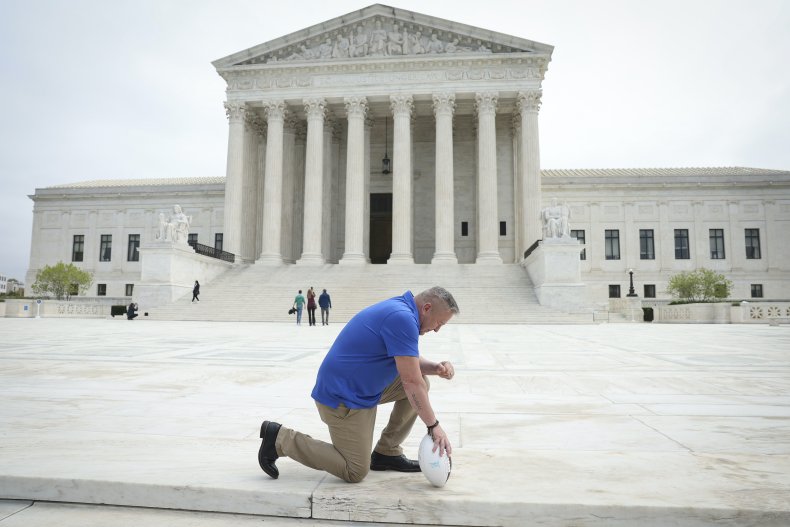 Even Justice Sonia Sotomayor embraced that argument in her dissent in the Kennedy lawsuit, the New York Times reported.
"Official-led prayer strikes at the core of our constitutional protections for the religious liberty of students and their parents, as embodied in both the Establishment Clause and the Free Exercise Clause of the First Amendment," Sotomayor wrote. "The Court now charts a different path, yet again paying almost exclusive attention to the Free Exercise Clause's protection for individual religious exercise while giving short shrift to the Establishment Clause's prohibition on state establishment of religion."
To borrow a phrase from Coach Joe's playbook, Justice Sotomayor is offsides.
The concept of "separation of church and state" is not grounded in the Constitution. The phrase first appeared in a letter written by President Thomas Jefferson to members of the Danbury Baptist Association in Connecticut.
Over the generations, far too many leftists have used Jefferson's letter as warrant to shove Christians into closets.
But those days have come to an end and people of faith may now live their lives loud and proud.
"You cannot use the Establishment Clause as a way to censor and to drive away religion just because it happens to pop up on a public school's campus," First Liberty Institute attorney Jeremy Dys told me. "Instead, the free exercise clause prevents people of faith from being fired from their job just because they can be seen engaging in religious activity."
First Liberty, a religious liberty law firm that has been representing the coach, says the Court's ruling protects more than just coaches and teachers.
The guiding principles of Gorsuch's opinion "will protect public employees across the country and anyone else who's been questioned for daring to bring their religion into the public square," Dys said.
Had it not been for Coach Kennedy, public high school coaches would still have to think twice before taking a knee at a football game.
"He stepped up to the plate and fought for almost seven years to preserve our religious freedom," Dys told me. "He could have stepped away from that fight and no one would have thought differently about him. But this man showed more bravery in the last six and a half years than most people show in their lifetime."
Generations from now, when football coaches gather in a huddle to pray with their teams, they will be able to do so because of the courage of one man from Washington state.
"I always told my players...you fight the good fight and you stand up for what you believe in, and at the end of the day, you will at least look yourself in the mirror and say, 'hey, I did what I was supposed to do,'" Coach Joe told me.
And today we live in a nation that has more religious freedom than any other time in recent American history.
Coach Kennedy faced his giants, he played to the whistle, and he won the game.
Todd Starnes is a best-selling author and national radio host. His website is www.toddstarnes.com
The views expressed in this article are the writer's own.