Force Multiplier Allies: 'Start-Up Nation' Israel Plus 'Scale Nation' Japan | Opinion
By now, highlighting the shift from the post-World War II "liberal international order" has become cliché. The effects of the novel coronavirus have laid bare the dual facts of receding U.S. leadership and the subsequent power vacuum that China is not yet poised to fill. While there is no doubt that the relationship between the world's two largest economies will drive the global order in the coming decades, there are other relationships that—while not center stage—are worth exploring further. Specifically, there is an opportunity to examine two of America's closest allies not just in relation to Washington, but also with each other: namely, Israel and Japan.
This is not to say that the latest handwringing about Washington pulling out of the World Health Organization in the midst of a pandemic, or Beijing's crackdown on Hong Kong, is unwarranted. Yet beyond the headlines, Israel and Japan have quietly been preparing for a new world order in two of the most consequential regions of the world. Especially as China seeks an economic and security deal with Iran, the time for a more robust conversation about Japanese-Israeli cooperation is ripe for American policymakers who otherwise risk missing the chance to make these two critical regional powers force multiplier allies for what comes next.
Shared history of resilience
The State of Israel was not created until almost three years after the end of World War II and has always been an exception within its region, similar to Japan, which has depended on its alliance with the U.S. to make peace in its backyard. Almost destroyed at its beginning by Arab neighbors and continuing to stand alone amidst a sea of enemies, most directly against Iran, Israel has thrived by innovating and becoming the world's "start-up nation." Japan, meanwhile, embraced defeat by sheltering under America's nuclear umbrella and security architecture to become one of the most important investors and "scale nations," with an ambitious global export economy that is the third-largest in the world.
I had the privilege of being part of a major pro-Israel American delegation to visit Japan, and was amazed to see the warmth of the private and public interactions. Accompanying this delegation to the Kiyomizudera Temple in Kyoto at sunset on Shabbat, in front of the sacred waterfall in the spiritual heart of Japan, drew parallels to the Western Wall of Jerusalem. There have long been civilizational and historical connections between the Japanese and Jewish people. During the Spanish Inquisition, a number of refugees arrived in Nagasaki. And in more recent memory, there is the example of the Holocaust heroism of diplomats such as Vice Consul Chiune Sugihara in Lithuania, who saved over 6,000 Jewish refugees by issuing visas for safe passage through Japan (though against official Japanese policy, at the time). Meeting Mr. Sugihara's son at the largest synagogue in Tokyo was a particularly eye-opening experience, as I realized the potential for these deep cultural and historical affinities that have only recently begun to surface.
The fact that anti-Semitism does not have the same historic roots in Asia as in other parts of the world means Israel and Israelis are often more welcome there than in their own neighborhood, which may explain the rising levels of Israeli tourism and affinity seen across Asia—and increasingly, in Japan. The more contemporary phenomenon of "Jewish Buddhism" in America has led to an increased interest in all facets of Japan. The cross-pollination of Israel and Japan across sectors is now felt widely, creating some of the most ardent supporters of Japanese arts and culture in America. Whatever the cause, there is a need for more robust political engagement on Asia—and specifically, on Japan—within America's pro-Israel community to help shape this particular geopolitical moment. The relentless evolution of technology has already made Israel an Indo-Pacific player; now, it needs to start acting in a responsible way to curb China's aspirations in this space. The U.S. can, and must, be the facilitator, beginning with Japan.
Opportunities for collaboration
With neither nation rich in natural resources, each has heavily invested in cultivating human capital. As a result, both Japan and Israel have become innovation hubs that, when combined with America's capacity, could truly be dynamic in both the public and private sectors. Thanks to the innovation powerhouse that Israel has become, it is a natural spark plug for the American private sector—particularly in Silicon Valley, which, like Tokyo, increasingly looks to Tel Aviv for inspiration.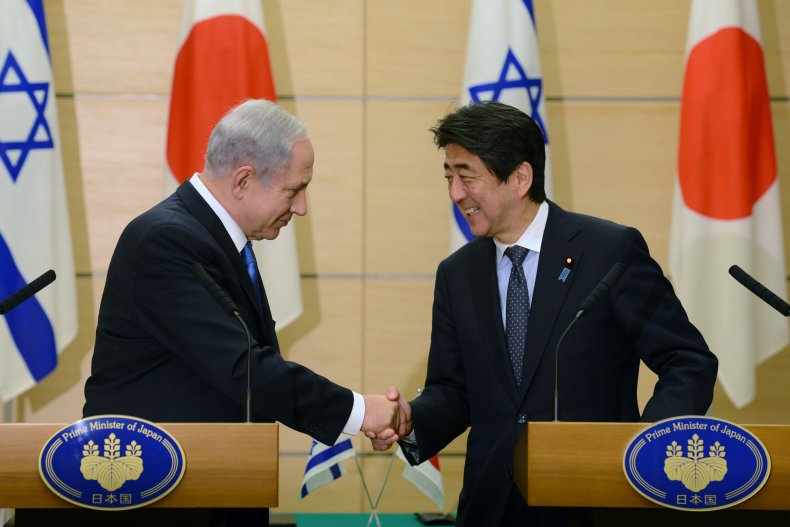 Both Israel and Japan have flourished in the shadow of the U.S. while pragmatically engaging first, the Soviet Union, and now, China, to assert their own national interests. However, in this geopolitical moment, they are increasingly being asked to choose between Washington and Beijing. The security alliances and cultural affinities that link each nation to America, as well as the economic necessities of engaging China—not to mention Japan's geographic proximity—all underscore the complexities of these alliances.
In a world where the U.S.-China relationship will ultimately define geopolitics, this type of unlikely and unusual alliance between Japan and Israel is critical for the future. The time has never been more necessary to bring these individual regional allies into a more flexible and universal alliance structure. This is essential to deal with an ascendant China and help mitigate against Chinese efforts to divide and conquer. With Israel, this is most obvious in Beijing's investments in infrastructure, such as the Port of Haifa; and with Japan, through economic outreach. Independent of Washington, both of these stalwart American allies have been engaging more frequently with each other, thanks to the challenges they face in their own neighborhoods. The Japan-Israel Free Trade Agreement has received scant attention—not to mention the significant investment and trade between the two countries that is far more strategic than current volume would suggest.
Institutionalizing Japan-Israel-U.S. relations
The unique friendships that have flourished between President Donald Trump and Prime Ministers Benjamin Netanyahu and Shinzo Abe, respectively, have allowed for a new level of engagement in each bilateral arena that has shocked other American allies. Jerusalem and Tokyo have, in turn, pursued more engagement with regional American allies. An Indo-Pacific led by the U.S.-Japan alliance, and a "new" Middle East led by the U.S.-Israel alliance, will only go so far without important partners from India and Australia to Saudi Arabia and the UAE—all of whom both Japan and Israel have been engaging with in new and innovative ways.
Politically, Netanyahu has used his close relationship with Trump to leverage his own foreign policy, including harsher rhetoric on enemies such as Iran and Syria, and even to advance his warming relations with the Sunni Gulf states. Abe, meanwhile, has become a conduit for diplomatic outreach to Russia's Putin and a sounding board for other G7 leaders trying to deal with the unorthodox American president. However, the most important, and perhaps more consequential, relationship is that which has flourished between Netanyahu and Abe as a result of enhanced trilateral cooperation with Washington. This should not be taken for granted. While still largely residing at the rhetorical level, with the proper framing, private sector engagement and investment, it could produce real fruit for the future of international relations.
The time to engage is now. All three leaders face tough domestic political outlooks for their respective futures—Netanyahu's corruption scandal and multiple election scenarios, Abe's low approval ratings and the upcoming U.S. presidential election in which Trump now badly trails in the polls. Not personalizing or politicizing these trilateral relations, and enhancing Israel-Japanese relations, would benefit all of us—in America specifically, and throughout the free world, more broadly.
Ultimately, in democracies like the U.S., Israel or Japan, engagement can be driven not just by heads of state, but also by the private sectors and societies of each nation—which is why U.S.-Israel and U.S.-Japan relations have flourished. It is now time to go beyond the bilateral and move on to the trilateral, where there are synergies in specific policy and sector areas. Given that so much of Washington's think tanks and New York's investment communities are established along traditional bilateral lines, reimagining institutions and opportunities to expand the thinking into innovative trilateral opportunities will go a long way. Japan can benefit from Israel's innovative and entrepreneurial culture while also serving as a bulwark against China, this century's preeminent geopolitical threat to the free world. With the perceived U.S. "withdrawal" from the Middle East, China increasingly sees an opening to insert its wallet and weight, as shown by recent discussions not just with Iran, but also with Saudi Arabia on a nuclear program that could have calamitous implications.
There are clear national security implications to China's aggressive actions, but the problems cannot be solved by governments alone. While it may not be as obvious, business leaders and tech entrepreneurs in all three nations have already been hard at work to create a new reality where Israel and Japan, as the "start-up nation" and "scale nation," respectively, complement one another and lead together in an unprecedented way. It is imperative that the U.S. serve as a conduit and encourage these trilateral ties as fulsomely as possible.
Joshua Walker (@drjwalk) is president and CEO of Japan Society. Follow @japansociety.
The views expressed in this article are the writer's own.