Ford will celebrate 75 years of its F-Series trucks with a new Heritage Edition model that celebrates the model's roots. The F-Series is traditionally America's best-selling pickup truck, besting the Chevrolet Silverado, GMC Sierra, and Ram Trucks lineups.
The Detroit-based automaker brought the F-Series to market first in 1948, slotting it above the Ranger as a full-size pickup. Today, the modern F-150 remains above the Ranger in the company's lineup, and both are bigger than the compact Maverick pickup truck. The F-150 is smaller than Ford Super Duty trucks.
The 2023 Ford F-150 Heritage Edition combines classic looks with modern technology. It starts life as an F-150 XLT, with the Heritage Edition designation adding an A-B-A exterior paint pattern that is reminiscent of the style of trucks in the 1970s and '80s.
The A color covers the roof and pillars while the B is featured on the midsection. A then repeats on bumpers, lower doors and lower body.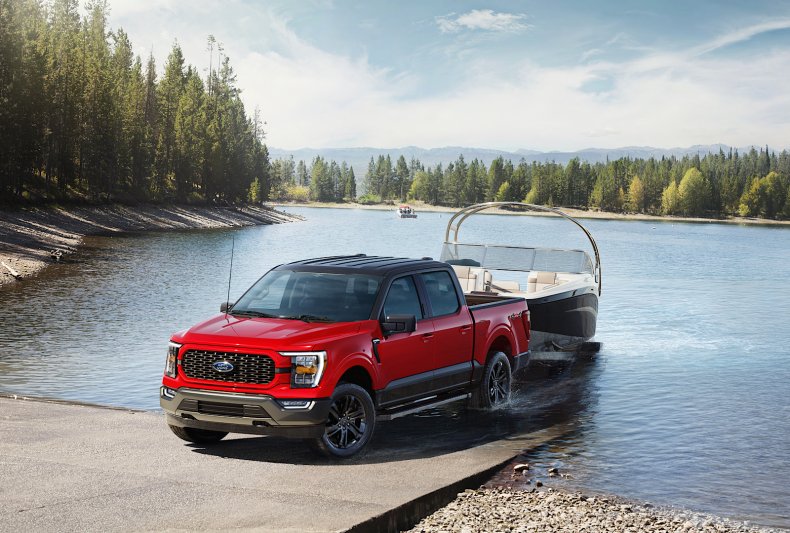 Photos provided by Ford show that the model has a grille unlike any of the F-150 trim levels offered for sale in 2022. It also shows color-matched side mirrors and a darkened version of the 17-inch silver painted aluminum wheels offered on the 2022 F-150 XLT.
Ford will offer the model in five color options: Race Red midsection with Carbonized Gray upper and lower; Atlas Blue midsection with Agate Black upper and lower; Antimatter Blue midsection with Carbonized Gray upper and lower; Avalanche midsection with Agate Black upper and lower; and Area 51 midsection with Agate Black upper and lower.
Only some of those colors are currently offered as part of the F-150 option list. Some are offered on other Fords, including the 2022 Ford Bronco.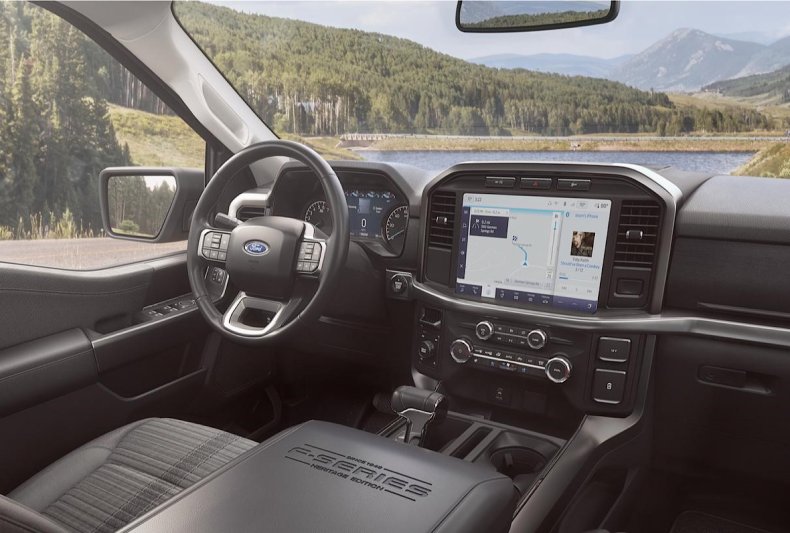 The interior of the 2023 F-150 Heritage Edition features slate gray and black colors. It has distinct seat trim covers with unique inserts. An embossed console lid commemorates the model's spot in Ford history. A white "75 years" logo calls the upper center windshield home and is featured on the infotainment touch screen's startup animation.
Pricing will be available when Ford's order banks for the 2023 F-150 Heritage Edition open mid-July, with production starting this fall. Orders and deliveries are managed by Ford dealerships in the U.S.
For the 2022 model year, Ford offered the F-150 in XL, XLT, Lariat, King Ranch, Platinum, Tremor, and Raptor grades.
The 2022 Ford F-150 XLT starts at $38,515 before any destination and delivery charge is added in. It is expected that the new F-Series model will be priced above that.