Ford F-150 Lightning, PowerBoost Hybrid Can Charge Up Other Electric Vehicles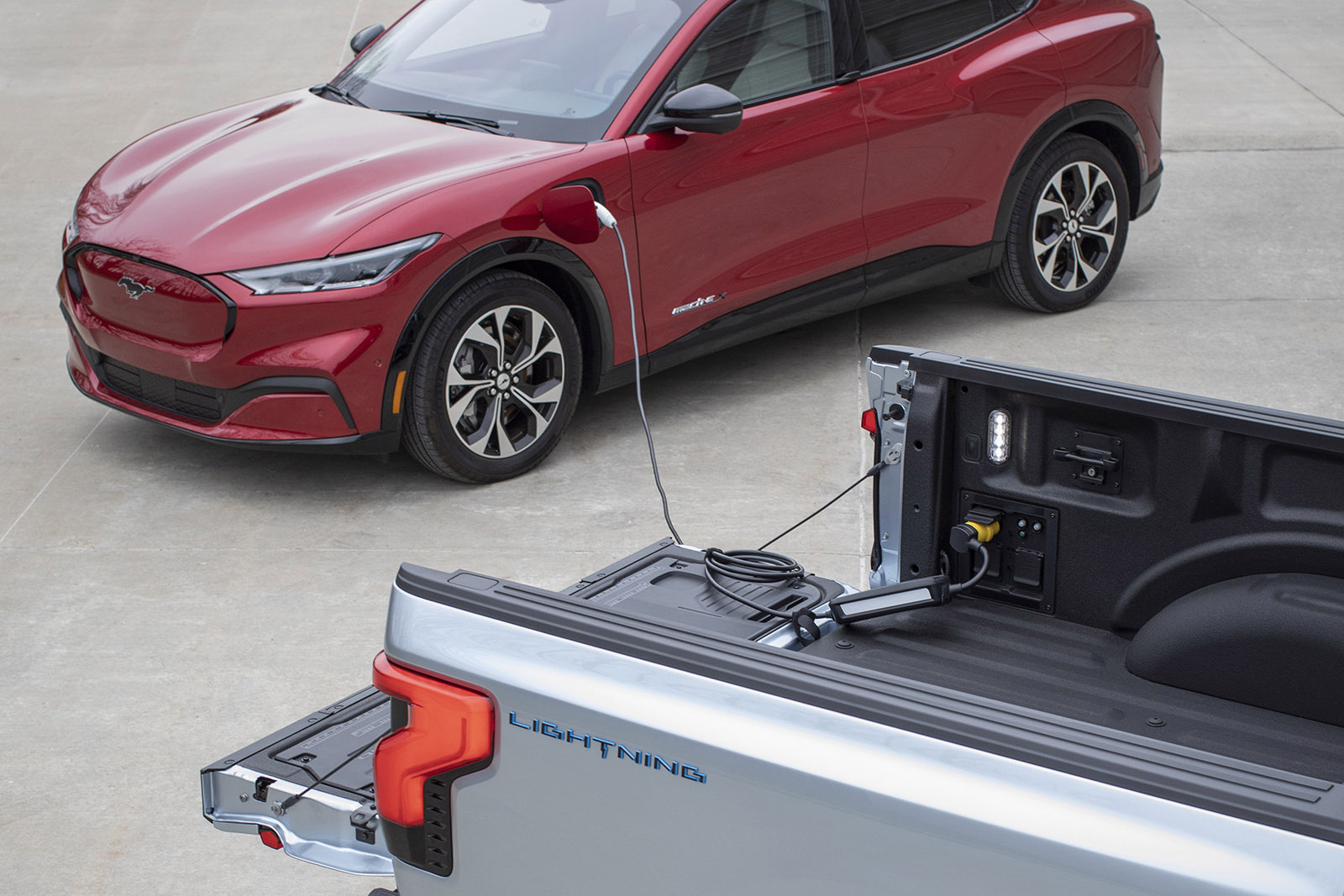 Ford's new F-150s don't have to keep their power all to themselves. They can share it. The two variants of America's best-selling truck have the capability to supply electric vehicles (EVs) with a charge when they run low.
The Ford F-150 Powerboost Hybrid and all-electric F-150 Lightning have the ability to share their on-board electricity with electric vehicles created by Ford Motor Company and other manufacturers.
Electrons flow via the trucks' Pro Power Onboard unit. The technology basically turns equipped trucks into mobile generators connecting tools, microwaves, televisions, etc. to the vehicle's power source.
Those that care to share can utilize the Ford-exclusive Pro Power Onboard 240-volt outlet on the trucks to begin the power flow to other vehicles.
"There are hundreds of benefits to Ford Pro Power Onboard – and we've added one more," said Patrick Soderborg, Ford e-powertrain systems engineer. "Taking power on the road or having extra energy at home brings a lot of convenience and security, and using the F-150 Lightning or F-150 hybrid to top off a friend's electric vehicle or help them during an outage is one of the many new benefits our customers gain from our Built Ford Tough electrified trucks."
Ford offers its Pro Power Onboard in four charging strengths across the automaker's trucks lineup: 2.0, 2.4, 7.2 and 9.6 kilowatts. The 9.6-kilowatt offering is new to the roster and will become official when the first Lightning rolls off the assembly line in 2022, a full year ahead of when the electric version of the Chevrolet Silverado and GMC Sierra are slated to come to market.
Vehicle-to-vehicle charging capability is limited to F-150 Lightning and F-150 Powerboost Hybrid trucks with the optional 7.2 or 9.6 kilowatt power flow. Owners can utilize the Ford Mobile Power Cord charger to deliver Level 2 charging.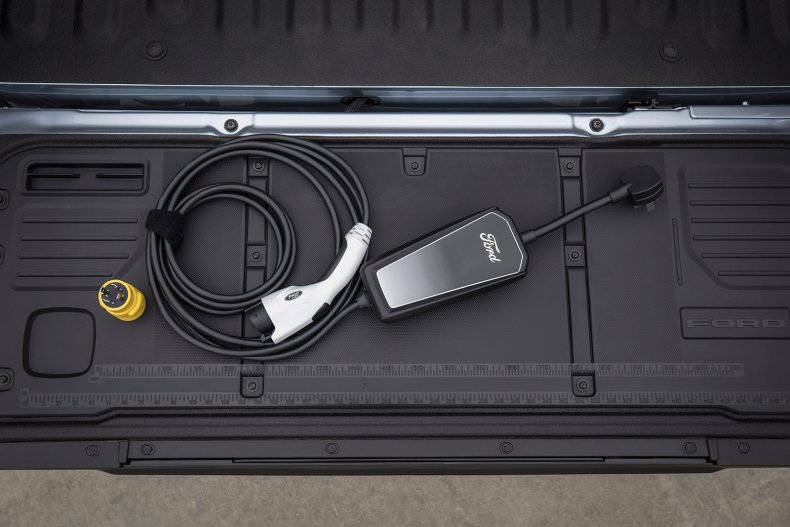 The automaker estimates that when charging under optimal conditions, its Mustang Mach-E with an extended-range battery and rear-wheel drive can gain 20 miles of range per charging hour. Hooking up an F-150 Lightning to either of the trucks gains 13 miles of charge per hour and a Ford E-Transit low-roof cargo van will get 10.
Hook up capability is extended to EVs from any manufacturer that utilize a SAE J1772 charge port.