GMC Releases First Look at All-Electric Sierra EV Pickup Truck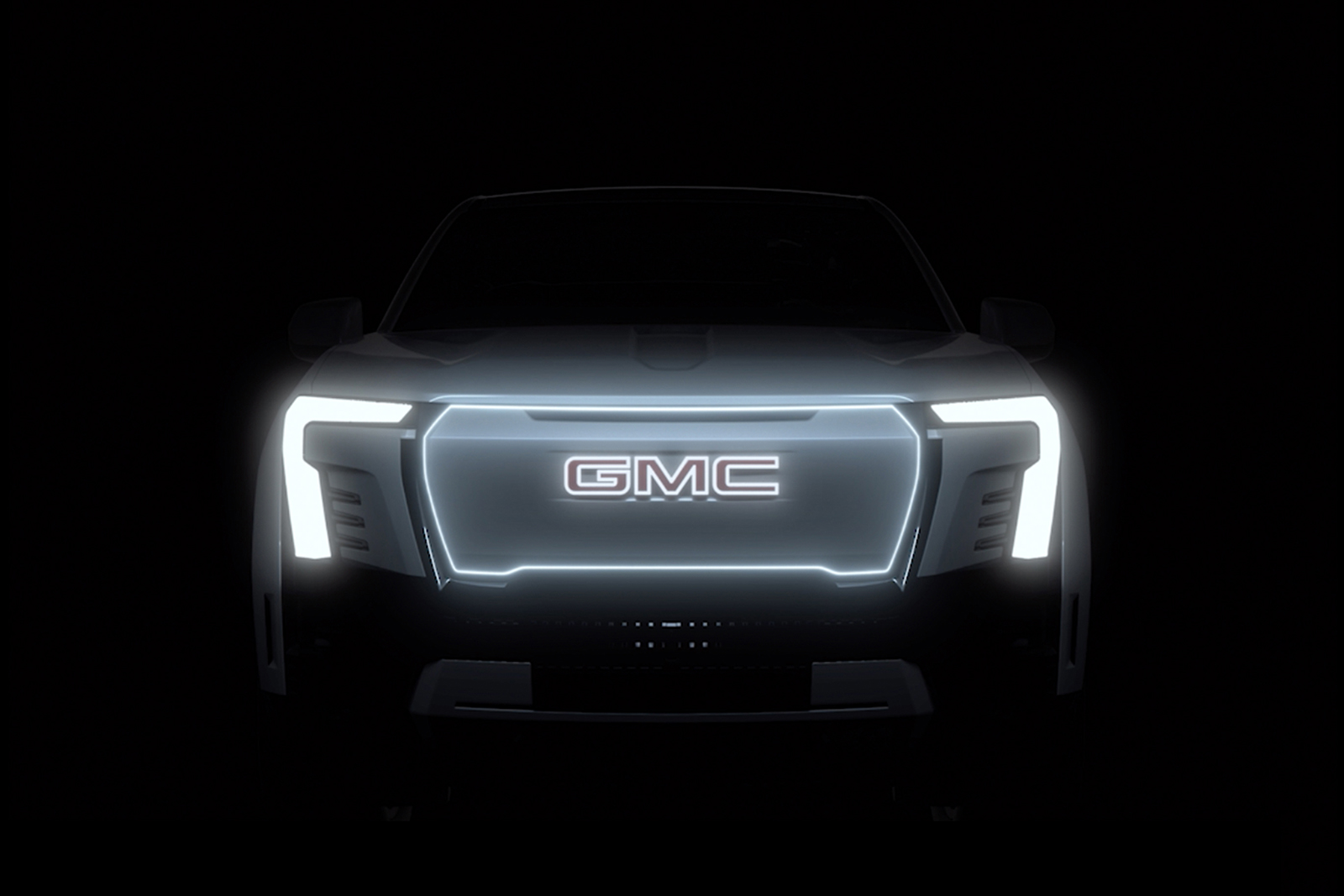 GMC will debut an all-electric, battery-powered version of its Sierra pickup truck in 2022. The company teased the truck for the first time this week with a short YouTube video.
The video showcases the new GMC product's unique lighting sequence. It shows an illuminated shield-like front where the grille would traditionally be, with a backlit GMC logo at its center. The truck's headlights and daytime running lights look similar to those on 2022 GMC Sierra models.
The Sierra electric vehicle (EV) will join the GMC Hummer EV, GMC Hummer EV SUV and Chevrolet Silverado EV in the U.S. market.
All of the General Motors models are propelled only by electric motors that are paired with a large battery. They need to be plugged in to receive a charge, which gives them the ability to go hundreds of miles between refueling stops.
Chevrolet will debut the electric version of its Silverado at CES in January. At launch, the Silverado EV will be propelled by energy courtesy of a General Motors Ultium Platform battery pack, located in the floor of the model. The Sierra, traditionally the Silverado's development twin, is expected to share a similar powertrain setup in its battery electric version.
GMC will only sell the electric Sierra in the Denali trim level.
The Sierra battery electric vehicle (BEV) is not the only news that GMC has made lately regarding the truck. The premium arm of General Motors will begin producing new AT4X and Denali Ultimate trim levels of the regular duty Sierra pickup for the 2022 model year.
Some GMC Sierra trucks will be available with Super Cruise, the company's hands-off driver assist technology.
At the Deutsche Bank's AutoTech Conference last week, Doug Parks, executive vice president for global product development, purchasing and supply chain at General Motors confirmed the product timeline for the forthcoming battery electric Chevrolet Silverado EV.
The Silverado EV is expected to reach dealership lots in 2023. Production will begin earlier that year. Sierra EV sales are anticipated to begin in a similar timeframe.
That timeline gives Ford a one-year head start on production of its take on an electric truck, the F-150 Lightning.
Three battery electric pickups and the Hummer EV SUV will be joined in the General Motors EV portfolio by the Cruise Origin and Cadillac Lyriq.
The GMC Sierra EV will be revealed next year and be assembled in General Motors' Factory ZERO Assembly Plant in Detroit and Hamtramck, Michigan.