Ford F-150 Lightning's Mega Power Frunk Opens Up New Pickup Truck Storage Opportunities
The Ford F-150 is a versatile truck and the newest iteration of the model looks like it will be even more so. The 2022 Ford F-150 Lightning will have the largest front truck "frunk" in the truck industry but it's not just the space that makes it wow.
The all-electric truck's frunk adds 400 liters (14.1 cubic feet) of cargo space to the model. It has a maximum payload capacity of 400 pounds. That's more space and than the frunk on the Rivian R1T offers.
Dubbed the Mega Power Frunk, the space is designed to fit the wide variety of needs of the customers that purchase a 2022 F-150 Lightning. During the design process, Ford went directly to potential customers to find out how they would want to use the space, and refined their designs based on the feedback.
"Since the frunk was a new space, all the truck customers we interacted with got really excited about what it could be and what use they could get out of it in their daily lives," said Greg Ardisana, design strategy director, passenger vehicles at Ford. "We needed to take what they wanted and find a way to deliver on it."
Responses included the ability to store and lock multiple golf bags safely, haul bags of concrete, and charge electric tools. Customers wanted the space to be illuminated, have electrical outlets, transform into a work surface, and have a height that was optimized to make the space truly usable.
The result of the input is a Mega Power Frunk that is not symmetrical but fits two golf bags in a secure way. The space is rubberized, durable, and easy to clean thanks to a built-in drain. There are truck bed lamps installed in the hood, which allows their illumination to penetrate the space no matter what the cargo situation.
Four electrical outlets and two USB chargers have been instead and deliver 2.4 kilowatts of power. That's enough to power crockpots and charge smartphones and tablets while you tailgate.
The F-150 Lightning's waterfall grille was integrated into the hood to make the possibility of waist-height cargo space access possible.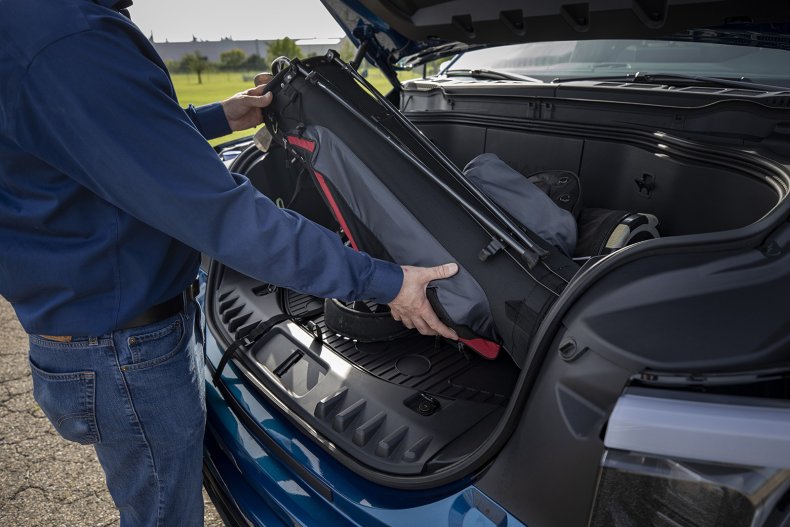 Ford has installed a power open and close system for the frunk that includes six different ways to open it including via the FordPass app and a button on the grille.
The 2022 Ford F-150 Lightning pickup truck will be available starting in Spring 2022.