On Monday, Ford debuted a new V8-powered truck. The 2023 Ford F-150 Raptor R is an anomaly in today's fresh vehicle landscape. Not only is it not electrified, it's not focused on aerodynamic efficiency, autonomous drive capabilities or a reconfigurable cabin space.
There's still a place for vehicles like the F-150 Raptor R, Tony Greco, program manager at Ford Motor Company, told Newsweek.
His employer recently split their new vehicle operations into two divisions, Ford Blue and Ford Model E. The Blue division is responsible for internal combustion engine-powered model operations while Model E takes the lead for electric vehicle development.
"If you look at the tenets that are associated with Ford Blue ... One of the things that Jim Farley has talked to Ford employees about is creating great products that our customers want, and providing great customer experiences."
The 700-horsepower F-150 Raptor R delivers a visceral, petroleum product-burning experience, making a high-performance V8 engine available in the Raptor pickup truck for the first time in its third generation, answering the prayers of many automotive forum posters.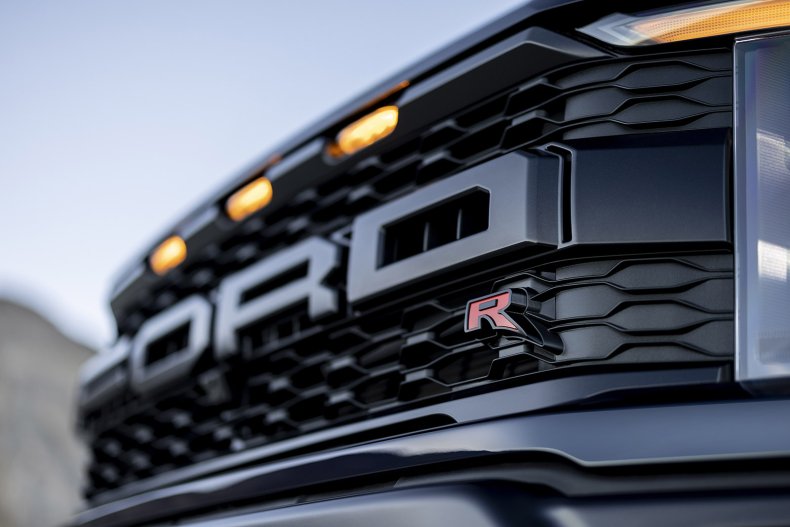 "If you look at what Raptor's been doing, really since the very beginning, it isn't just about putting big tires and ... big motors, and make the truck wider because the lower center of gravity is going to make you faster in the desert," Greco said.
"It certainly is about that, but it isn't about that, if you know what I mean.
"It's about more of the experience that we provide, that brand Raptor and the experience it provides the customer. It's about that.
"Raptor's been doing that for over a decade and this Raptor R is the next thing in the journey."
To get to F-150 Raptor R, the company started its formal path toward production 36 months ago. In the beginning, the team had some assumptions they were working with, based on lessons learned from developing the third-generation F-150 Raptor.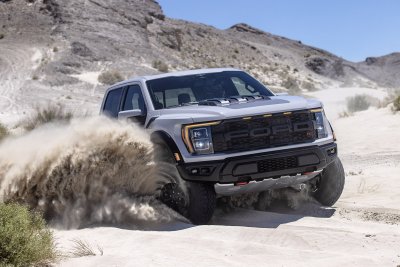 "I think we went [with] the assumption that we were going to be able to use a lot of the parts that we had," Greco said, "and then once we got the truck in to the desert with the extra horsepower that comes with this monster, we then figured out that some parts probably weren't going to work."
Specifically, Greco points to the truck's axles. "We could have gone forward with the axle system that we assumed at the beginning, but in the end, I think that the right decision was to make the changes that we did.
"You take it to the desert, and it was 120 degrees that day ... the ambient temperature and the truck tell you something different. And then we had to react."
The F-150 Raptor R wears a new front axle with a high-strength carrier casting and an aluminum-ribbed structural cover, which help it better manage the truck's added torque. A larger-diameter aluminum driveshaft is also standard.
The powerful, growling, fuel inefficient, husky Ford F-150 Raptor R is able to be ordered today, in all its Ford Blue glory, starting at $109,145.