10 Films You Probably Forgot Were Christmas Movies—and Where to Watch Them
We all have those films without which it just does not feel like Christmas. For some it is the feel-bad/feel-good rollercoaster of It's A Wonderful Life, for others it is the hyper-violence of Home Alone that gets them in the Christmas spirit, while for others the holidays do not really begin until The Muppets confirm "it feels like Christmas."
The problem with watching the same films year in, year out is that it can film samey. Sometimes, you just want something new, something that you may not have considered yet to be a Christmas movie.
Of course, everyone's definition of what exactly Christmas movies are differs from person to person, explaining how we manage to have the "is Die Hard a Christmas movie" argument every single year. For some, it needs to have a general Christmassy feeling of festive cheer, while for others a few snowflakes are enough to turn something into a seasonal classic.
For this article, we are taking the most traditional definition of a Christmas film. Every film on this list has at least one scene set at Christmas. And while not every movie goes full tinsel, mistletoe and Santa in his sleigh, and all might not leave viewers with big Christmassy feelings, all of them could find a place in your December rotation.
10 Movies You Forgot Were Set at Christmas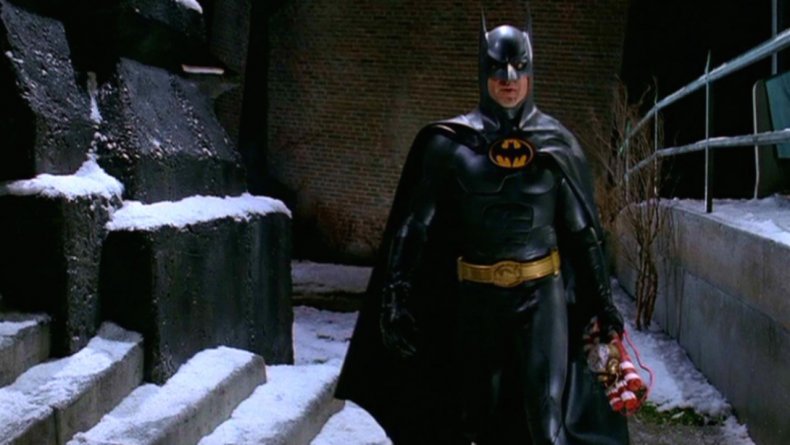 Batman Returns
Gotham is not really a place that makes you think of festive cheer, and Tim Burton makes the most of the contrast between the darkness of Gotham and the lightness of Christmas in his second Batman movie. The whole film is set at Christmas, with Gotham covered in snow and the streets decked out with trees, lights and candy colors. A tree-lighting ceremony is even a major plot point. Just do not expect The Penguin's heart to grow three sizes by the end...
Where to watch: HBO Max
Die Hard 2
So much time is spent arguing about whether Die Hard is a Christmas movie that no one stops to think that the second film is equally festive. Die Hard 2 (which had the amazing tagline "die harder") takes place on Christmas Eve, when terrorists take control of an air traffic control tower at an airport. And let's just say that when John McClane gets his hands on them, they do not discover the true meaning of Christmas at the end.
Where to watch: The Roku Channel and IMDb TV
In Bruges
Colin Farrell plays in one of the worst Christmas films of all time, 2014's Winter's Tale, but one of his best movies is also set at that time. Farrell's Ray is stuck in Bruges, decorated in full European festive regalia. If only Ray's time in Bruges had ended after a few eggnogs and a little Christmas shopping.
Where to watch: Starz
Jaws: the Revenge
Pretty much everyone agrees that the original Jaws is the far superior movie to 1987's The Revenge (considered one of the worst films ever made), but in one respect it does have the original licked: It features a lot more Christmas scenes, with the film set over one Amity Island yuletide. The beginning even starts with someone getting their arm bitten off by a shark, only for their screams to be drowned out by carol singers.
Where to watch: FuboTV and AMC+
Lethal Weapon
Director Shane Black is known for setting his scripts and films around Christmas, with the screenwriter and director responsible for such festive fare as Kiss Kiss Bang Bang, The Long Kiss Goodnight and Iron Man 3. It all began, however, with this Mel Gibson megahit, which ends with Riggs and Murtaugh sharing a Christmas day meal.
Where to watch: HBO Max and Peacock
Rent
Rent ran all year round across 12 years and over 5,000 performances on Broadway. And yet at its heart it is a Christmas story, which begins at Christmas Eve, features carol singers in a number of its songs and even has one called "Christmas Bells." "Seasons of Love" is also one of the few songs about New Year's.
Where to watch: HBO Max
Rocky IV (and Rocky V)
It's the old Christmas routine: You wake up, open your presents, have a meal, and then get into the ring for a 15-round match with the Soviet Union's most dangerous boxer. That, at least, is what Rocky Balboa finds himself doing in Rocky IV. Then, he finds himself celebrating Christmas with his family (including a visit from "Santa") in Rocky V.
Where to watch: Both films on HBO Max
Sleepless in Seattle
For some reason, Sleepless in Seattle feels either like a fall movie, (perhaps because people confuse it with the very autumnal poster for When Harry Met Sally), or a Valentine's Day movie due to its ending. But it begins at Christmas, with the plot kicking off after Tom Hanks son phones a radio station to say his father is lonely during the holidays.
Where to watch: Hulu, Paramount+ and Epix
Trading Places
The 80s comedy classic starring Dan Aykroyd and Eddie Murphy takes places over Christmas to New Year, with Aykroyd even wearing one of the rattiest Santa costumes ever committed to the screen in one key scene.
Where to watch: Starz
Toy Story
In terms of time on screen, Toy Story only spends mere minutes at Christmastime, right at the end of the film. However, it is a key scene: it introduces Mrs. Potato Head and Andy's dog, after all. And what says Christmas more than toys?
Where to watch: Disney+