Former Ambassador Says Pompeo's Closeness to Trump Led Him to 'Give Up the Integrity' a Secretary of State Needs
Former U.S. Ambassador James Melville questioned Secretary of State Mike Pompeo's "integrity," slamming him for being loyal to President Donald Trump over the national security interests of the country.
Melville previously served as the top U.S. diplomat to Estonia but resigned last year in protest of Trump's statements criticizing the European Union and NATO. He strongly criticized Pompeo's leadership on Wednesday in an interview with CNN. Although Melville pointed out that many diplomats initially welcomed Pompeo's appointment as secretary of state, he said that positive sentiment was misguided.
"It's very clear that Mr. Pompeo's need to be close to President Trump and support him in every way has caused him to give up the integrity that I think is an essential element to being a successful leader," the former diplomat said. Melville asserted that Pompeo has manipulated "everything that is said in ways that will flatter the president," which he argued was "antithetical to the best national security interests of the United States."
"That is the fundamental function of the State Department and the Foreign Service—is a national security institution," he pointed out. "This is the most serious business.… Everything is at stake in—regarding our reputation, our effectiveness, our power, our influence, what we can get done in the world.… Integrity is essential to being successful."
"I'm afraid that Secretary Pompeo has abrogated any claim that he has to be a leader of integrity," Melville stated. Asked to describe the secretary of state's behavior, Melville responded: "craven."
As Trump faces an impeachment inquiry, Pompeo has continued to defend the president. He has been cited by multiple witnesses testifying in the probe, appearing to reveal that he was intimately involved in the Ukraine scandal. The secretary of state confirmed publicly last month that he was on the July 25 call between Trump and Ukraine's President Volodymyr Zelensky.
Despite the White House's stated position that it will not cooperate with the impeachment investigation, a parade of State Department officials, diplomats and national security experts have voluntarily testified before congressional committees involved with the probe. Their depositions have undermined Trump's and Republican's defenses against mounting criticism, confirming that their was clearly a campaign to pressure Ukrainian leaders to investigate the president's political rivals. Additionally, they have confirmed the existence of a quid quo pro, alleging that Trump temporarily withheld nearly $400 million in military aid to Ukraine, which was approved with significant bipartisan congressional support, in order to pressure the country to open the desired probes.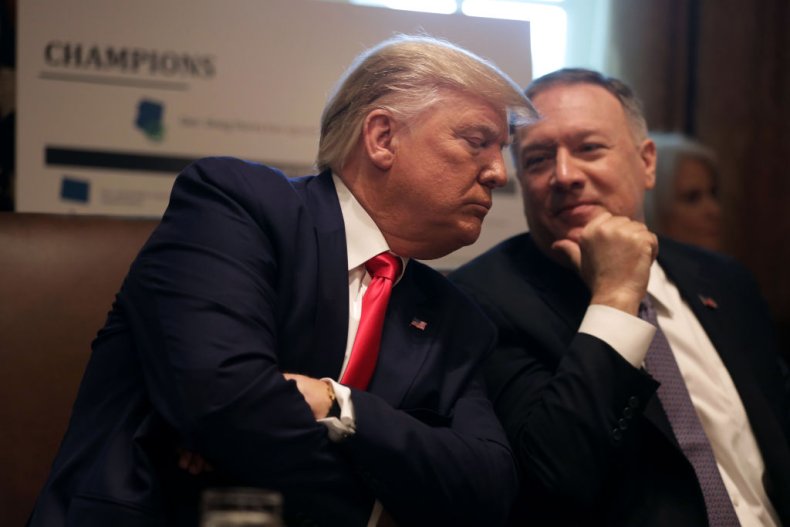 When Melville resigned last summer, he asserted that he felt it was his duty to do so as he could not support the president's foreign policy toward European allies.
"Having served under six presidents and 11 secretaries of state, I never really thought it would reach that point for me," he wrote in a private message that was obtained and published by Foreign Policy at the time.
"For the President to say the EU was 'set up to take advantage of the United States, to attack our piggy bank,' or that 'NATO is as bad as NAFTA' is not only factually wrong, but proves to me that it's time to go," he explained.