Former 'American Idol' Producer's New Initiative Aims to Raise Awareness of Everyday Racism
Ahmaud Arbery. Breonna Taylor. George Floyd.
Theirs are just three of the names that became ingrained in America's plight for racial justice in 2020. But for every name chanted by protesters fighting for an end to systemic racism, there are countless others whose day-to-day experiences with racism are overlooked.
That may be the reality of race in the U.S. now. But Ron DeShay, a former American Idol producer and the current CEO, president and founder of World of Dreams Entertainment Group, believes there's a way to change course. One way forward is to help Americans of all backgrounds understand that racism doesn't only exist in the incidents that gain widespread media attention, but that it can pop up at any time and in any place, a direct result of racism's systemic roots in the United States.
It's a message that DeShay says millennials and Generation Z-ers are best equipped to carry forward through A Better World Project, an initiative he's launching that aims to tackle everyday racism head on. The idea for the project came to him in response to the deaths of Arbery, Taylor and Floyd that came at a time when most of the world was on pause due to the coronavirus pandemic.
"When those things happened, there was nothing really going on in the world to detract from the attention," DeShay told Newsweek. "All of these conversations that a lot of Black people have been having for years or decades or centuries even—all of that, what we've been trying to express or trying to say, it's like the world finally heard us."
With years of experience in the entertainment industry, music was a natural component for DeShay to bring into the project. But he soon realized that it would take much more to inspire the kind of impact he sought.
"We really began to understand that it was going to take every sector of society coming together to deal with this issue of racism and ending it," he said. "The institutionalization of it has worked its way into every sector of society. And so the only way to eradicate it is to get into those places."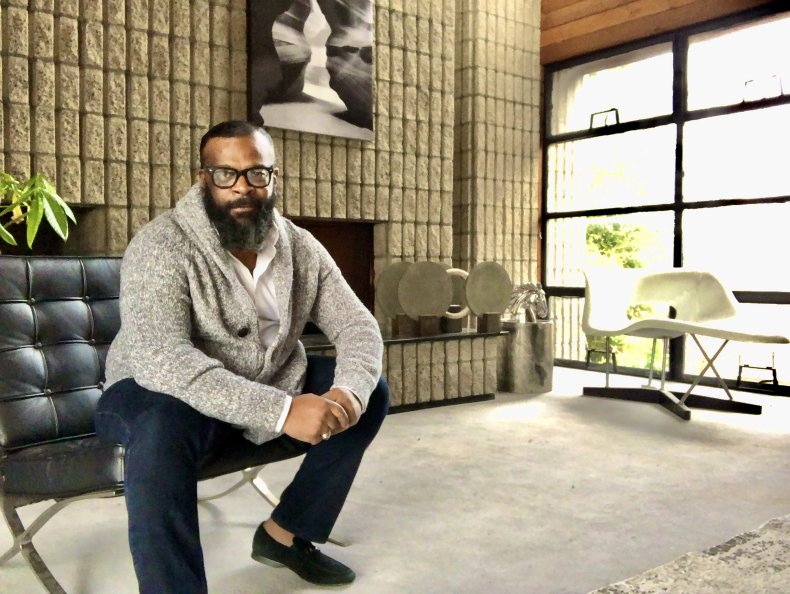 DeShay said he began speaking with business leaders, celebrities, professional athletes and others to gauge their interest in participating. He also spoke with Terry Hamm, the director of the Texas Association of Student Councils. DeShay, who was once the student council president at Bastrop High School in Bastrop, Texas, described his involvement in student council as "vital in helping me to be the leader that I am today, to learn how to dream."
He said that he thought student council organizations across the U.S. could be perfect for guiding A Better World Project's unifying challenge. When he spoke with Hamm about his idea, she agreed.
"My initial response was excitement for the chance to provide this opportunity to students in the Texas Association of Student Councils (TASC)," Hamm told Newsweek. "We talk about civil discourse. We say that student councils should represent and be representative of our entire student body. We say that school spirit means creating a school where students and staff want to be. None of that is possible if we do not address racism, and I believe our students are more than ready to take on this challenge."
Hamm said she is spreading information about A Better World Project with other student council organizations in Texas, as well as through her role as a board member of the National Association of Secondary Student Council Executive Directors.
"I feel a little like one of Santa's elves," Hamm said. "I get to help send this gift to students across the U.S."
The student council organizations that choose to participate in the project will be tasked with pitching a challenge for A Better World Project to adopt. The idea of having a unified challenge is somewhat inspired by the 2014 ALS Ice Bucket Challenge, although DeShay was hesitant to explore other examples of potential challenges for fear of limiting students' creativity.
"We're giving them some light framework to work within. But we really, really want to get inside their minds, and we really want to know what's coming from them in terms of what they feel would be a relevant way to convey this message and to establish a challenge for this particular movement," DeShay said.
Student council groups will submit their challenge ideas through January, after which students across the country will vote for their favorite pick at the district, state and national levels, DeShay said. "The winning high school organization that comes up with that official challenge will be the high school organization that represents us in all of our social media and PR to issue the challenge to the United States and the rest of the world," he said. "That's a part of our strategy, is getting millennials and Gen Z involved in this at a grassroots level."
"We value student voice, but more than that, we want students to have a seat at the table," Hamm said. "This gives them the opportunity to make their voices heard, to be true civic-minded agents of change.
"This generation is creative and cares, is empathetic, and is truly interested in civic engagement," Hamm continued. "I want them to realize just what kind of impact they can have if we unite for the common good."
In the meantime, musical artists will be preparing for a telecast to promote A Better World Project, which DeShay said is tentatively set to air in April and will mostly be pre-recorded due to restrictions resulting from the coronavirus pandemic. Well-known musicians will participate, but the broadcast will also provide an opportunity for aspiring songwriters to submit songs as part of a new artist contest. Songs must "address the issue of racism but also bring a message for a way to get to a place of healing and to a place of unity in the country" in order to qualify, DeShay said. The winner will be invited to perform during the broadcast, he added.
At every level, A Better World Project's goal is "to get people involved in this process of bringing an answer forward," DeShay said. "I think sometimes we rely too heavily on external sources, when sometimes the answers to what we're looking for can be right there within the people."
Interspersed throughout the broadcast will be an awareness campaign highlighting stories of everyday racism. "We want to bring awareness to a lot of these things that are still going on so the conversation can happen," DeShay said. "I've talked to so many of my counterparts who are not Black, and it's been amazing during this time to find out how much they don't know. It's amazing to find out how much they have no idea of what the plight of Black people in this country has been—and, to a certain degree, still is."
DeShay said he is approaching A Better World Project with the understanding that it'll take more than one broadcast in the spring of 2021 to bring about change. "I would love for 2021's broadcast to be a one-off, but we know that's not going to address the culmination of what racism is in this country," he explained.
Looking five years into the future, DeShay said he hopes there will be fewer stories like Arbery's, Taylor's and Floyd's. Hey said that "as time goes on, the measuring stick will be: How is this country adjusting to the plight of Black people or people of color or marginalized people in this country? How is this country adjusting to being aware that there does need to be a change and that there does need to be policies put in place to ensure that these things are not happening?"
DeShay is also hoping that his project will inspire real change by helping people realize not just the frequency with which racism occurs, but the impact it has on those who experience it.
"That's my goal: that racism becomes unpopular," he said. "That there becomes such an awareness of what this does to people."