Former 'Apprentice' Contestant Summer Zervos Drops Defamation Lawsuit Against Trump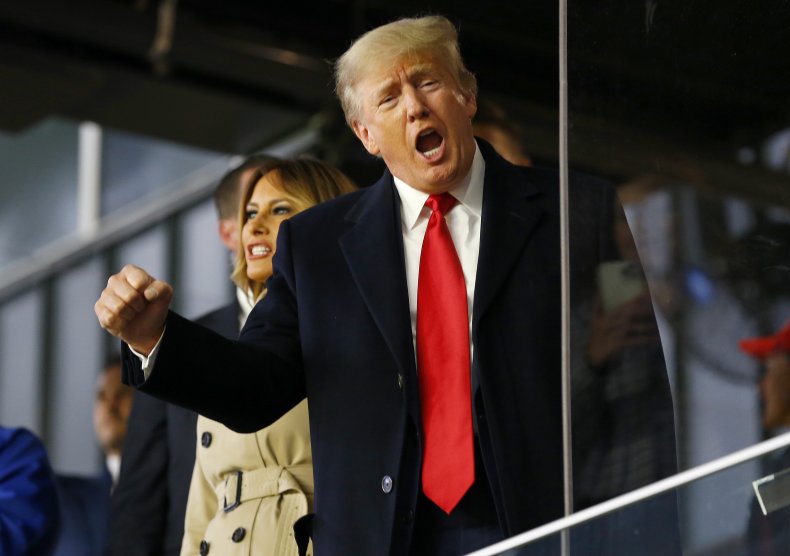 Former Apprentice contestant Summer Zervos, who filed a defamation lawsuit against former President Donald Trump five years ago, has dropped the suit without any compensation or an apology for alleged sexual harassment from Trump.
Zervos accused Trump of kissing and groping her without her consent at a California hotel in 2007, the year after she appeared as a contestant on the fifth season of the Trump-hosted reality show. She sued Trump for defamation in January 2017 after he called her allegations "outright lies."
"After five years, Ms. Zervos no longer wishes to litigate against the defendant and has secured the right to speak freely about her experience," Zervos' attorneys Beth Wilkinson and Moira Penza said in a statement on Friday shortly after New York Supreme Court Justice Jennifer Schecter dismissed the suit. "Zervos stands by the allegations in her complaint and has accepted no compensation."
Trump had been issued a December 23 deadline to be deposed in the suit last month. The former president's lawyers lobbied a judge to allow them to file a countersuit against Zervos a short time later, with attorney Alina Habba arguing in court documents that Zervos had only sued "for the sole purpose of harassing, intimidating, punishing or otherwise maliciously inhibiting" Trump's freedom of speech.
After Zervos dropped the suit on Friday, Trump's Save America political action committee issued a statement blasting Zervos for having "made up false accusations," denouncing "corrupt" media coverage and maintaining that the former president had been "totally vindicated."
"The lawsuit brought by a woman who made up false accusations against President Trump for publicity or money has just been dropped in its totality," the statement obtained by Newsweek reads. "The Fake News Media totally and completely distorted the facts—they are corrupt."
"President Trump has been totally vindicated," the statement continues. "No money of any kind, or legal fees, were paid by President Trump, who stated, 'It is so sad when things like this can happen, but so incredibly important to fight for the truth and justice. Only victory can restore one's reputation!'"
A similar defamation suit against Trump from writer E. Jean Carroll has not been dropped. Carroll sued Trump for defamation in 2019 after he called her a liar for alleging that he raped her in a New York City department store in the mid-1990s.
In a tweet on Friday, Carroll said that Zervos' decision had motivated her to continue legal action against Trump, including potentially launching a rape lawsuit if a proposed New York law that would allow alleged sex crime victims to pursue currently time-barred claims in court passes.
"Friends, I feel MORE determined to fight and win my defamation suit against Trump," Carroll tweeted. "In fact, as soon as the Adult Survivors bill passes in New York, I will sue Trump for rape. My spirits are high! My attorneys are warriors!"