Former Biden Adviser Suggests Making Unvaccinated People Pay for Their Own COVID Testing
Andy Slavitt, a former senior adviser to President Joe Biden's coronavirus response team, is suggesting that unvaccinated people begin paying for their own testing.
Appearing on CNN Thursday night, Slavitt said workplaces and schools should consider mandating people be fully inoculated against COVID-19 or get a negative test result every single day.
"Look, if people say they don't want to be vaccinated, which some people might say, I think it's perfectly reasonable to say that's fine," Slavitt told Anderson Cooper. "We want you to show up every morning an hour before work and get a negative test. Maybe even at your own expense."
Slavitt continued, "Until the point where people will say, you know what? It makes more sense to actually get vaccinated. If you give people that option, I think you're going to see more and more people take the option to get vaccinated."
Cases are surging across the country due to the prevalence of the more contagious Delta variant of the virus. The seven-day average of new cases stood at 45,343 on Thursday, according to a New York Times data tracker, up 180 percent from two weeks ago.
The Delta variant now makes up more than 80 percent of sequenced samples in the U.S., according to the Center for Disease Control and Prevention( CDC).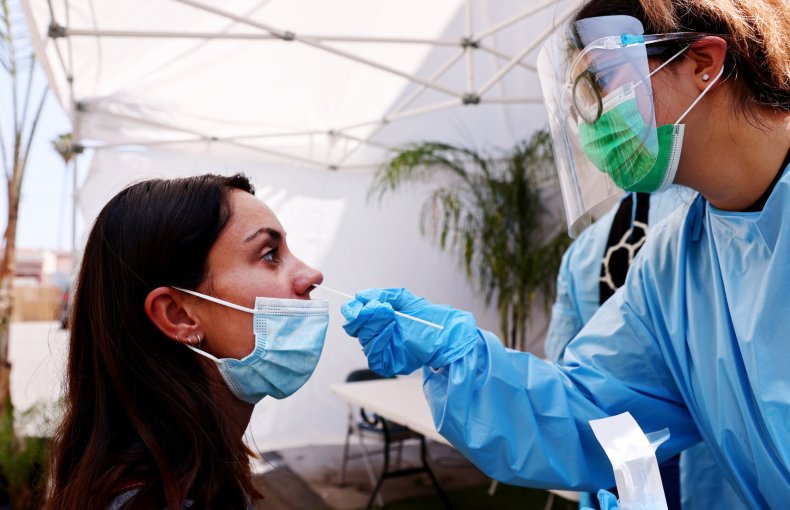 CDC Director Rochelle Walensky said Tuesday that the "overwhelming majority" of COVID-19 deaths are occurring in the unvaccinated population.
"The message from CDC remains clear: The best way to prevent the spread of COVID-19 variants is to prevent the spread of disease, and vaccination is the most powerful tool we have," Walensky said. "We must continue to expand vaccine coverage by building trust and confidence in COVID-19 vaccines."
About 63 percent of all vaccine-eligible Americans have received at least one dose of the vaccine and 53 percent are fully vaccinated, according to the CDC. Americans ages 12 and over are eligible for the shot.
Slavitt praised Republican lawmakers and pundits who are calling out unvaccinated people for contributing to the spread of the virus.
Alabama Governor Kay Ivey said Thursday that it's "time to start blaming the unvaccinated folks, not the regular folks. It's the unvaccinated folks that are letting us down."
West Virginia Governor Jim Justice, in a plea to get more shots into people's arms, warned residents earlier this month: "If you're not vaccinated, you're part of the problem rather than the solution."
"That is a good example that should be called out on these guys more often," Slavitt said.
Newsweek reached out to the White House for comment on Slavitt's remarks but didn't receive a response before publication.