Former Bush Aide Slams Republicans for 'Defaming' Impeachment Witnesses, Calls Trump Supporters 'the Cult'
Elise Jordan, a former aide in President George W. Bush's administration, criticized Republicans for "defaming" witnesses testifying against Donald Trump in the ongoing impeachment inquiry, referring to the president's defenders as "the cult."
Jordan's comments came in a Tuesday segment of MSNBC's Morning Joe, during which the show's panel discussed Republican efforts to undermine and disparage impeachment witnesses. Senator Ron Johnson, a Republican from Wisconsin, on Monday sent a letter to his GOP House colleagues in which he questioned the credibility of Lieutenant Colonel Alexander Vindman. The decorated veteran of the Iraq War, who serves as a Ukraine expert on the National Security Council, will testify publicly before House investigators on Tuesday.
Jordan pointed out that Vindman is an "Iraq War hero who was so distinguished at his job that he was detailed to the National Security Council." She explained that it is "prestigious, it is difficult, it is the pinnacle of a career in service to serve at the National Security Council," despite the fact that "so many Republicans are defaming" the witnesses from the advisory body.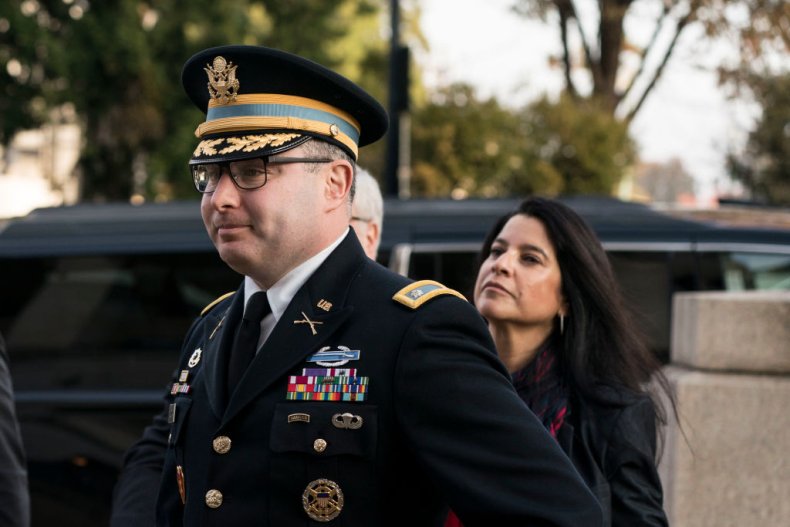 "It doesn't matter what your service to your country has been. You can be literally wounded in battle, and yet you are suddenly, if you don't fall in line with the cult, you are at traitor," Jordan asserted, referring to the attacks from Trump's Republican allies in Congress. Vindman received a Purple Heart after he was wounded while serving in Iraq.
In Johnson's letter to House Republicans, he argued, without evidence, that Vindman could have been working to remove the president from office.
"A significant number of bureaucrats and staff members within the executive branch have never accepted President Trump as legitimate and resent his unorthodox style and his intrusion onto their 'turf,'" the GOP senator wrote, according to Politico. "They react by leaking to the press and participating in the ongoing effort to sabotage his policies and, if possible, remove him from office. It is entirely possible that Vindman fits this profile."
Some conservatives have been attempting to undermine and discredit Vindman since his closed-door deposition last month. Fox News host Laura Ingraham, a staunch Trump defender, suggested that Vindman couldn't be trusted because he immigrated to the U.S. from the Soviet Union as a young child and speaks Russian and Ukrainian. A guest on her show even suggested that Vindman was engaging in "espionage" for Ukraine.
In reality, Vindman has had a distinguished military career, as does his twin brother Yevgeny Vindman, and was assigned to the National Security Council in 2018. He was on the July 25 call between Trump and Ukraine's President Volodymyr Zelenskiy, which is at the center of impeachment inquiry. During that call, Trump asked Zelenskiy for "a favor"—investigations into a debunked conspiracy theory about Democrats and the 2016 election, and into unsubstantiated claims against Democratic presidential candidate Joe Biden and his son Hunter. Meanwhile, the White House had withheld nearly $400 million in military aid to Ukraine, which multiple witnesses have said was connected the president's effort to pressure Ukrainian leaders to announce the two investigations.
During his October testimony, Vindman revealed that the summary transcript of the July 25 call released by the White House was missing at least two mentions of the investigations Trump wanted. He also warned that the administration's actions in Ukraine could "undermine U.S. national security."