Fox News Host Doubles Down On Questioning Lt. Colonel Vindman's Credibility Despite Bipartisan Criticism
Fox News host Brian Kilmeade doubled down on his effort to call into question the credibility of Lt. Colonel Alexander Vindman, who testified before the congressional impeachment investigators in a closed-door deposition on Tuesday.
Kilmeade, as well as other Fox News personalities and some Republican commentators, attempted to cast doubt on Vindman's testimony by pointing out that his family had immigrated to the U.S. from the Soviet Union. Kilmeade also noted that Vindman, who served on the White House's National Security Council and is the receipient of a Purple Heart for his service in the U.S. Military, speaks Ukrainian and Russian – suggesting that this was somehow suspicious.
"I think it's a joke that people think that if you have questions to lieutenant colonel because he's a great war fighter that you're somehow not patriotic or don't like the military which was the blowback that we were getting from our show and others," Kilmeade said on Fox & Friends on Wednesday morning, after significant backlash from pundits, as well as Republican and Democratic lawmakers.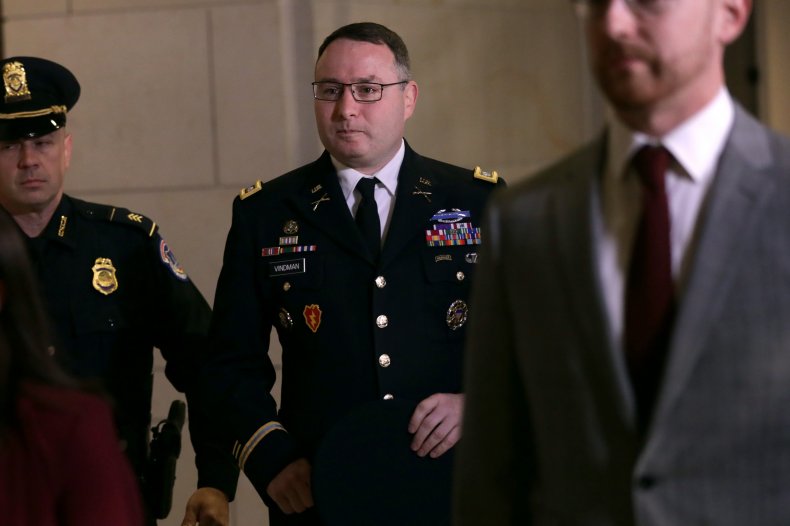 "I think that's farcical. There's no doubt about it. This lieutenant colonel was born in the Ukraine. He came here," Kilmeade continued in defense of his previous remarks.
Vindman's family, Jewish-Ukrainian refugees, came to the U.S. when he was three-years-old, fleeing the Soviet Union for a better life with just $750 dollars. He and his twin brother, Yevgeny Vindman, served in the U.S. military, and both went on to serve in the White House. Yevgeny Vindman sits on the National Security Council, where he works as an attorney handling ethics issues.
Despite Alexander Vindman's significant contribution to the U.S, Kilmeade emphasized on Tuesday that he's "from the Soviet Union. He immigrated here and has an affinity to the Ukrainian people." That comment came after Fox News host Laura Ingraham and a guest on her show suggested that Vindman was possibly a spy due to his ethnic heritage.
GOP Congresswoman Liz Cheney of Wyoming, who typically defends Trump, condemned the effort to undermine Vindman's credibility as a witness.
"I think that we need to show we are better than that as a nation," Cheney, the House Republican conference chair, told reporters during a press conference. "Their patriotism, their love of country—we're talking about dedicated veterans who have put their lives on the line, and it is shameful to question their patriotism, their love of this nation, and we should not be involved in that process."
Democratic Senator Mazie Hirono of Hawaii strongly criticized the right-wing attacks on the veteran as well. "This is a decorated soldier by the way. Hello everybody, just back off," she said in a Wednesday morning interview with CNN. "Somebody should say to them, 'have you no shame?'"
In his opening statement as part of his deposition, Vindman stated that he believed the Trump administration's efforts to pressure Ukrainian leaders to investigate the president's political rivals would "undermine U.S. national security." According to The New York Times, he also revealed to congressional investigators that the publicly released summary transcript of a July 25 call between Ukraine's President Volodymyr Zelensky and Trump was missing some portions that referred to Democratic presidential candidate Joe Biden and Burisma, the company with which his son Hunter Biden was involved.
The official told lawmakers that he tried to get the missing portions added to the transcript and was not sure why his advice was not followed. His testimony calls into question Trump's insistence that the call was "perfect." The president has repeatedly insisted that he did nothing wrong, going so far as to say the call was "perfect" and to refer to the summary transcript of the conversation, however, Vindman's testimony suggested that the document was not entirely accurate.