Former Congressman Wonders if Object Shot Down Over Alaska Is Alien UFO
Former Representative Peter Meijer, a Michigan Republican, questioned whether or not the object that was shot down over Alaska on Friday could have been an unidentified flying object (UFO), as Pentagon officials remain quiet over what the threat was.
Meijer, who represented Michigan's 3rd Congressional District up until recently, wrote on Twitter on Friday: "Really hoping this 'unidentified [flying] object' was another spy balloon and not a legit UFO."
"The irony of confusing an alien spacecraft for a weather balloon would be amazing but not worth starting an interstellar conflict," the former congressman added.
His remarks came shortly after National Security Council Coordinator for Strategic Communications spokesperson John Kirby confirmed that an unidentified object was shot down off the northeastern part of Alaska on Friday morning, after the Department of Defense (DOD) became aware of the object on Thursday night.
Kirby said that while it's unclear what the "high altitude object" was, it "posed a reasonable threat to the safety of civilian flight." It was flying at approximately 40,000 feet.
"We're calling this an object because that's the best description we have right now," Kirby said during a Friday press conference.
Kirby said that following a recommendation from the Pentagon, President Joe Biden ordered military jets to shoot down the object "out of an abundance of caution." He added that the object landed inside American territorial waters, which are currently frozen.
This is the second time in less than a week that the United States has shot down an object that entered American airspace. Last Saturday, a Chinese spy balloon was shot down over the Atlantic Ocean off the coast of South Carolina after floating across the country for several days. The Biden administration's decision to wait to act on the balloon was highly criticized by Republicans.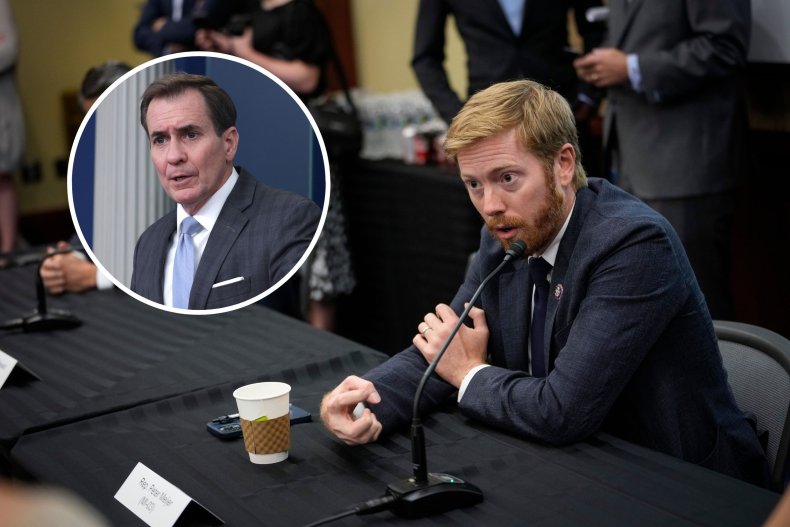 Newsweek reached out to the Pentagon for comment.
On Friday, Kirby said the object shot down near Alaska was "much, much smaller" than last week's surveillance balloon from Beijing. He described Friday's object to "roughly the size of a small car." Comparably, last week's balloon was the size of three buses, according to Pentagon officials.
The Pentagon recently established a new office to expand probes into UFOs. Over the summer, officials unveiled the All-domain Anomaly Resolution Office (AARO), which is aimed at investigating "unidentified aerial or anomalous phenomena could potentially pose a threat to U.S. national security."
Meijer isn't the only one to cast suspicions over the UFOs in American airspace.
Representative Tim Burchett, a Tennessee Republican, accused the government last month of a "huge cover-up," and called on officials to "release everything" after the Office for the Director of National Intelligence (DNI) published an unclassified report on UFOs.