Former Supreme Court Justice John Paul Stevens: Kavanaugh Should Be Disqualified From Serving
Former Supreme Court Justice John Paul Stevens on Thursday weighed in on the contentious debate over the nomination of Brett Kavanaugh, who has been accused of sexual assault by three women.
Stevens, who served on the court from 1975 to 2010, said Kavanaugh's conduct while testifying in front of the Senate Judiciary Committee last week should disqualify him from the position.
The 98-year-old former justice said he once thought Kavanaugh "had the qualifications" to be a Supreme Court justice and even lauded Kavanaugh in one of his books for a ruling on political contributions, Lulu Ramadan, a reporter for The Palm Beach Post, tweeted. But while speaking to a crowd in Boca Raton, Florida, Stevens said Kavanaugh's "performance in the hearings changed my mind."
Stevens was nominated by Republican President Gerald Ford. "Although appointed by a [Republican], over time Justice Stevens emerged as a leader for the Court's liberal wing," according to The Oyez Project.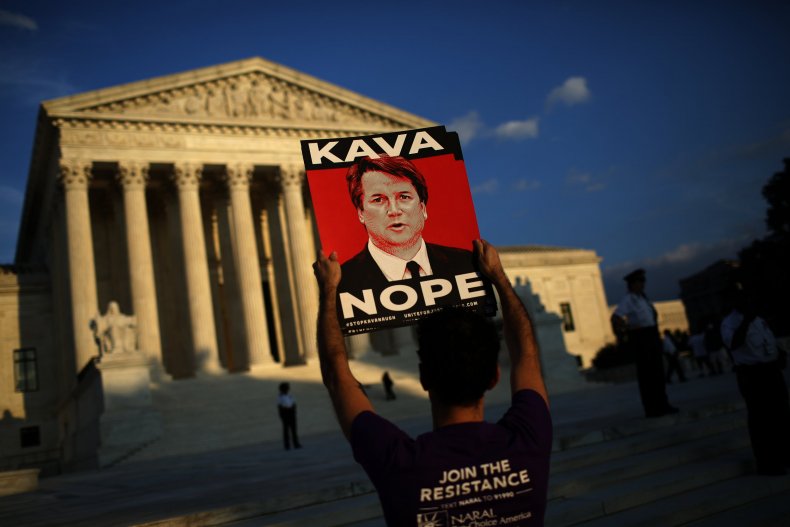 The former high court justice spoke while mass crowds of protesters congregated in the nation's capital city to demonstrate against the Senate's looming vote on Kavanaugh.
Stevens isn't the only legal expert with this opinion: More than 1,000 law school professors called for the Senate to reject Kavanaugh in a letter that raised concerns about his demeanor while being questioned by Senators last week.
"Instead of trying to sort out with reason and care the allegations that were raised, Judge Kavanaugh responded in an intemperate, inflammatory and partial manner as he interrupted and, at times, was discourteous to [a] senator," the letter read. "Judges must step aside if they are at risk of being perceived as, or of being, unfair."
While the hearing raised concerns for Democrats about Kavanaugh's tone and his refusal to answer whether he supported an FBI investigation, Republican leaders have reaffirmed their commitment to approve the judge's nomination and called opposition an unsubstantiated political blockade.
"We will not be hoodwinked by those who have tried too hard to smear a good man, to drag him through the mud," Senate Majority Leader Mitch McConnell said, according to The Hill. "The fact is that these allegations have not been corroborated."
Republican senators Susan Collins, Lisa Murkowski and Jeff Flake are viewed as the key swing votes needed for Kavanaugh's approval.
Earlier on Thursday, Collins said that a newly released FBI probe into the allegations leveled against Kavanaugh appeared "to be a very thorough investigation." Flake said that "we've seen no additional corroborating information."
Democrats have railed against the investigation, which took place in less than a week, calling it insufficient and rushed, according to The Washington Post.