More Than 1,000 Law Professors Sign Letter Calling On Senate Not to Confirm Kavanaugh
More than 1,000 law school professors have signed a letter calling for the Senate not to confirm Judge Brett Kavanaugh's nomination to the Supreme Court, arguing that he displayed a lack of judicial restraint at a Senate hearing last week when responding to the sexual misconduct allegations that have been made against him.
Columbia Law School professor Bernard Harcourt told The Washington Post that the letter grew out of discussions among his peers over Kavanaugh's "unprecedented and unfathomable demeanor" during the hearing.
Kavanaugh, 53, pushed back at senators throughout his testimony, frequently losing his temper and accusing Democrats of carrying out a "calculated and orchestrated political hit."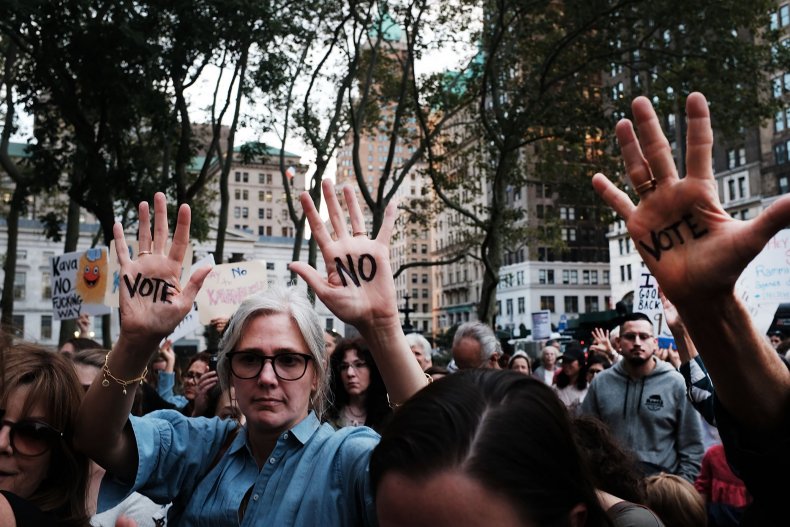 The letter, which received hundreds of signatures from professors from nearly 100 schools within the span of 30 hours, "was a spontaneous reaction to the hearing," Harcourt said.
In the letter, which has been published by The New York Times, law professors wrote that "judicial temperament is one of the most important qualities of a judge.
"The question at issue was, of course, painful for anyone. But Judge Kavanaugh exhibited a lack of commitment to judicious inquiry," they said.
"Instead of trying to sort out with reason and care the allegations that were raised, Judge Kavanaugh responded in an intemperate, inflammatory and partial manner as he interrupted and, at times, was discourteous to senators," they added, noting that while they have differing views on Kavanaugh's other qualifications, they are "united, as professors of law and scholars, in believing that Judge Kavanaugh did not display the impartiality and judicial temperament requisite to sit on the highest court of our land."
"Judges must step aside if they are at risk of being perceived as, or of being, unfair," the law professors wrote, adding that "as Congress has previously put it, a judge or justice 'shall disqualify himself in any proceeding in which his impartiality might reasonably be questioned.'"
Read more: Here Are the Witnesses the FBI Interviewed in Kavanaugh Investigation—and the Many They Didn't
Among those who have signed the letter so far is Martha Minow, the former dean of Harvard Law School, where Kavanaugh's upcoming course on the Supreme Court was recently canceled.
As many as 26 other Harvard Law School professionals have added their names to the list, alongside hundreds of professors from other schools, including Yale Law School, which is Kavanaugh's alma mater, Stanford University and the University of Chicago Law School.
Harcourt said that to confirm Kavanaugh for a lifelong position on the Supreme Court "without full information and deliberation" would "undermine the respect owed" to that institution.
The letter is set to be presented to the Senate on October 4.