Former Detroit Mayor Sentenced to 28 Years in Prison for 24 Felonies to be Released Early Due to Pandemic
Updated 12:19 a.m. EST 5/27/2020: The U.S. Bureau of Prisons announced Tuesday that Kwame Kilpatrick would remain incarcerated. This story has also been updated to include information from the U.S. Bureau of Prisons.
Original story
Former mayor of Detroit, Michigan Kwame Kilpatrick is expected to be released from federal prison after serving only seven years of a 28-year sentence.
Supporters of Kilpatrick, including Ebony Magazine, the NAACP and the National Baptist Convention of America, had lobbied for his release. After five inmates died as a result of coronavirus in the prison where Kilpatrick was held, Attorney General William Barr asked that qualifying prisoners be remanded to home confinement. Kilpatrick is expected to go through a quarantine period before entering home confinement in June.
"While there has been a lot of debate about [Kilpatrick's] guilt or innocence, we were arguing neither, rather, we were opposing the excessive nature and length of his sentence," said Reverend Keyon S. Payton, National Director Community Outreach and Engagement for Ebony Magazine in a Friday statement. "Kwame Kilpatrick's punishment of a 28-year sentence did not fit the crime."
Michigan state representative Karen Whitsett told Detroit television station WJBK on Thursday that she had been personally told by President Donald Trump that Kilpatrick would be released.
In a statement sent to Newsweek on Saturday, the U.S. Bureau of Prisons said, "For privacy, safety and security reasons, we do not discuss information about an individual inmate's conditions of confinement or release plans.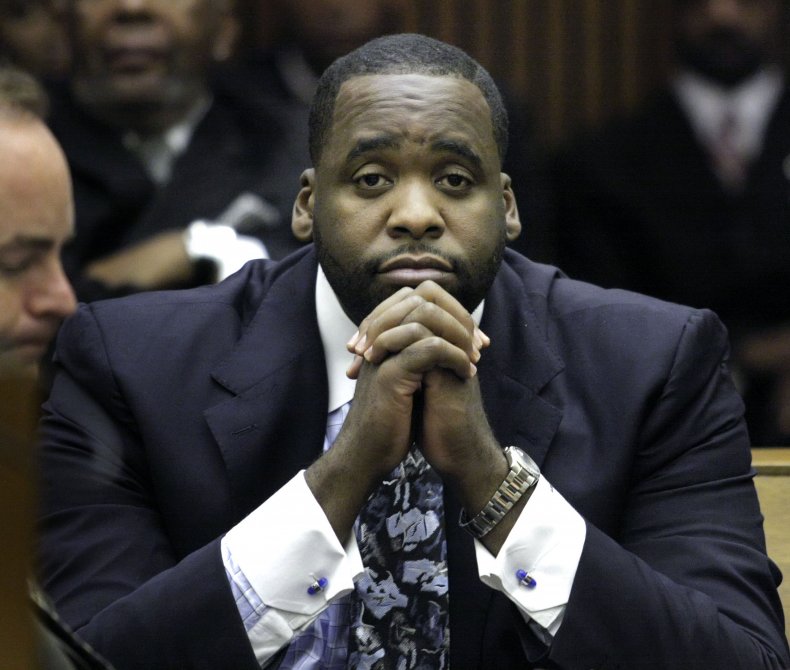 In 2018, Kilpatrick wrote a blog post in which he hoped to receive a pardon from the president. "My family has forgiven me," Kilpatrick said. "I have asked the people of the city of Detroit for forgiveness many times, and most Detroiters have forgiven me, as well."
Kilpatrick resigned as mayor in 2008 after a scandal involving an affair with his chief of staff, Christine Beatty. He was also accused of having three police officers removed from their positions. When the officers filed suit against the city, Kilpatrick allegedly used public funds to settle the lawsuit. Kilpatrick and Beatty attempted to keep their affair secret but text messages between the two were uncovered. As a result, Kilpatrick was charged with perjury and obstruction of justice. As part of a plea deal, Kilpatrick pleaded guilty to obstruction of justice. Kilpatrick was also made to forfeit his law license and pay the city of Detroit $1 million in restitution.
After an investigation by federal authorities, Kilpatrick was indicted in 2013 on 24 felony counts, including racketeering, mail fraud and wire fraud. According to information from the FBI, Kilpatrick took over $500,000 from state funds and non-profit organizations. He allegedly spent the money on vacations, spa visits and golf clubs.
Kilpatrick was also accused of conspiring with contractor Bobby Ferguson. According to the FBI, municipal contractors were "coerced" to include Ferguson in public contracts. Those contracts were also constructed to ensure that Ferguson received a portion of the money from those contracts.
"Ferguson obtained at least $73 million in revenues from municipal contracts through this scheme, a portion of which he shared with his co-conspirators," said a 2013 FBI press release.