Former FBI Director Comey Reveals That Four Americans Were Investigated for Russia Ties, and Trump Wasn't One of Them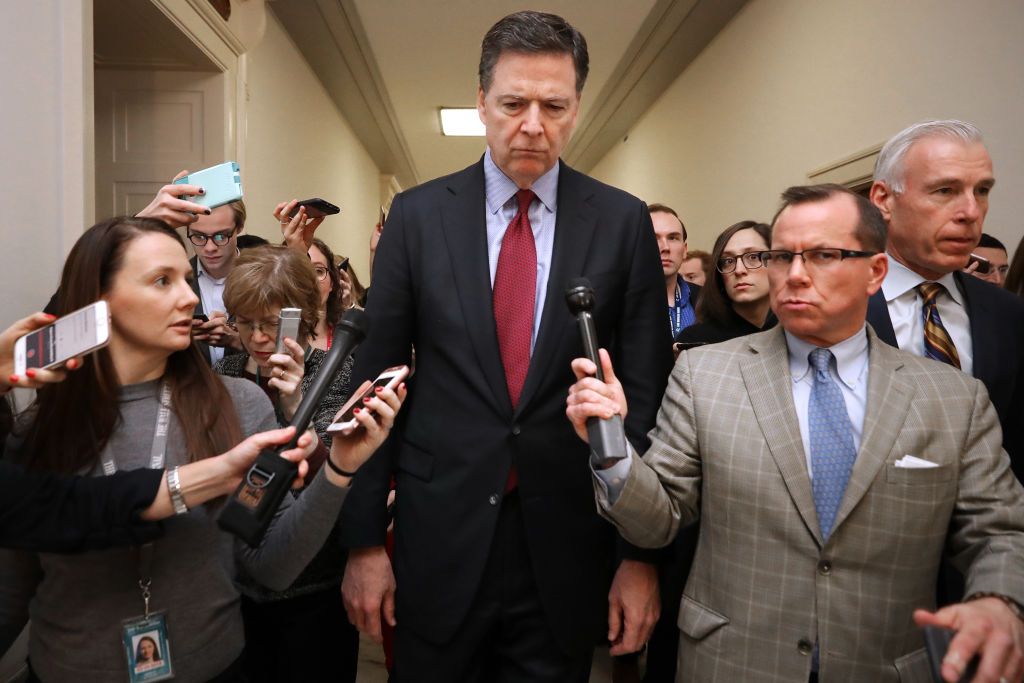 Former FBI Director James Comey in testimony to House lawmakers last week said that the FBI during its investigation into allegations of Russian interference in the 2016 presidential election probed four Americans.
In transcripts of the closed-door session released Saturday, Comey did not disclose the identities of the Americans investigated, but revealed that President Donald Trump was not one of them.
Read more: Who has Robert Mueller indicted? Full list of everyone charged as result of Russia collusion investigation
"I was briefed sometime at the end of July that the FBI had opened counterintelligence investigations of four individuals to see if there was a connection between those -- any of those four and the Russian effort," Comey said. "And those four Americans did not include the candidate."
Comey was asked whether the FBI had any evidence that Americans were assisting Russians subvert the election when Trump was briefed on foreign intelligence threats as a candidate.
"If it was after July 29th, then the answer would be, yes, we had some reason to suspect that there were Americans who might have assisted the Russians," Comey said.
On Friday, Comey testified for six hours before the House Judiciary and House Oversight Committees over his handling of the FBI probe into Hillary Clinton's use of private email servers while secretary of state, and the investigation into allegations of Russian interference.
The transcripts were released as part of a deal Comey struck with the House, which had issued a subpoena compelling him to testify in private. Comey had argued that private testimony would have resulted in selected excerpts of his testimony leaked in a bid to discredit him.
During the testimony, Comey hit back at President Donald Trump's claim that Special Counsel Robert Mueller's probe into Russian interference—which he took over from the Justice Department in May 2017— was a partisan witch hunt. Trump had implied in an interview with the Daily Caller that the two former FBI chiefs Comey and Mueller are friends, describing them as on "hugging and kissing" terms.
"I admire the heck out of the man, but I don't know his phone number, I've never been to his house, I don't know his children's names," said Comey, who added that he had "never hugged or kissed the man" despite the president's insistence otherwise.
"A relief to my wife," he quipped.
The testimony came on the same day as a series of documents were filed by Mueller with courts, revealing that there was contact as early as 2015 between Trump's lawyer, Michael Cohen, and a Russian offical offering "synergy" between Moscow and the Trump campaign.
Comey was fired by Trump in May 2017, with the president telling NBC that he acted because of "this Russia thing," but also subsequently claiming that the Russia probe did not influence the decision. Comey has detailed what he claims were Trump's attempts to secure a pledge of loyalty to him in testimony to Congress.