Former FBI Official Says William Barr Could Not Be 'More Destructive' If Appointed By Vladimir Putin
A former FBI assistant director has said William Barr could "not be a more destructive attorney general" if he had been appointed by Vladimir Putin in a scathing attack on the Department of Justice head.
Frank Figliuzzi said the attorney general had a "consistent ability to ignore facts" on MSNBC Monday night, and suggested he could "disgrace his office."
The NBC national security contributor made the remarks about Bill Barr on the network's 11th Hour show in response to reporting that the attorney general is at odds with the Justice Department inspector general over a report on his investigation into the Russia investigation.
The Washington Post reported Monday night that Barr had told "associates" that he did not agree with a key finding in Michael Horowitz's soon to be released report, namely that the FBI had reason to open an investigation into Donald Trump's presidential campaign in July 2016.
It was first reported by The New York Times on October 24 that a review of investigation into links between Russia and the Trump campaign had become a criminal investigation into the launch of the probe.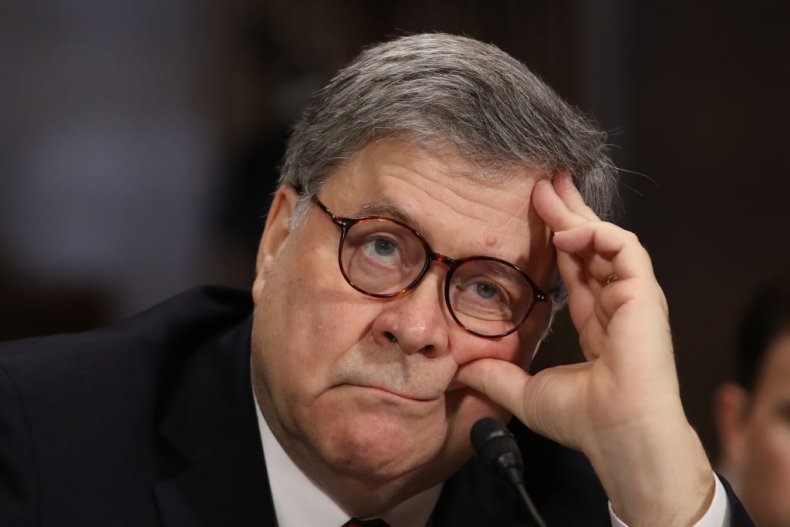 Speaking about the Post story on the 11th Hour show yesterday, Figliuzzi accused Barr of having a "consistent ability to ignore facts" and following "alternative" truths.
"If this reporting is true, that he's going to side against his own inspector general and side with the president, he will again be choosing to ignore a neutral fact-finder and come up with his own set of alternative truth," the former FBI assistant director said.
"The problem with that is that's not what the attorney general is supposed to do, and in fact he will disgrace his office if he chooses to ignore the facts developed by his own inspector general."
The former intelligence community official went on to suggest that the only person who would be more pleased than Trump about Barr reportedly being "at odds with his own department" was Russian President Vladimir Putin.
Figliuzzi said: "There could not be a more destructive attorney general than if Vladimir Putin had appointed Barr himself."
Newsweek has contacted the Department of Justice for a response to Figliuzzi but did not receive a response by time of publication.
Shortly after the New York Times reported that Barr's Russia investigation review had become a criminal inquiry in October, the hashtag #ImpeachBarr began trending on Twitter as Democratic representatives called for the attorney general's ouster.
"Our nation's chief law enforcement officer is out of control and a growing threat to American democracy," Rep. Bill Pascrell tweeted at the time.
Rep. Ted Lieu also described the reported criminal probe as "deeply troubling" and accused Barr of "absoluting" acting in partisan fashion.