Former Fox News Host Heather Nauert Withdraws From Consideration To Replace Nikki Haley As United Nations Ambassador
Heather Nauert, the acting under secretary for public diplomacy and public affairs has withdrawn her name as a candidate to replace Nikki Haley as the ambassador to the United Nations.
"I am grateful to President Trump and Secretary Pompeo for the trust they placed in me for considering me for the position of US Ambassador to the United Nations. However, the past two months have been grueling for my family and therefore it is in the best interest of my family that I withdraw my name from consideration. Serving in the Administration for the past two years has been one of the highest honors of my life and I will always be grateful to the President, the Secretary, and my colleagues at the State Department for their support," Nauert said in a statement.
While President Donald Trump had announced Nauert as his nominee for the post, her name had not been sent to the Senate in order to begin confirmation hearings.
Nauert had previously been criticized as Trump's pick for the position given her previous employment as an anchor and correspondent for the Fox News Channel. Nauert worked on Fox and Friends, along with other programs, until she moved to the State Department in April 2017 to be the agency's spokeswoman.
According to CNN, Nauert withdrew her name after she informed officials that she had employed a nanny who did not have a work visa to gain legal employment in the United States.
According to the Washington Post, Nauert also did not pay taxes related to the nanny at the time of her employment, though she later paid back taxes.
Nauert's nomination had already been a source of frustration and questions for members of the Foreign Relations Committee, the Post said.
Sen. Robert Menendez (D-N.J.) told the Post that the lack of paperwork for Nauert's confirmation signaled a problem.
"There clearly is a problem when you don't send her paperwork over for a critical post. This isn't an ambassador to wherever, this is a global-stage role. And you don't go around telling the world 'this is going to be my nominee' and then never send anything over," Menendez (D-N.J.) told the Post.
In a statement issued by the State Department, Secretary of State Mike Pompeo said Nauert had performed with "unequaled excellence" as a member of his team.
"Her personal decision today to withdraw her name from consideration to become the nominee for United States Ambassador to the United Nations is a decision for which I have great respect. I wish Heather nothing but the best in all of her future endeavors and know that she will continue to be a great representative of this nation in whatever role she finds herself," Pompeo said.
CNN reports that other names being considered for the ambassador post include Ric Grennell, the US ambassador to Germany; Jamie McCourt, the US ambassador to France; and Kelly Craft, the US ambassador to Canada.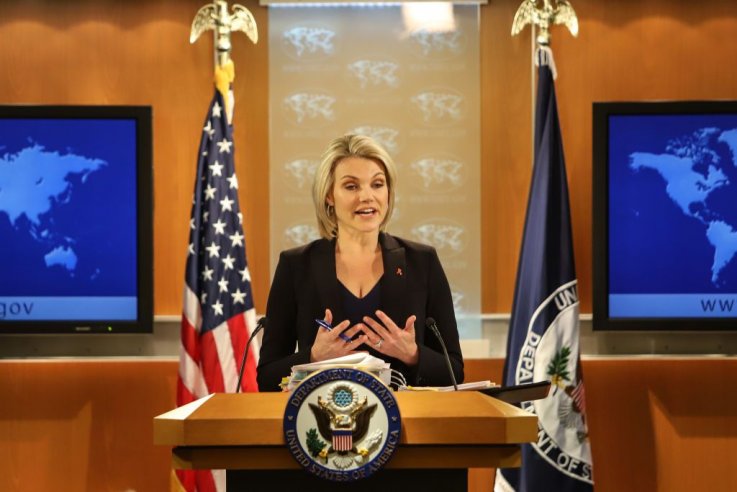 Former Fox News Host Heather Nauert Withdraws From Consideration To Replace Nikki Haley As United Nations Ambassador | U.S.