Former GOP Congressional Candidate Lavern Spicer Slams Michelle Obama's Remarks on Racism
Former Republican congressional candidate Lavern Spicer on Saturday criticized Michelle Obama over her remarks on racism, after the former first lady gave an interview praising the Black Lives Matter movement and discussing concerns she has as a Black mother.
"Michelle Obama, instead of telling young black girls who look up to you that they're doomed because of racism, why not tell them what you did to overcome it?," Spicer wrote on Saturday, in response to Obama's upcoming interview with CBS This Morning that will air Monday.
In a separate tweet, Spicer wrote: "Michelle Obama says Black Lives Matter is "taking to the streets because they have to", and that she "is afraid every time her daughters get into a vehicle". Uh hello? Shouldn't those problems have been solved when your husband was the Black President for 8 years?!!"
Spicer, a Florida Republican, lost a 2020 bid for Congress against incumbent Democratic representative Frederica Wilson. Spicer is known for issuing several controversial statements against Democrats, including criticisms against New York Congresswoman Alexandria Ocasio-Cortez and Vice President Kamala Harris.
Spicer's remarks on Saturday came in response to Michelle Obama's interview, in which she said that Black Lives Matter protesters are taking to the streets out of necessity to fight against systemic racism.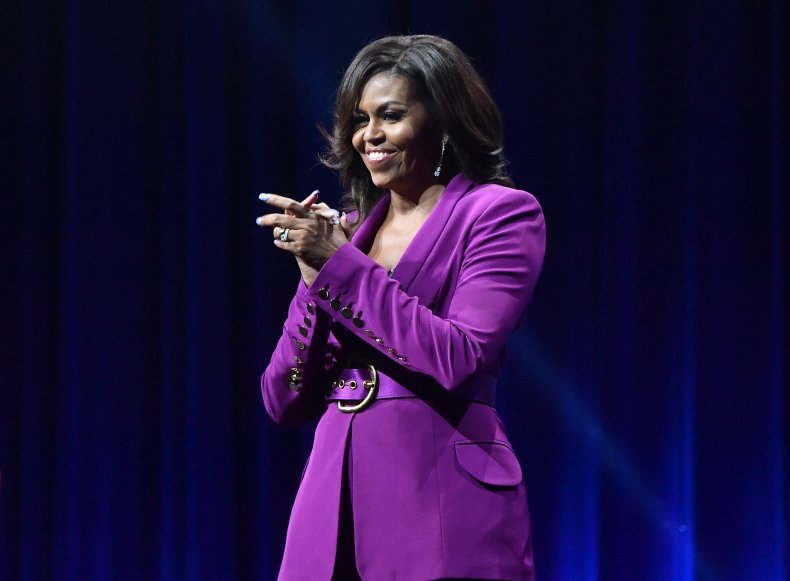 "They're trying to have people understand that — that we're real folks," Obama said. "And the fear that many have of so many of us is irrational. And it's based on a history that is just — it's sad, and it's dark. And it's time for us to move beyond that."
Obama added that as a Black mother, she often feels fearful that her two daughters could be racially profiled, and said the fight against racism still has a ways to go.
"Every time they get in a car by themselves, I worry about what assumption is being made by somebody who doesn't know everything about them," Obama said. "The fact that they are good students and polite girls. But maybe they're playing their music a little loud. Maybe somebody sees the back of their head and makes an assumption."
On Saturday, Spicer's tweet that Obama should instead "tell them what you did to overcome it" sparked instant backlash online. In response, many Twitter users noted that the former first lady's personal memoir, Becoming,highlights her roots and how she overcame past difficulties to find success.
"She wrote a whole book about it. She went on tour. She read to hundreds of thousands of people. She does a podcast. She's been talking about it nonstop for years," one Twitter user wrote.
Others noted that Obama's message was not to make Black girls feel "doomed," but rather, to inspire perseverance.
"Where has she ever said that we're doomed, and what does it mean to overcome racism given the amt of racist taunts she gets? If you missed it, the message she is sending to young Black girls (all girls) is to persevere in spite of it," wrote another user.
Newsweek contacted Spicer for an additional comment, but did not hear back in time for publication.