Former GOP Governor Christine Todd Whitman Calls Out Republicans Over Vaccines and Masks
Former New Jersey Governor Christine Todd Whitman, a Republican, called out governors from her own party over their response to COVID-19 on MSNBC's The Mehdi Hasan Show Sunday night.
Hasan asked Whitman about Republican governors "like Ron DeSantis and Greg Abbott who have allowed COVID to run rampant in their state," and who "haven't been concerned with low vaccination rates, at least up until now." They have also criticized Dr. Anthony Fauci, the director of the National Institute of Allergy and Infectious Diseases.
He asked if Whitman believes these governors have "blood on their hands," to which she said, "they do."
"In one way, you could say this is Darwinism," she said. "Over 99 percent of those who have died in the recent outbreak were unvaccinated, and they were in the red states."
She criticized Republican governors for "calling out Dr. Fauci" and telling their constituents that "you shouldn't listen to him, and that these vaccines are somehow bad for you."
Whitman likened their response to the pandemic to being on the Titanic.
"It's a bit like being on the Titanic and offering a life vest and having them refuse to take them," the former governor said. "It's mind-boggling."
She believes a shift in tone regarding vaccines from these governors is unlikely to make a difference now. "I don't think that now what they're saying is going to make that much of a difference unfortunately because people have heard this other message for so long," she said.
Whitman said in a statement to Newsweek Monday afternoon that, "elected officials who have continued to downplay this pandemic and choose not to promote the life-saving vaccines we have available have contributed to the cases we have seen and the 'fifth wave' of this pandemic that is now emerging."
She added that they create "petri dishes" for variants to emerge and wear down people in the medical field "trying to save lives."
"Conservatives used to believe that our individual freedoms are limited when they harm another person and that with freedom comes responsibility for yourself and others," Whitman said.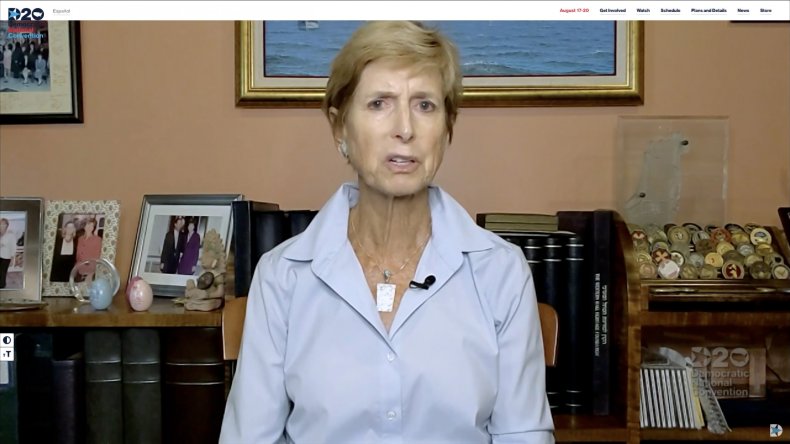 Newsweek reached out to the offices of Governors DeSantis and Abbott but had not heard back Monday afternoon.
Whitman was New Jersey's governor during the 1990s and early 2000s before serving as the Administrator of the Environmental Protection Agency (EPA) under former President George W. Bush. She has been critical of the modern Republican Party and endorsed now-President Joe Biden over Donald Trump in the 2020 presidential election.
"In former Vice President Joe Biden we have a man of proven integrity and decency, someone who has shown how to work across party lines to get things done. A man who believes deeply in the essential good of the American people, a patriot who respects the constitution and the rule of law, a strong and steady presence," she wrote in a 2020 blog post.
COVID-19 cases have spiked in recent weeks due to the Delta variant. Republican-led states including Florida and Alabama have seen the greatest increase in recent cases, according to data from John Hopkins University.
Amid the surge, Republican governors have promoted the vaccine. DeSantis said in a press conference last Wednesday, "if you are vaccinated, fully vaccinated, the chances of you getting seriously ill or dying from COVID is effectively zero."
"If you look at the people being admitted to hospitals, over 95 percent of them are either not fully vaccinated or not vaccinated. And so these vaccines are saving lives," he added.
Update July 26 at 4:19 p.m. ET: This story was updated to include a statement from former Governor Whitman to Newsweek.