Florida Gov. Ron DeSantis Says 'Vaccines Are Saving Lives' While Selling Anti-Fauci Merch
Republican Florida Governor Ron DeSantis has said that the COVID-19 "vaccines are saving lives." However, he is currently selling merchandise opposing one of the biggest proponents of vaccinations, infectious diseases expert Dr. Anthony Fauci.
"If you are vaccinated, fully vaccinated, the chances of you getting seriously ill or dying from COVID is effectively zero," DeSantis said during a Wednesday press briefing. "If you look at the people being admitted to hospitals, over 95 percent of them are either not fully vaccinated or not vaccinated. And so these vaccines are saving lives."
DeSantis also said that the vaccines are reducing mortality rates, especially amongst older people who have been most susceptible to dying from coronavirus.
Despite DeSantis' endorsement of the vaccine's benefits, he has been criticized for using his official government website to sell merchandise mocking Fauci and the U.S. coronavirus restrictions. Fauci is the White House's chief medical adviser, part of the president's coronavirus task force and the director of the National Institute of Allergy and Infectious Diseases (NIAID).
The governor's merchandise includes hats, flags and t-shirts that read, "Keep Florida Free." DeSantis is also selling coolers and other apparel that proclaim, "Don't Fauci My Florida." The latter text likely refers to Fauci's recommendations that businesses continue certain restrictions to prevent further COVID-19 outbreaks.
"The fact that Ron DeSantis is selling 'Don't Fauci My Florida' koozies on his campaign website while the state leads the nation in new COVID cases and deaths tells you everything you need to know about him," Andrew Weinstein, the chair of The Democratic Lawyers Council and a former Obama White House appointee, tweeted in response to the governor's merchandise.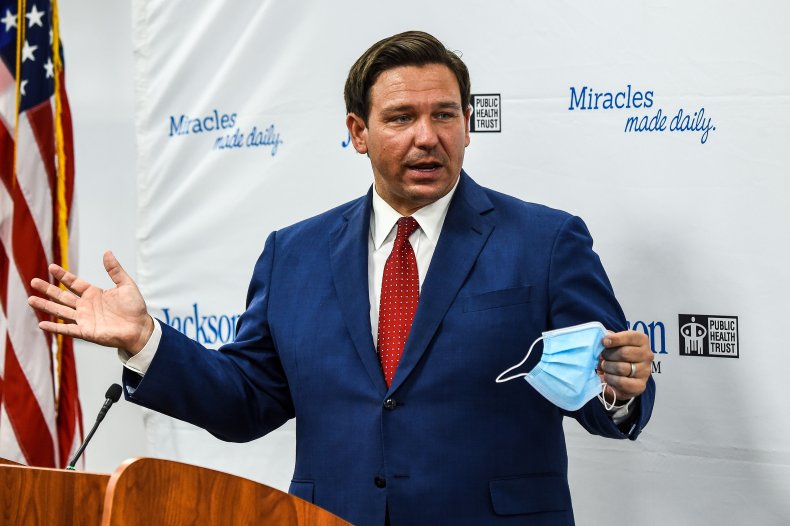 As of July 21, Florida ranks third among states with the highest overall numbers of COVID-19 cases. The state has had over 2.44 million cases. As of the same date, Florida ranks fourth among states with the highest overall numbers of COVID-19-related deaths. The state has had over 38,480 deaths.
Nevertheless, DeSantis' endorsement of the vaccines came as more conservatives have recently done the same.
At his weekly press conference in the Capitol, Republican Senate Minority Leader McConnell of Kentucky said, "If there is anybody out there willing to listen: get vaccinated. These shots need to get in everybody's arms as rapidly as possible or we're going to be back in a situation in the fall that we don't yearn for—that we went through last year."
McConnell also said people should ignore the "bad advice" of people who advise against getting the vaccine. He didn't offer examples of the advice nor did he name any people who have given such advice. Republican Congress members, in general, have opposed efforts by businesses to require vaccinations of their customers.
The two most popular hosts on Fox News—Sean Hannity and Tucker Carlson—both also recently endorsed vaccines.
This week, Hannity told viewers to "take COVID seriously," adding, "I believe in science and I believe in the science of vaccination." Also this week, Carlson said that the vaccines have "profound benefits" including lowering hospitalizations and the severity of symptoms.
Their comments came shortly after a Media Matters report said that 60 percent of recent Fox News segments on vaccines spread misinformation or distrust against the vaccine. Both of the aforementioned Fox News hosts have repeatedly cast doubt about the vaccine's safety during their broadcasts.
Conservative endorsements of the vaccine have also come at a time that the COVID-19 Delta variant is causing new infections amongst unvaccinated people. Republicans and white conservatives are the demographics most opposed to getting vaccinated, according to a Washington Post-ABC News poll released on July 6.
Newsweek contacted DeSantis' office for comment.