'Profound Benefits': Tucker Carlson Says Vaccine 'Lowers' COVID Severity and Hospitalizations
After he was accused of spreading vaccine misinformation, Fox News host Tucker Carlson has said that there may be "profound benefits" to the COVID-19 vaccine. Those benefits include lowering the severity of symptoms and hospitalizations related to the virus, Carlson said.
"There may well be profound benefits to the vaccine," Carlson stated on his Monday night broadcast. "My understanding is that the vaccine does have benefits."
"It seems to various vaccines seem to lower the effects of the disease, make it less severe on people," he continued. "They're less likely to go to the hospital to take for taking that. That completely makes sense."
Carlson's comments came after a July 16 study from the media watchdog group Media Matters which found that 60 percent of Fox News' vaccination segments over a recent two-week period pushed "anti-vaccine propaganda."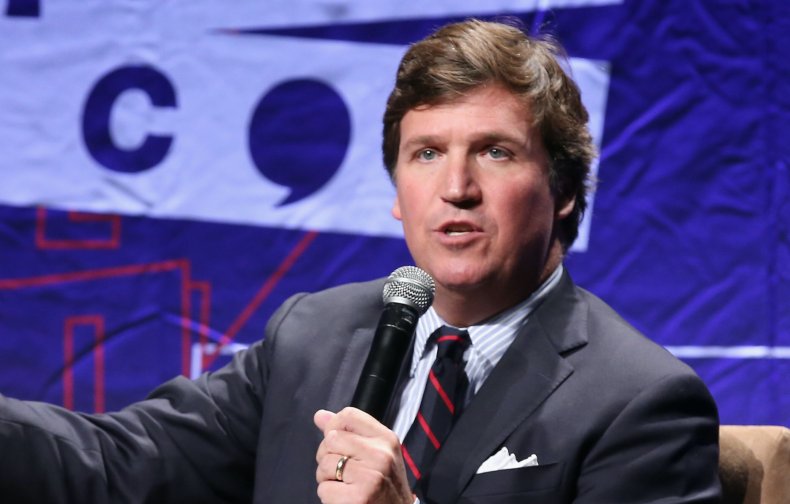 The Media Matters study looked at Fox News segments from June 28 through July 11. It tallied each time any speaker either said that vaccines were unnecessary or dangerous. It also tallied whenever a speaker said that immunization efforts represented a coercive form of government overreach or violated personal freedoms.
In response to the study, a Fox News spokesperson pointed Newsweek to recent examples of network personalities promoting the vaccine, the network's vaccine-focused PSA and the vaccine finder tool on its website.
Carlson hasn't publicly revealed whether he himself has been vaccinated. In fact, he recently said that asking about one's vaccination status is akin to asking them to reveal their HIV status. However, he has spoken in favor of the vaccine in the past.
In an April 13 broadcast, Carlson called the vaccines "a massive achievement" and "something all Americans can be proud of."
In an April 14 broadcast, he said, "Who is doubting that vaccines work? We never for a minute doubted it. We bought all of that stuff completely at face value. We believe in science. Actually kind of trust the pharmaceutical companies a little bit too. So when they said the stuff works, we never questioned it."
Last week, Carlson also pushed back on Democratic Illinois Senator Dick Durbin's comment that Carlson and his fellow Fox News opinion host Laura Ingraham are "anti-vaxx quacks."
"We haven't been, nor are we against vaccines, of course," Carlson said in response. "Very few Americans are against vaccines. Virtually every American has had a ton of vaccines and was expecting to take this one."
Carlson has repeatedly said that he isn't against vaccination. Rather, he said, he has been concerned with finding answers about "basic questions" concerning COVID-19 vaccines. His show has repeatedly cast doubt about the vaccine's safety.
Newsweek contacted Fox News for comment.