Ron DeSantis' Anti-Fauci Florida Merchandise Prompts Outrage: 'This Is Madness'
Florida Governor Ron DeSantis has been criticized online after it emerged he is selling merchandise mocking Dr. Anthony Fauci and the U.S. coronavirus restrictions. A variety of items are available to purchase via the governor's official website.
They include hats, flags and T-shirts featuring the slogan "Keep Florida Free" as well as beverage coolers and other clothing emblazoned with the words "Don't Fauci My Florida" in an apparent attack on the White House's chief medical adviser.
Another series of items sold on the Team DeSantis website come adorned with a quote from the governor himself that reads: "How the hell am I going to be able to drink a beer with a mask on?"
The governor of Vermont, Howard Dean, was among those to criticize his Florida counterpart over the sale of such items.
He tweeted: "DeSantis is a well educated crackpot with no allegiance to our country, his constituency or the truth."
There was a similar response from Dr. Linda Girgis, clinical assistant professor at Rutgers Robert Wood Johnson Medical School and Editor-in-Chief of Physician Weekly, who simply wrote "this is madness."
Robert Tuchler MD branded the merchandise part of the "shameful anti-science and self-serving politicization of the worst public health crisis of our generation. The scariest thing is that he is regarded as 'the future' of the GOP," he added.
Andrew Weinstein, the chair of The Democrats Lawyers Council and a former Obama White House appointee tweeted: "The fact that Ron DeSantis is selling 'Don't Fauci My Florida' koozies on his campaign website while the state leads the nation in new COVID cases and deaths tells you everything you need to know about him."
MSNBC host Joy-Ann Reid was similarly scathing, sharing a link to The Washington Post's report on the merchandise alongside the quip: "Siri: show me an ignorant ghoul..."
Famed consumer advocate and environmental activist Erin Brockovich took a slighty different tack, tweeting: "Gov DeSantis you have an environmental catastrophe evolving on the Gulf Coast outside of Tampa — maybe selling anti Fauci merch isn't the best use of your time?"
Elsewhere, political strategist, commentator and occasional guest co-host of The View, Ana Violeta Navarro-Cárdenas, branded the merchandise "freaking stupid."
"Like in +40 other states, COVID cases in FL, have increased by over 50% in last two weeks. We're trending in the wrong direction," she tweeted.
"In the mean time,@GovRonDeSantis is selling anti-Fauci koozies,denying science to position himself for 2024. Shameful!"
Helen Aguirre Ferre, executive director of the Republican Party of Florida, defended the sale of the merchandise while clarifying that governor DeSantis' official staff has nothing to do with Team DeSantis and he hasn't filed the paperwork for his campaign.
She told Newsweek: "Governor DeSantis has seen to it that Florida is an oasis of freedom, and we'll be darned if we let federal bureaucrats and absurd government overreach mess with that. While this isn't an official campaign website, as Governor DeSantis hasn't filed papers for his re-election, we view it as a great opportunity to have some lighthearted fun and give his supporters a chance to feel even more connected with his message of keeping Florida free."
According to The Washington Post, Florida is recording close to four times the average number of daily cases of the coronavirus in the U.S. at a rate of around 26 new infections per 100,000.
That figure also represents the second-highest in the country while the death rate in Florida is almost double that of the national average with the state ranking fourth in terms of hospitalizations.
DeSantis sparked controversy at the height of the pandemic when he refused to make mask wearing mandatory across the state.
He also reopened Florida's economy at a time when many other states remained shut and was openly critical of Fauci and what he saw as contradictory guidance on the use of masks.
It came after a series of emails released under the Freedom of Information Act showed Fauci questioning the efficacy of wearing masks despite advising the public to do so.
Having earned plaudits from many Republicans over his initial handling of the pandemic and being tipped as a potential Presidential candidate in 2024, case numbers in Florida have risen steadily over the past few weeks.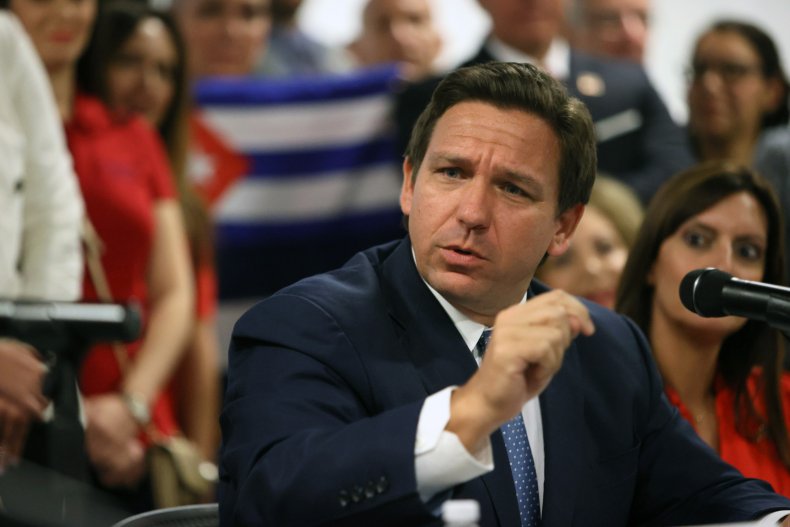 Update 07/15/21, 1:20 p.m. ET: This article was updated with comment from Helen Aguirre Ferre.