Meghan McCain, the conservative panel member of the daytime talk show The View, has defended Fox News amid criticism that the right-leaning network has undermined trust in the COVID-19 vaccine.
The View's panelists discussed vaccine misinformation on Monday. Fellow panelist Sunny Hostin mentioned a July 16 study from the media watchdog group Media Matters which said that 60 percent of Fox News' vaccination segments over a recent two-week period pushed "anti-vaccine propaganda."
"Why are Republicans doing this? Why is Fox News doing this?" Hostin asked. "I think that they believe that hurting the [Democratic President Joe] Biden administration's vaccination efforts will lead to big wins for the Republicans in the midterms. And so this is really just all about politics, and I think it's despicable, and I think they're harming their base."
In response, McCain said she had seen Steve Doocy, a host on the Fox News morning program Fox and Friends, "imploring people to get the vaccine." Doocy made the comment on July 19.
"I think that's effective," McCain said, calling Fox and Friends "the mothership of MAGA media." MAGA is an acronym that stands for "Make America Great Again", a conservative nationalist slogan used by Republican former President Donald Trump.
"Not everybody on Fox News is, you know, saying don't get the vaccine," McCain continued. "I actually haven't heard anyone say that, but maybe I'm just misinformed."
The Media Matters study looked at Fox News segments from June 28 through July 11. It tallied each time any speaker either said that vaccines were unnecessary or dangerous. It also tallied whenever a speaker said that immunization efforts represented a coercive form of government overreach or violated personal freedoms.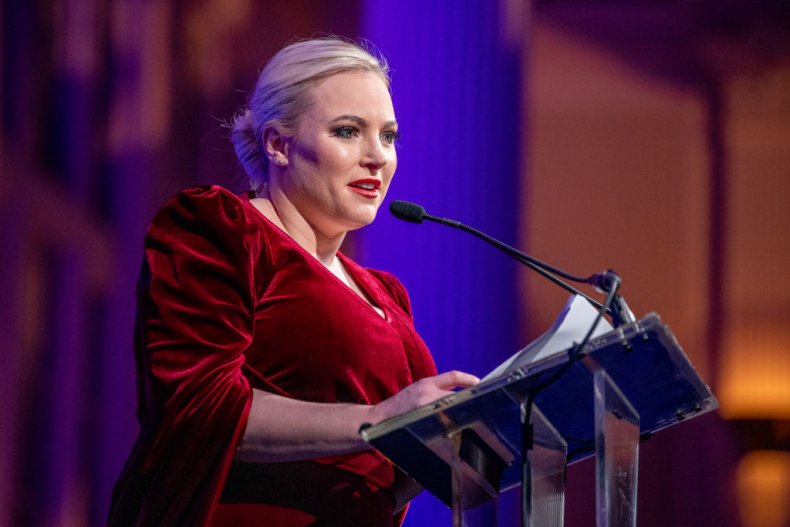 For instance, Tucker Carlson, Fox News Channel's most-watched host, has said that he is "pro-vaccine." However, he has repeatedly cast doubt about the vaccine's safety, and recently compared asking about one's vaccination status as akin to asking them to reveal their HIV status.
A Fox News spokesperson pointed Newsweek to recent examples of network personalities promoting the vaccine, the network's vaccine-focused PSA and the vaccine finder tool on its website.
Vaccine misinformation has become a prominent political topic as the COVID-19 Delta variant has increased infection rates amongst unvaccinated people nationwide. Increased infections have caused new lockdowns in Los Angeles, Australia and several Asian countries.
The Biden administration also recently fell 3 percent short of its goal having 70 percent of all American adults at least partially vaccinated by July 4.
This week, the administration blamed Facebook users for spreading vaccine misinformation. White House Press Secretary Jen Psaki said that an estimated 12 individuals are responsible for about 65 percent of all anti-vaccine misinformation on social media.
One-fifth of U.S. voters have said that they won't get vaccinated, according to a Washington Post-ABC News poll released on July 6. The poll revealed that roughly one-third of Republicans and White conservatives said they would refuse them. As such, those groups represent the demographics most opposed to getting vaccinated.