Former GOP Governor: Jan. 6 Testimony Makes Trump Look 'Unhinged'
A former Republican governor has said recent testimony before the House of Representatives' Select Committee investigating the events of January 6, 2021 makes former President Donald Trump look "unhinged."
Tom Kean Sr., who was governor of New Jersey from 1982 to 1990, told the state's News 12 on Friday that former White House aide Cassidy Hutchinson's testimony depicted Trump as someone not in "control of himself."
News 12 reported that Kean had said Trump was "not fit" to become president again. His comments come as The New York Times suggests Trump could announce another White House run much sooner than had been anticipated.
"The facts are very, very disturbing because it looks like he was unhinged at times. And that's scary in an American president," Kean said.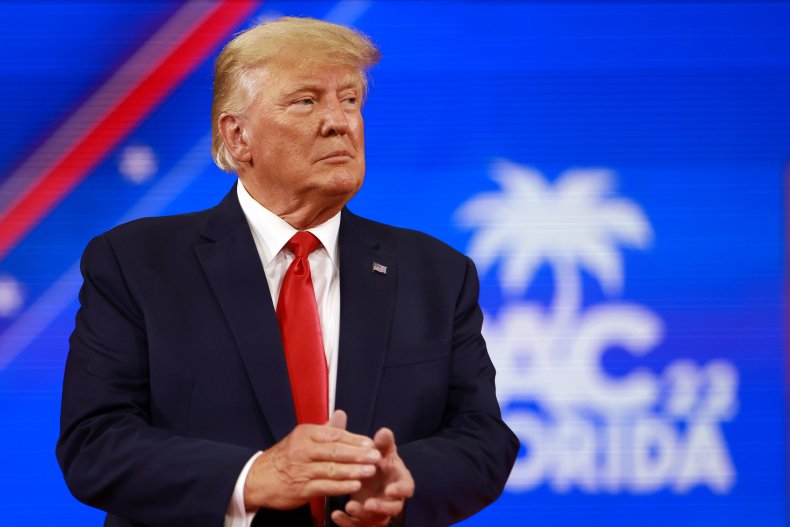 "Look, a lot of the things Donald Trump did as president I supported. But this presents a human being that is not fully in control of himself, let alone the country. If this is all accurate, then it's very, very disturbing," he said.
Kean said he found Hutchinson to be a "credible" witness when she appeared before the select committee on Tuesday.
Kean also served as chair of the commission that investigated the 9/11 terror attacks, having been appointed by then-President George W. Bush.
Newsweek has asked former President Trump's office for comment.
Kean's comments come after Arkansas Governor Asa Hutchinson—no relation to Cassidy Hutchinson—said he considers Trump to be "disqualified" from running for office in 2024.
"While we're totally focused on 2022, obviously there's talk about 2024, and I had to make it clear that Trump has disqualified himself, in my judgment, from his actions on January 6th and leading up to that," the Republican said.
"And so, we have to go a different direction for our country, for my party. And so, I want to be a voice for common-sense conservatism. We'll see how that resonates, but let's get through 2022," he said.
Cassidy Hutchinson, a former top aide to ex-White House Chief of Staff Mark Meadows, testified to the select committee that Trump had been aware that some of his supporters were armed on January 6 but that the former president didn't care because "they're not here to hurt me."
Hutchinson also claimed that Secret Service agents had told her that Trump had tried to grab the steering wheel of the presidential limousine when he was told he couldn't go to the Capitol on January 6.
However, members of the Secret Service who were present when the alleged incident in the limousine took place are reportedly willing to refute this claim.
Former Governor Kean's son, former state Senator Tom Kean Jr., recently won the Republican primary in New Jersey's 7th congressional district and will face off against incumbent Democratic representative Tom Malinowksi in November.