Who Is Tony Ornato? Secret Service Member's Jan. 6 Testimony Could Be Key
Tony Ornato has been put in the unusual position of being a senior Secret Service official making national headlines, as a result of the January 6 hearings.
Cassidy Hutchinson in her testimony, said Ornato, Donald Trump's White House chief of operations from December 2019, told her about an alleged incident involving Trump in the back of the presidential SUV on the day of the U.S. Capitol riot in 2021.
During her June 26 testimony, Hutchinson, a former aide to White House Chief of Staff Mark Meadows, relayed a conversation in which Ornato told that Trump was so irate at not being able to join his supporters at the Capitol that he tried to grab the steering wheel of the presidential Limousine and lunged at Secret Service agent, Bobby Engel. Trump denies the claim.
"When Mr Ornato had recounted the story to me, he had motioned towards his clavicles," Hutchinson testified, telling how Trump allegedly went to grab Engel's throat.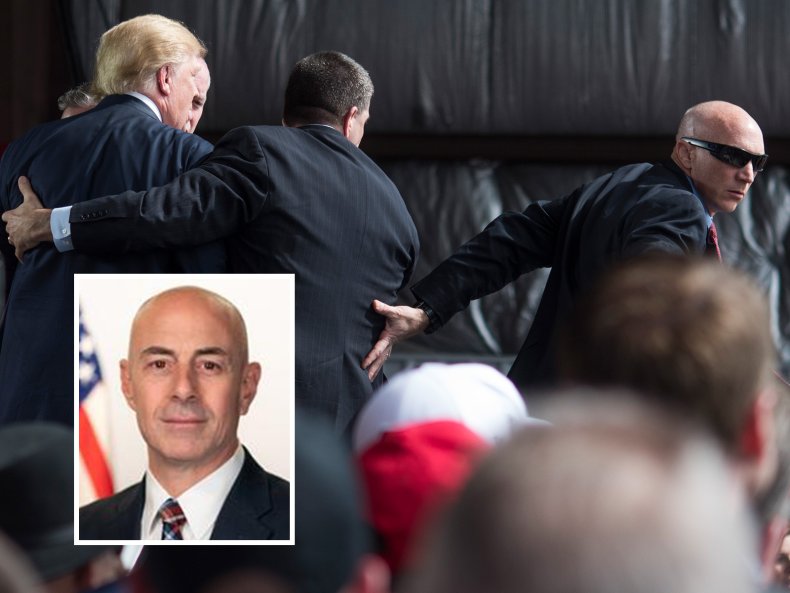 Both Engel and Ornator are reportedly prepared to testify that the incident in the presidential limousine never happened and Trump did not try to grab the steering wheel or assault a Secret Service member on January 6.
If Ornato goes on record to deny Hutchinson's testimony, the panel would be in the difficult position of having two witnesses under oath giving opposing accounts of events.
A denial from Ornato could potentially undermine Hutchinson's reliability, and raise questions about her more serious claims, including that Trump was aware that his supporters were armed on January 6 but still told them to march to the Capitol where the Electoral College certification ceremony was taking place.
Ornato could also testify on what Trump's state of mind during the January 6 riot, or if he could have done more to prevent it—a key issue in the panel's investigation.
Ornato, some former officials have suggested, has a history of disputing others' recollections of important White House conversations.
Olivia Troye, who served as a homeland security and counterterrorism advisor to then-Vice President Mike Pence, tweeted an excerpt from the book I Alone Can Fix It, by The Washington Post's Carol D. Leonnig and Philip Rucker, which detailed an apparent conversation between Ornato and senior White House official Keith Kellogg on January 6.
Ornato and Kellog are alleged to have argued about whether to move the then-VP to the Joint Base Andrews airbase in Maryland as the riot was unfolding and Trump supporters were heard chanting "hang Mike Pence." Ornato denies the conversation took place.
"Tony Ornato sure seems to deny conversations he's apparently had," Troye tweeted. "Those of us who worked w/ Tony know where his loyalties lie. He should testify under oath."
Alyssa Farah Griffin, a former White House director of strategic communications, has alleged that Ornato lied to her aboutBlack Lives Matter protests at Lafayette Square in June 2020.
Protesters were aggressively cleared from the square close to the White House, allegedly so Trump could pose for a photo opportunity at the St. John's Episcopal Church while holding a Bible.
"I told Mark Meadows & Ornato they needed to warn press staged there before clearing the square. Meadows replied: 'we aren't doing that.' Tony later lied & said the exchange never happened. He knows it did," Griffin tweeted.
Asked for comment, the Secret Service told Newsweek it has "fully cooperated with the Select Committee and we will continue to make individuals with first hand knowledge of the conversations and interactions available for sworn testimony. We are awaiting the opportunity to do so."
According to CNN and Politico, Ornato has already been interviewed twice by the House select committee—once in January and again in March—although it is unclear if the apparent incident in the Limousine was raised.
During his first interview, Ornato is reported to have made the disputed claim that Trump was not aware that Pence was inside the Capitol during the January 6 riot when he sent a tweet stating the vice president "didn't have the courage to do what should have been done" and stop the election results being certified.
It has been reported that Trump sent the 2:24 p.m. tweet 10 minutes after being told Pence had been removed from the chamber floor for his safety.