Tuesday's testimony by Cassidy Hutchinson, a former White House aide, before the House's January 6 committee offered insights into Donald Trump's movements and conversations before and on the day of the Capitol riot, as well as startling allegations against the former president and his allies.
Later that day, Trump dismissed many of Hutchinson's accusations on his social media site, Truth Social, describing her as a "total phony" and downplaying her role in his administration. Secret Service agents and a former Trump White House lawyer have also reportedly disputed specific parts of her testimony. These include the allegation that Trump lunged at Secret Service special agent Bobby Engel when he refused to take him to the Capitol after his rally at the Ellipse, which was held before the riot erupted.
Below is a breakdown of disputed parts of Hutchinson's testimony, and how key players have responded to them.
Trump allegedly wanted armed people to be let into his Ellipse rally on January 6.
In one of the most explosive allegations, Hutchinson described how Trump allegedly knew some people who came to attend his January 6 Ellipse rally were armed with weapons but wanted security personnel to let them into the event.
Hutchinson said that during a conversation that took place minutes before Trump took the stage for his rally speech, the former president was told that some of the people would not come through magnetometers, which can detect metal objects, and join the rally crowd because they were carrying weapons that they did not want confiscated.
In recorded testimony that was played in connection to her live testimony, Hutchinson alleged that Trump responded by saying "something to the effect of: 'Take the effing mags away. They're not here to hurt me. Let them in, let my people in. They can march to the Capitol after the rally is over. They can march from the Ellipse. Take the effing mags away. Then they can march to the Capitol.'"
But in a post on his Truth Social page Tuesday, Trump disputed that he wanted armed attendees to be allowed into the rally. He also denied a part of Hutchinson's testimony in which she said that he was "concerned" about the photograph that would be taken of the Ellipse crowd, because "the rally space wasn't full."
"Never complained about the crowd, it was massive," Trump's post read. "I didn't want or request that we make room for people with guns to watch my speech. Who would ever want that? Not me!"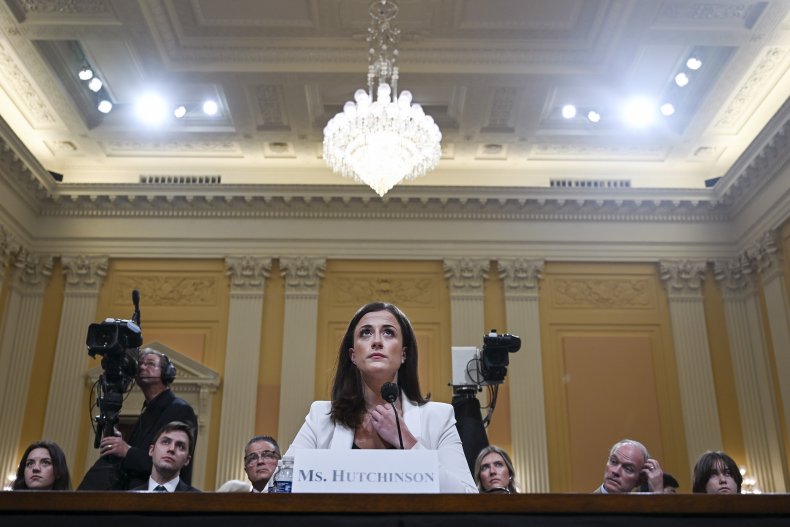 Trump allegedly lunged at a Secret Service agent and tried to grab his SUV's steering wheel when his security detail refused to take him to the Capitol.
Hutchinson testified during the hearing that Tony Ornato, the assistant director of the U.S. Secret Service Office of Training, told her on January 6 that when his security detail refused Trump's requests to bring him to the Capitol, he allegedly grabbed the steering wheel of the presidential vehicle, known as "the Beast." Ornato also told her that Trump allegedly lunged at Engel, the head of Trump's security detail, when he said they could not go to the Capitol, Hutchinson said.
"Her Fake story that I tried to grab the steering wheel of the White House Limousine in order to steer it to the Capitol Building is 'sick' and fraudulent, very much like the Unselect Committee itself—Wouldn't even have been possible to do such a ridiculous thing," Trump said in a Truth Social post in response to Hutchinson's testimony.
He did not address the allegation that he lunged at an agent in this or any other post since her testimony.
Peter Alexander, an NBC White House correspondent, tweeted Wednesday that a Secret Service spokesperson informed him that agents who were inside the vehicle with Trump that day were "available to testify under oath" in response to Hutchinson's allegations.
Alexander also said that a "source close to the Secret Service says both men dispute Trump grabbed the steering wheel or assaulted an agent."
"They do not deny that Trump was irate and demanded they drive to the Capitol," he added.
Hutchinson said she penned a handwritten note about a potential Trump statement during the Capitol riot.
During the January 6 panel's hearing Tuesday, Representative Liz Cheney showed a picture of a handwritten note that read: "Anyone who entered the Capitol illegally without proper authority should leave immediately." The word illegally had been crossed out.
Asked whether she wrote the note, Hutchinson, an aide to White House chief of staff Mark Meadows, responded that she had. She said Meadows handed her the note card and a pen and had her start writing as he dictated a potential statement for Trump to issue during the Capitol riot.
But former Trump White House lawyer Eric Herschmann has reportedly disputed this part of her testimony. A spokesperson for Herschmann told ABC News that the attorney, not Hutchinson, wrote the note.
ABC also reported that sources familiar with the matter said Herschmann had already told the January 6 committee that he was the note's author.
In a statement shared with Newsweek on behalf of Hutchinson, her lawyers, Jody Hunt and William Jordan, wrote that she "stands by all of the testimony she provided yesterday under oath."
Newsweek reached out to the Secret Service and a Trump spokesperson for comment. The January 6 committee was also contacted regarding the reported disparity between Herschmann's and Hutchinson's testimony on the handwritten note.
Updated 6/29/22, 4:55 p.m. ET: This story was updated with a statement from Hutchinson's lawyers.