Former GOP Governor Says Trump Has 'No Empathy' and 'No Transparency' After Report on President's Tax Avoidance
Former Pennsylvania Governor Tom Ridge, a Republican, strongly criticized President Donald Trump following reporting on his alleged tax avoidance.
The New York Times reported on Sunday that it had reviewed nearly two decades of the president's tax returns and found that Trump—a billionaire—paid just $750 in federal income taxes in 2016 and 2017. Trump has also reportedly received a federal tax credit of more than $72 million as well as more than $21 million in state and local funds. The president has dismissed the report as "fake news."
"It's revealing of many, many things," Ridge said during a Monday morning interview with CNN. "Most of all, I think it kind of reveals the lack of transparency, the lack of honesty and his inability ultimately to connect with people who scramble, maybe two household incomes scramble to pay a thousand or two in taxes," said the former swing-state governor.
Ridge said that Trump has shown a "tremendous lack of empathy and appreciation for those people who struggle with limited income." The former Republican governor stressed that he believes the president has "no empathy and there's no transparency there."
In an op-ed published by the Philadelphia Inquirer, Ridge endorsed Democrat Joe Biden for president. Ridge, who also served as former Republican President George W. Bush's Secretary of Homeland Security, condemned Trump's leadership and said it was a "point of personal pride" to be among Republicans who have rejected the president.
"He lacks the empathy, integrity, intellect and maturity to lead. He sows division along political, racial and religious lines. And he routinely dismisses the opinions of experts who know far more about the subject at hand than he does—intelligence, military, and public health. Our country has paid dearly in lives lost, social unrest, economic hardship and our standing in the world," wrote Ridge, who served as Pennsylvania's governor from 1995 to 2001.
Newsweek reached out to the Trump campaign for comment on the president's tax returns and Ridge's criticism, but it did not respond by the time of publication.
Notably, Pennsylvania is viewed as a key battleground state in the 2020 presidential election. The state voted for Democratic presidential candidates in every election from 1992 to 2012 but flipped red for Trump in 2016. Every recent poll out of Pennsylvania suggests that Biden is favored to win in the upcoming November 3 election. The current Real Clear Politics average shows Trump trailing by about 4.7 percentage points.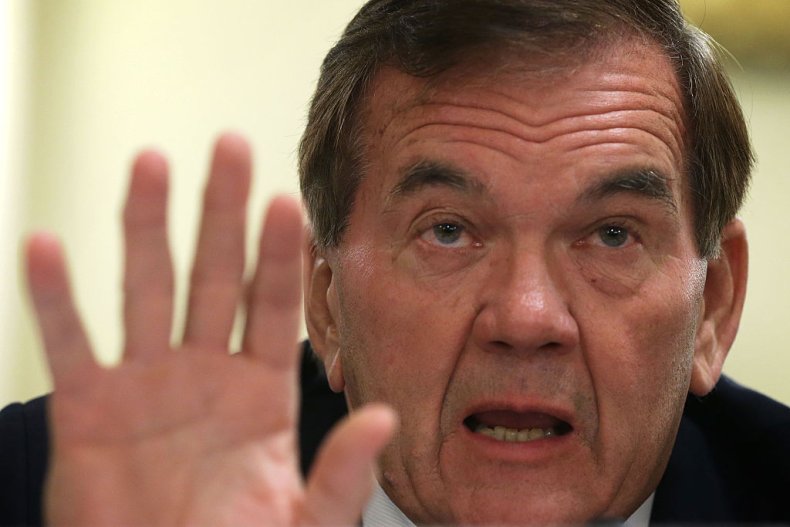 Notably, two other former Republican governors of swing states have also publicly rejected Trump and endorsed Biden. John Kasich, who served as Ohio's leader from 2011 to 2019, endorsed Biden in August. Michigan's former Governor Rick Snyder, who led his state from 2011 to 2019, endorsed the Democratic nominee in early September.
Ohio and Michigan both went red for Trump in 2016 after voting for Democrat Barack Obama in 2008 and 2012. But the current Real Clear Politics averages shows Biden ahead by about 5.2 percentage points in Michigan and about 3.3 percentage points in Ohio.