Former Michigan Republican Governor Endorses Biden, Calls Trump 'a Bully Who Lacks a Moral Compass'
Former Republican governor of Michigan Rick Snyder published an op-ed Thursday morning that backs Democratic presidential candidate Joe Biden and calls President Donald Trump "a bully who lacks a moral compass."
Snyder served two terms as Michigan's governor, leaving office on January 1 of last year after his term limits were up at the end of 2018. Before holding that office, he was a successful businessman and venture capitalist. In his Thursday op-ed in USA Today, Snyder said he remained committed to traditional Republican values but is opposed to Trump.
"I will continue to support and stand up for Republican policies and values, and support Republican candidates, but I will not support Donald Trump for reelection," he wrote.
Snyder explained that he had initially hoped Trump would champion a message of unity following the divisive 2016 election, but he argued that precisely the opposite had happened. "Furthermore, President Trump's answer to people who oppose or disagree with them is to be verbally abusive. In other words, he is a bully," he wrote.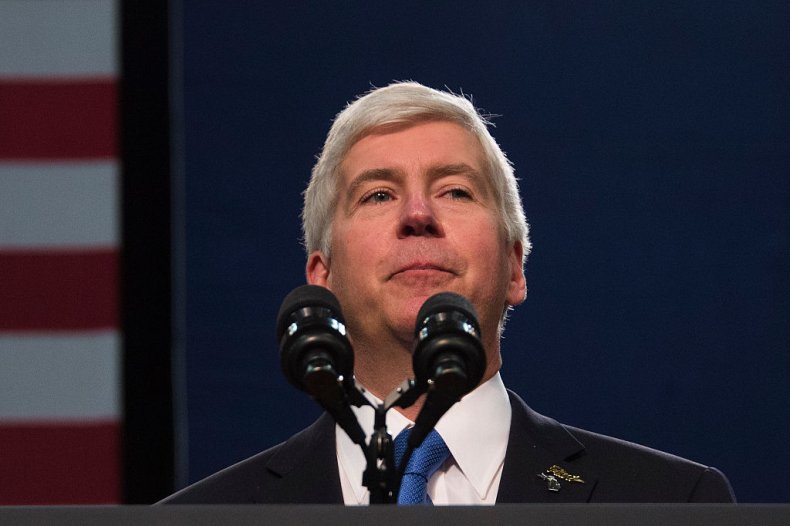 "A great leader treats people with respect even when they present different opinions. Without a variety of views and opinions, we would have no innovation or creativity in our nation," the former governor wrote. "Being a bully and being strong are not the same thing. Being strong is standing up for your convictions. Being a bully is trying to intimidate those who are perceived to be weaker or a threat."
Writing that Trump "lacks a moral compass," Snyder also said that the president "ignores the truth."
"Facts and science matter. Good decisions should be based on facts and supported by sound scientific theory whenever possible," he argued. "President Trump also has demonstrated that he does not fully appreciate public policy matters, including public health, the economy and foreign relations, nor does he seem to want to learn."
Snyder suggested that the good economy during Trump's first three years in office was the result of being "lucky" and called his tax reform "a failure." He also said that the president's foreign policy has diminished the U.S.'s reputation with the international community, meaning "our nation is no longer respected as a leader on world affairs."
Snyder said that Biden would bring back "civility" to the leadership of the nation. He emphasized that he still identifies as a Republican and "will be publicly supporting Republican candidates at the local, state and federal level."
Snyder is just the latest in a slew of current and former high-profile Republicans to back Biden over the president. The Lincoln Project, established late last year by former and current Republicans opposed to re-electing Trump, urges GOP voters and independents to be "patriotic" and support Biden instead.
The Trump campaign dismissed Snyder's endorsement of Biden with the same statement it has used for other Republicans who have backed the Democratic nominee.
"Joe Biden has been a failure in the Washington Swamp for a half century, so no one should be surprised when Swamp creatures gather to protect one of their own. President Trump has unprecedented support—over 95 percent—among real Republican voters," the Trump campaign's communications director, Tim Murtaugh, told Newsweek in an email.
Snyder's endorsement may hold extra weight in the race, as Michigan is seen as a key battleground. The state went blue for President Barack Obama in 2008 and 2012, but then flipped red for Trump by a narrow margin in 2016. Trump won the state with just 47.3 percent of the vote, compared with the 47.5 percent that went to Hillary Clinton.
The most recent polls out of the state are mixed. A survey carried out by the Trafalgar Group from August 14 to 24 showed Trump up by 2 percentage points, with the backing of 47 percent of Michigan voters, compared with 45 percent who supported Biden. But a CNBC/Change Research poll showed Biden ahead by 6 percentage points, with the support of 50 percent of Michiganders as opposed to just 44 percent who backed the president.