Former GOP Officials Warn of 'Permanent Stain' on Republicans if Trump's Not Held Accountable
Two former Republican governors and two ex-officials from former President Donald Trump's administration released a statement along with other former GOP officials demanding that Republican senators hold Trump accountable for helping to incite the January 6 insurrection.
Just 10 House Republicans aligned themselves with their Democratic colleagues in voting to impeach Trump a week after a violent mob of the then-president's supporters stormed the U.S. Capitol, leaving five people dead. Ahead of the riot, Trump had urged his supporters at a nearby Washington, D.C., rally to march to the legislative building and "fight like hell" to keep him in power.
The conservative group Checks & Balances published a Tuesday statement calling on Republican senators to hold the former GOP president accountable. Former Republican Governors Bill Weld of Massachusetts and Christine Todd Whitman of New Jersey signed the statement, as did John Mitnick, who served as general counsel for the Department of Homeland Security, and Bob Shanks, who served as the Peace Corps general counsel under Trump.
"As president, Donald Trump blatantly violated his oath to protect and defend the Constitution and faithfully execute our laws," the statement said. "In responding to this assault on our democracy, we should expect from our elected leaders the level of courage we routinely demand from our men and women in uniform; we expect our elected leaders to have the same courage to keep us safe at home."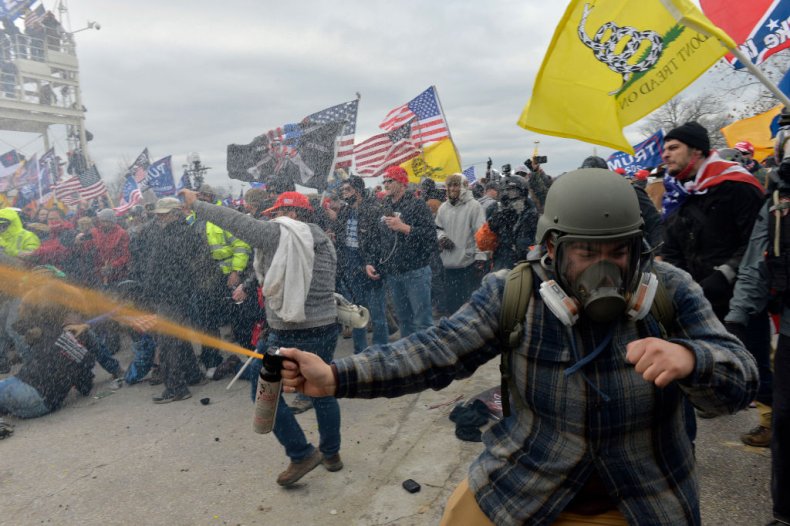 The former GOP officials added, "It will be a permanent stain on the history of the Republican Party and the legacy of its members in the U.S. Senate if they fail to find a way to hold a President of their party to account for this unprecedented mayhem at our Nation's Capitol and attack on our Constitutional order. National unity demands political accountability in the exercise of power."
They group argued that if the GOP "permits" a president to "violate his oath of office and the rule of law without serious consequence," it "will have little basis to ask the American people to entrust it with governing responsibly again."
In total, 36 former Republican officials signed the statement. Other notable signatories included attorney George Conway—a prominent Trump critic who is married to Kellyanne Conway, the former president's counselor.
Newsweek reached out to press representatives for Senate Minority Leader Mitch McConnell and Senate Minority Whip John Thune for comment but did not hear back before publication.
In a Senate floor speech last month, McConnell blamed Trump for the insurrection. "The mob was fed lies," the Kentucky Republican said. "They were provoked by the president and other powerful people." However, McConnell voted along with the vast majority of Republican senators to dismiss the impeachment trial as unconstitutional because Trump no longer holds office.
The group of former Republican officials dismissed this argument in their Monday statement, asserting that the process would be constitutional. The Senate trial will move forward next week.
"We believe an impeachment trial is constitutional and essential to focus the Nation on the gravity of what Mr. Trump did. Following an election that he had clearly lost, he used the platform of the presidency relentlessly to spread the 'Big Lie' that he in fact had won, but that the Democrats had stolen the election from him through electoral fraud," the Republicans' statement said.
Only GOP Senators Mitt Romney of Utah, Lisa Murkowski of Alaska, Ben Sasse of Nebraska, Susan Collins of Maine and Pat Toomey of Pennsylvania sided with the Democrats to vote against dismissing the impeachment trial. However, several others—like McConnell—have publicly criticized Trump and blamed him for the Capitol riot.