Former Hillary Clinton Aide on Bomb Threats: 'It's Almost Like They're Following Donald Trump's Twitter Feed'
In response to a series of suspicious packages believed to contain explosive devices that were sent to Democratic officials and the offices of CNN on Wednesday, a former senior adviser to Secretary of State Hillary Clinton said it was almost as though the person(s) who sent the packages was "following Donald Trump's Twitter feed."
The Secret Service told Newsweek Wednesday morning it had intercepted explosive devices that were sent to the homes of the Clintons in New York and the Obamas in Washington, D.C. The offices of CNN were evacuated that same morning after receiving a suspicious package addressed to former CIA Director John Brennan, which reportedly contained an explosive device. The South Florida office building of Democratic Congresswoman Debbie Wasserman Schultz was also evacuated after receiving a suspicious package addressed to former Attorney General Eric Holder. The packages all listed the return address for Wasserman Schultz.
An additional package was intercepted by authorities Wednesday afternoon that was addressed to Democratic Congresswoman Maxine Waters, which was intercepted at a Capitol Hill mail facility in Maryland. The communications director for Democratic Senator Kamala Harris in California said their office was evacuated after suspicious packages were found near the building but were not addressed to the senator or her office.
On Monday, explosive powder was found in a package sent to the home of billionaire Democratic donor George Soros in New York.
No one was injured by any of the suspicious packages or explosive devices.
"If you look at who they've targeted so far, it's almost like they're following Donald Trump's Twitter feed," said former Hillary Clinton adviser Philippe Reines on MSNBC Wednesday. "These are very lucky people in that the former first families have secret service protection with such robust protocols."
Reines pointed out that members of Congress and the media do not receive the same type of around-the-clock protection.
"You have to be really concerned that while everything so far has not hurt anyone, that might not hold," Reines said. "You have to ask how much Donald Trump is responsible for the climate that we're in where things like this happen."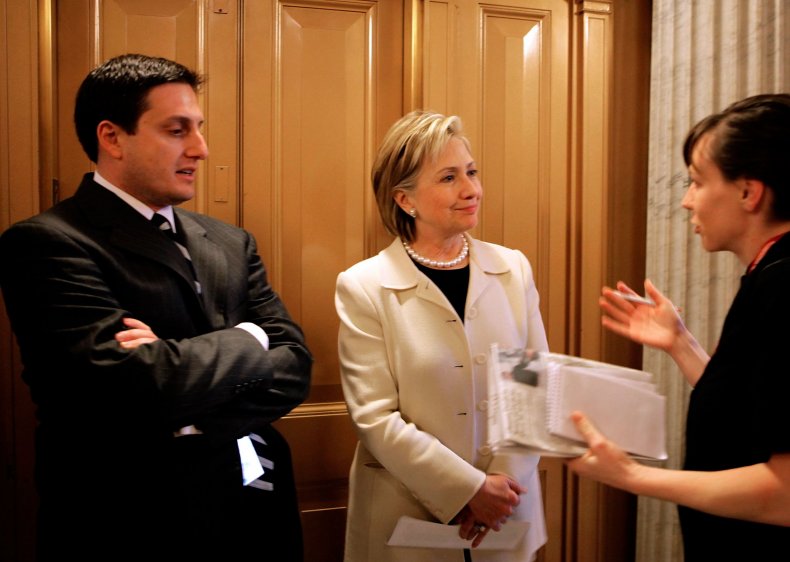 From the time Trump was on the campaign trail in 2016 to his current and ongoing political rallies around the country, critics have pointed to the president's tweets and public comments to suggest that his rhetoric has been divisive and, in some instances, even had the potential to incite violence. Trump has directly criticized, at one point or another in the past, those who were the targets of the suspicious packages and bomb threats.
There has been no information that the bomb threats had any link to the president.
Trump has spread conspiracy theories through Twitter and at his rallies that Soros had paid sexual assault survivors who protested on Capitol Hill during the confirmation process of Supreme Court Justice Brett Kavanaugh and that he was funding a migrant caravan traveling through Central America toward the U.S.-Mexico border.
Trump has also shared videos on Twitter of people with the CNN logo over their face getting run over by a "Trump train" and of himself beating them up. The president has routinely singled out CNN has "fake news," in addition to calling the majority of the media the "enemy of the people."
Following the bomb threats, the president said the "safety of the American people is my highest and absolute priority." Trump added that he had concluded a briefing with intelligence community officials.
"In these times, we have to unify. We have to come together and send one very clear, strong and unmistakable message that acts or threats of political violence of any kind have no place in the United States of America," Trump said.
Last week at a campaign rally in Montana, the president praised GOP Congressman Greg Gianforte for his past assault on a reporter in which Gianforte body-slammed a journalist to the ground.
In August, Trump warned there would be "violence" from left-wing groups if Republicans lost the House after the midterms, according to an audio recording of a private meeting with Christian groups that was obtained by The New York Times.
Before Trump's time in office, critics also suggested that then-candidate Trump's comments at campaign rallies could be viewed as inciting violence.
Then-candidate Trump speaking at a campaign rally in Kansas City, Missouri, in March 2016 said he would have "beat the crap out of" someone who tried to rush the stage at a previous event. At another rally that same month in St. Louis after protesters were thrown out, Trump said: "Part of the problem and part of the reason it takes so long is nobody wants to hurt each other anymore, right?"
After a 78-year-old protester was sucker-punched by a supporter at a North Carolina rally, Trump said he "instructed his people to look into" paying the legal fees of the man who was criminally charged for throwing the punch. At that rally, Trump said protesters used to be treated "very, very rough, and when they protested once, they would not do it again so easily."