Trump Praises Montana Congressman Greg Gianforte for Assaulting Reporter: 'He's My Kind of Guy'
U.S. President Donald Trump has made light of Congress member Greg Gianforte's violent attack on a journalist.
During a rally in Montana to lend his support to Gianforte's election campaign, Trump appeared to relish the details of the assault on The Guardian journalist Ben Jacobs after he had asked Gianforte a question about health care last year.
"Any guy that can do a body slam … he's my guy," Trump said, after which he pretended to throw someone to the ground.
The incident occurred In May 2017 at Gianforte's campaign headquarters when the then-candidate threw the journalist to the floor, broke his glasses and shouted: "Get the hell out of here."
Jacobs was taken by ambulance to a hospital and was treated with an elbow injury. Gianforte admitted a charge of assault and was sentenced to four days in jail, later changed to 40 hours of community service, a fine and an anger-management course.
Trump told the crown in Missoula on Thursday how he had found out about the attack when he was in Rome with other world leaders.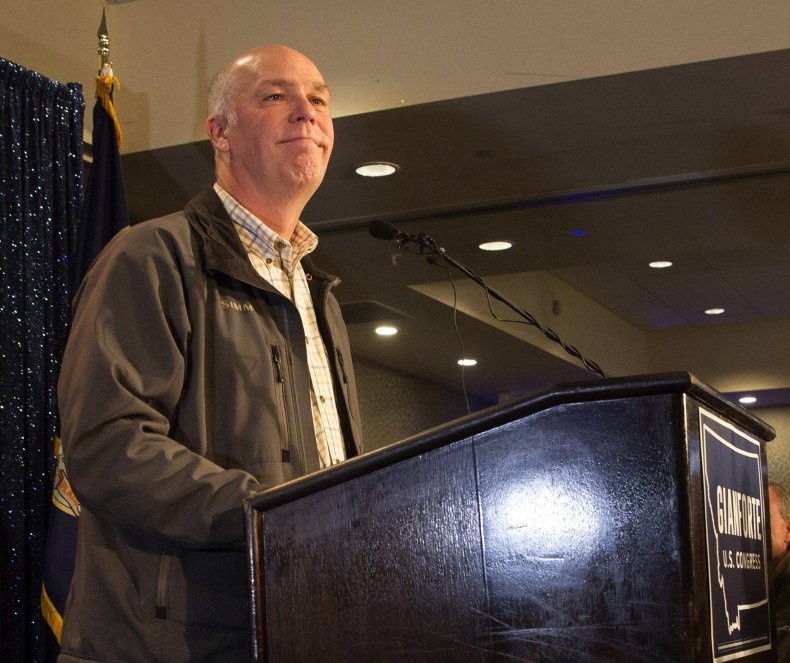 "We endorsed Greg very early. But I heard that he body-slammed a reporter. This was the day of the election or just before, and I thought 'Oh, this is terrible! He's going to lose the election.'"
"And then I said, 'Wait a minute, I know Montana pretty well, I think it might help him.' And it did," Trump said to chants and cheers from the 8,000-strong party faithful.
He then added: "He's a great guy. Tough cookie."
The Guardian reported that it was the first time the president has praised a violent act against a journalist on American soil.
The campaign for Kathleen Williams, Gianforte's Democratic opponent said in a statement: "Gianforte's assault and lies are not who we are as Montanans."
Trump's comments sparked outrage on Twitter, even from mixed martial arts fighter Nathan Quarry.
"Trump just applauded an assault on a reporter. Shocked. I'm just shocked," he tweeted.
Director of UN Sustainable Development Solutions Network Jeffrey Sachs tweeted: "Trump is a psychopath. With a lot of followers. At Montana rally, Trump praises congressman for assaulting reporter."
European Media Director of Human Rights Watch Andrew Stroehlein tweeted: "Horrific. He's declared open season on all journalists."
The Guardian U.S. editor John Mulholland said in a statement: "To celebrate an attack on a journalist who was simply doing his job is an attack on the first amendment by someone who has taken an oath to defend it."
Trump's comments also come at a time when the president appeared to acknowledge the death of Saudi journalist Jamal Khashoggi, which Turkish officials accuse Riyadh of being responsible for.
In a sign that the Trump administration is distancing itself from the Saudi regime over Khashoggi's disappearance, U.S. treasury secretary Steven Mnuchin said he would not attend a Saudi government-sponsored investment conference.
Asked if he thought the journalist was dead, Trump told reporters: "It certainly looks that way to me. It's very sad. It certainly looks that way."
Asked about his response if it were found that the Saudi regime was behind it, he said: "Well, it'll have to be very severe. I mean, it's bad, bad stuff. But we'll see what happens."