Former ICE Chief Thomas Homan to Be Honored at 'Anti-Muslim Hate Group' Convention
Former acting director of the U.S. Immigration and Customs Enforcement (ICE) agency, Thomas Homan, is set to be honored at a national conference organized by ACT for America, which has been branded by the Southern Poverty Law Center (SPLC) as an "anti-Muslim hate group."
Homan has been touted as a "special honoree" of the event this week at the Hyatt Regency Crystal City Hotel in Arlington, Virginia.
The September 4th and 5th event is also expected to be attended by counselor to President Donald Trump, Kellyanne Conway, conservative political commentator Tomi Lahren, U.S. National Security Advisor John Bolton, and former Trump aide Sebastian Gorka, among others.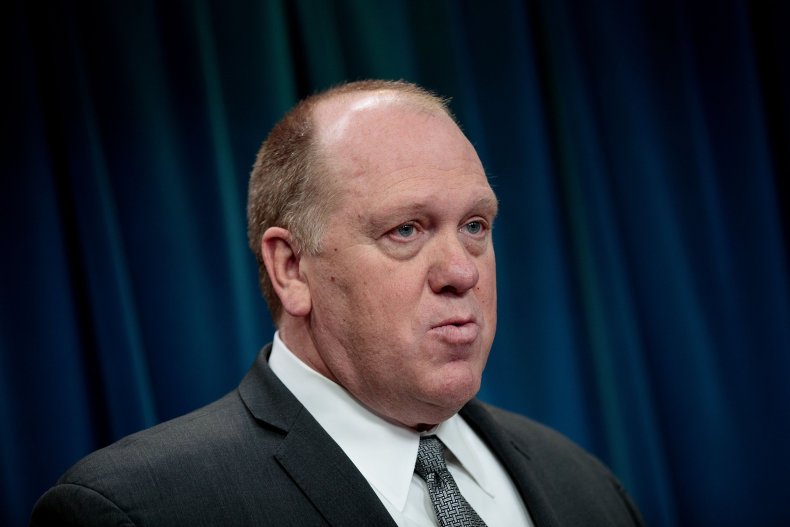 Homan will be honored as part of ACT's "Back the Blue" campaign, which launched earlier this year in support of law enforcement in the U.S.
Homan retired from his role at the end of June this year, as his agency faced increasing scrutiny over its role in enforcing the Trump administration's "zero tolerance" immigration rules, including its child separation policy that sparked widespread outrage across the country.
The former ICE leader staunchly defended the administration's policies, saying in June ahead of his retirement that while it made him "sad to see children cry… those who choose to come between the ports of entry are committing a crime," while speaking at another event hosted by the Center for Immigration Studies, which has also been branded an "anti-immigrant hate group" by the SPLC.
The SPLC identifies ACT for America as an "extremist" hate group that has "undoubtedly grown to become the largest anti-Muslim group in America. ACT for America is listed as an anti-Muslim hate group because it pushes wild anti-Muslim conspiracy theories, denigrates American Muslims and deliberately conflates mainstream and radical Islam," the SPLC states on its website.
The organization's founder, Brigitte Gabriel, born Hanan Qahwaji, has previously asserted that Muslims "cannot be loyal citizens of the United States," and has accused the religion of Islam of having "created an unleashed an uncontrollable wave of hatred and rage on the world," adding: "We must brace ourselves for the consequences," in her 2008 book, They Must Be Stopped.
In June 2017, ACT for America's "March Against Sharia" attracted a number of people identified as white supremacist "extremists," including Billy Roper.
Read more: ICE quietly changes leadership, promoting deportation chief and 'sidelining' investigative unit
Of the organization's decision to honor Homan, the SPLC said in a separate press release that the move signaled its support "of ICE and the Trump administration's draconian immigration policies."
The law center dismissed ACT for America's "Back The Blue" campaign as a likely "public relations move on ACT's part after the negative press it received for its 2017 national 'March Against Sharia' rallies," which it said "attracted white nationalists, neo-Nazis and anti-government groups—all of which were united by anti-Muslim animus."
The SPLC warned that "anti-Muslim rhetoric is… likely to feature heavily at the conference," adding that the event is set to take place shortly before the release of a new book by Gabriel, titled Rise: In Defense of Judeo-Christian Values and Freedom, which has been billed as a bid to encourage people to "rise" and "preserve our endangered Judeo-Christian values and freedoms."