U.S. Immigration and Customs Enforcement has undergone a quiet change in leadership, which a former senior ICE official told Newsweek offered proof that the embattled agency was "sidelining" its investigative unit to focus more on immigration law enforcement and removals.
Peter Edge, the former Homeland Security Investigations executive associate director who served as the senior official performing the duties of ICE's acting deputy director, quietly resigned last week after dedicating more than 31 years to law enforcement.
In his place, Matthew Albence, who had previously headed ICE's Enforcement and Removal Operations team, appears to have been promoted to acting deputy director, while continuing his duties with the Enforcement and Removal team.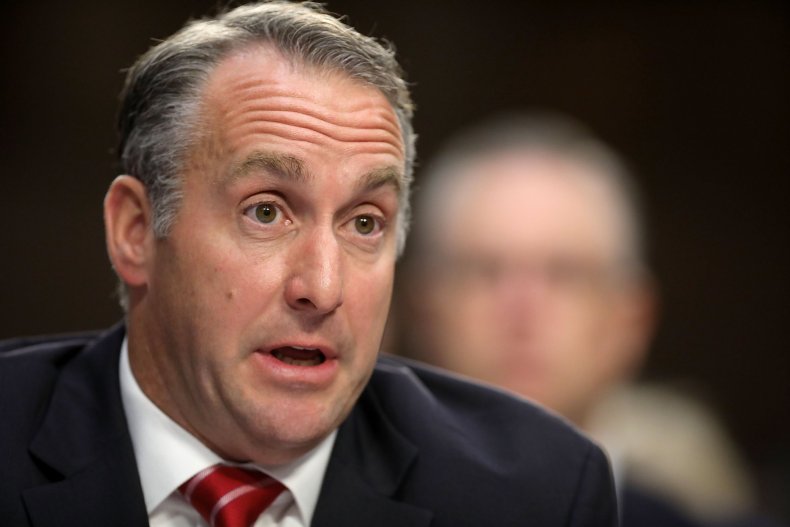 Before making any formal announcement, ICE updated its leadership web page on Wednesday to reflect the changes in leadership.
While Albence's former position remains on the leadership web page with an empty photo, Edge's role as Homeland Security Investigations chief appears to have been assumed by Derek Benner, who is now listed as the acting executive associate director of the investigative unit.
The leadership change comes only weeks after former Acting ICE Director Thomas Homan retired and was replaced by Ronald Vitiello.
'Sad State of Affairs'
A former senior ICE official who worked with the agency under the Obama administration confirmed to Newsweek that Edge retired sometime last week.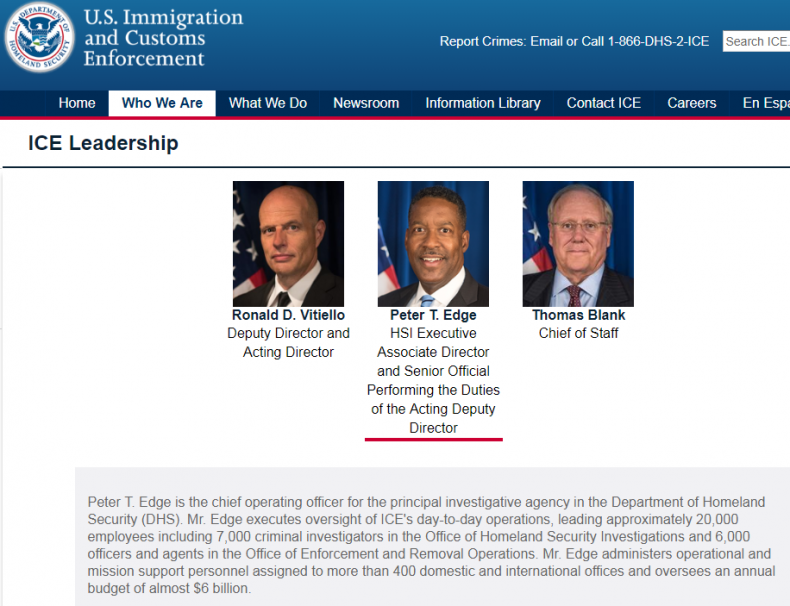 The source, who is not authorized to address the issue publicly and therefore spoke on condition of anonymity, said why Edge retired is "a question only [he] can answer."
The source did say, however, that with Albence's appointment, "the ascendency of Enforcement and Removal Operations has made it clear that the administration favors one side of the house over the other."
The source said Homeland Security Investigations, the team responsible for targeting transnational criminal organizations, smuggling and trafficking, among other matters, was clearly being "sidelined" by ICE, calling the situation a "sad state of affairs."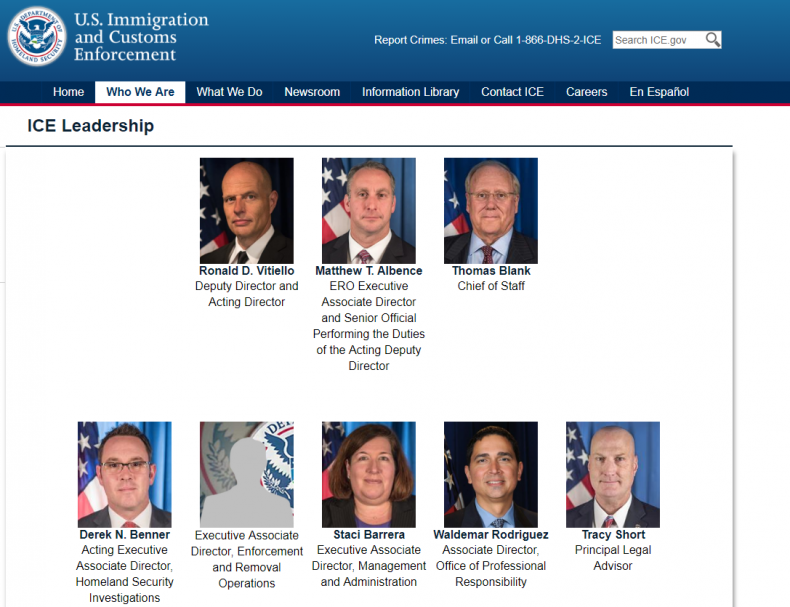 The source also indicated that the decision to "sideline" the investigative unit—and possibly even Edge's decision to retire—could have been a result of the fallout after 19 agents from the investigative unit wrote a strongly worded letter to the Trump administration, joining calls for ICE's enforcement and removal operations team to be abolished.
The letter, which was addressed to U.S. Secretary of Homeland Security Kirstjen Nielsen, called for the Homeland Security Investigations unit to be made separate from ICE's Enforcement and Removal Operations arm, which has overseen widespread raids and targeted arrests of undocumented immigrants across the country.
In the letter, Homeland Security investigators warned that their work was being undermined and put at risk by Enforcement and Removal Operations' sweeping immigration crackdowns, changing the public's perception of ICE as an agency solely focused on "targeting undocumented aliens, instead of the transnational criminal organizations that facilitate cross-border crimes impacting our communities and national security."
Related: 19 ICE agents call to abolish agency in letter to Homeland Security head Kirstjen Nielsen
"I think it's very clear that this administration's heavy-handed focus on immigration enforcement has caused those who enforce the criminal side, who actually do what I would call law enforcement work, to come out and say it's hurting our ability to enforce criminal laws," the former ICE official told Newsweek in June.
A 'Full-Blown Morale Crisis'
The source had also said at the time that Albence was unlikely to be picked to become acting director of ICE because his hard-line stance on immigration would have been "a line too far even internally at ICE."
Albence's biography on ICE's website states that he was appointed as the leader of Enforcement and Removal Operations in January 2017 and has led the unit in its "mission to identify, arrest and remove aliens who present a danger to national security or are a risk to public safety, as well as those who enter the United States illegally or otherwise undermine the integrity of our immigration laws and our border control efforts."
Describing Albence as someone with strong views on immigration, the source said at the time that the Albence could be a likely replacement for Edge if Edge did choose to retire.
He said a change such as the one that has taken place could ignite a "full-blown morale crisis" within ICE.
In the meantime, Albence, who has worked in federal law enforcement for more than 23 years, has already made headlines in the first week of his new role.
During a Senate Judiciary Committee hearing on Tuesday on the Trump administration's family-reunification efforts, Albence compared family detention centers for immigrants to "summer camps," pointing to the amenities and services that detained families can use.
How his appointment to senior official performing the duties of the acting deputy director of ICE will affect the agency remains to be seen.
ICE did not immediately respond to a request for comment from Newsweek.