Who Is Ronald Vitiello? Top Border Patrol Official Becomes Acting Director of ICE Agency
The Immigration and Customs Enforcement agency has a new captain at its helm, with Ronald Vitiello named as acting director after former ICE chief Thomas Homan's resignation last week.
The Department of Homeland Security (DHS) Secretary Kirstjen Nielsen appointed Vitiello as deputy director of ICE on Friday, announcing that he would also be serving as the agency's acting director. The appointment came into effect on Saturday.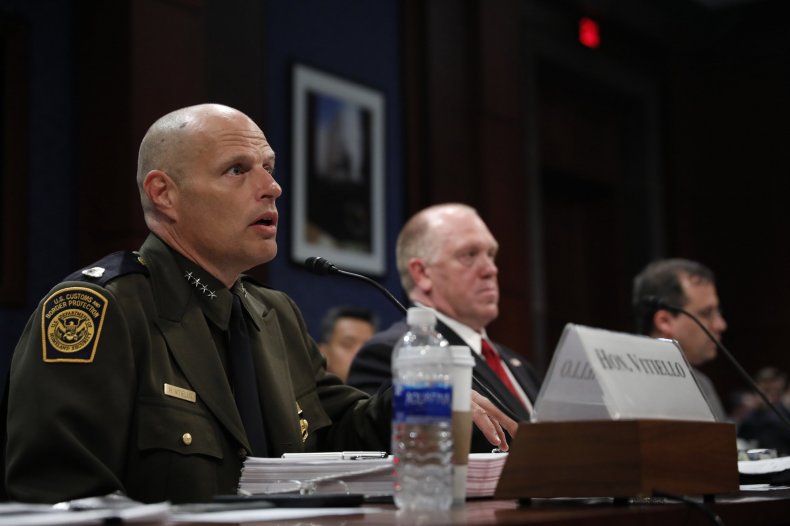 The DHS secretary said Vitiello "brings to ICE the vision and leadership needed to continue the exceptional work the agency is doing to accomplish its crucial national security and public safety missions."
"I am pleased that ICE will continue to be led by an experienced and well-respected career law enforcement officer who will be a strong advocate for the agency's workforce," she added.
Vitiello, who previously served as the acting deputy commissioner of U.S. Customs and Border Protection, has more than 30 years of experience working in law enforcement.
The new ICE chief started his career as a U.S. Border Patrol agent in Laredo, Texas, in 1985, according to Nielsen.
Over the three decades that have followed, he has held a number of leadership positions within immigration law enforcement, including playing a key role in the development of the U.S. Customs and Border Protection agency when it was formed in 2003 as part of a major shakeup in immigration law enforcement. During that time, Vitiello was assigned to the Operations Division for the former DHS Border and Transportation Security Directorate.
He was transferred to CBP headquarters in 2010 after being named deputy chief of the Border Patrol and would go on to be named as the agency's chief and CBP's acting deputy commissioner all within the space of a year in 2017.
Difficulties Ahead
Vitiello's appointment comes at a troubled time for the agency, which has faced unprecedented scrutiny over its role in enforcing the Trump administration's hard-line immigration practices, including its recently rescinded "zero tolerance" practice of separating families at the border.
There have been growing calls from Democrats for the agency to be abolished, including from U.S. House candidate Alexandria Ocasio-Cortez, who delivered a major Democratic primary upset in New York after campaigning on abolishing ICE.
New York's Kirsten Gillibrand became the first senator and potential 2020 candidate to join her in calling for the abolition of the agency, with Elizabeth Warren and New York Mayor Bill de Blasio adding their support.
Last week, 19 high-profile ICE agents and leaders also signed a letter addressed to Nielsen demanding that the agency be eliminated.
The letter, which was first shared by the Texas Observer, complained that the perception of ICE agents "targeting undocumented aliens, instead of the transnational criminal organizations that facilitate cross border crimes impacting our communities and national security," has had a negative impact on their work.
The agents recommended that the DHS dismiss the departments of ICE tasked with deporting undocumented immigrants and instead focus on the agency's investigations team, which combats human trafficking, drug smuggling and cybercrime.
President Donald Trump addressed growing calls to abolish ICE over the weekend, tweeting that ICE employees should "not worry or lose your spirit."
"The radical left Dems want you out," Trump said, adding: "Next it will be all police. Zero chance, it will never happen!"
How Vitiello will handle the calls for the abolition of the agency he is set to lead remains to be seen.
ICE Leadership Overlooked
The new ICE chief's appointment saw two other likely candidates for the role of acting director overlooked.
Peter T. Edge was one such potential candidate. The Homeland Security Investigations executive associate director would have served as the senior official performing the duties of acting deputy director, according to ICE's website.
However, Edge lacked Homan's background experience and focus on enforcement, which likely played a significant role in the administration's decision to choose Vitiello.
ICE insiders had also identified Matthew Albence, executive associate director of Enforcement and Removal Operations (ERO), as a possible successor. Albence, who leads ERO's mission "to identify, arrest and remove aliens who present a danger to national security or are a risk to public safety," according to ICE's website, appeared to share Homan's focus on enforcement of immigration law.
Relate: ICE chief Thomas Homan retires—what will his legacy be?
Under Homan, who was named acting director of ICE on January 30, 2017, ICE saw an increase in arrests by 40 percent, with interior removals increased by 30 percent over the past year, according to Nielsen. The agency also saw the highest number of arrests of MS-13 gang members since 2008.
Nielsen also claimed that the agency saw employee morale rise "to its highest level" since 2010 under Homan's leadership.
Homan announced his plans to retire in April, saying he would be stepping down as ICE's leader to focus on his family after more than 34 years of service.
Nielsen thanked Homan for his service and said the retired acting director and his family "will remain part of the DHS family."