Thomas Homan, acting director of Immigration and Customs Enforcement (ICE), is set to retire this week, bringing his more than 34 years of federal service to an end, the agency has confirmed.
ICE spokesperson Jennifer Elzea told Newsweek that Homan would be stepping down by Saturday, June 30. He became acting director on January 30, 2017, after serving as the executive associate director of ICE Enforcement and Removal Operations since 2013.
The decision comes at a tumultuous time for ICE, with the agency facing unprecedented scrutiny over its role in enforcing the Trump administration's hard-line immigration practices, including its recently rescinded "zero tolerance" practice of separating families at the border.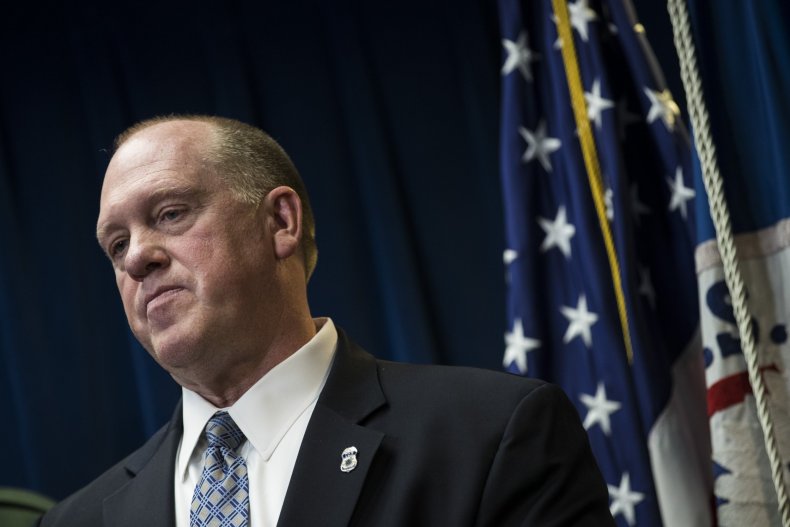 "One of the Toughest Jobs"
Homan has been a staunch defender of the Trump administration's immigration practices, which have sparked widespread outrage across the country and around the world. But a former senior ICE and Department of Homeland Security (DHS) official who worked closely with Homan for four years told Newsweek they understood why he might feel ready to part ways with the federal government at such a critical point in his career.
"Let's take politics out of the equation," said the former official, who spoke on condition of anonymity because they were not authorized to address the issue publicly. "No matter what your stance is on immigration, being the director of ICE is one of the toughest jobs in the federal government because half of the people are going to love you and half of the people are going to hate you.
"You are either enforcing the law too strongly or not strongly enough. Operating under that kind of pressure for a long time is hard on people."
A "Bittersweet" Decision
Homan, who was President Donald Trump's pick to permanently lead ICE, revealed his plans to step down from the helm of the embattled agency in April, saying he would be resigning by summertime in order to focus on his family.
"It has been the honor of my life to lead the men and women of ICE for more than a year," Homan, 57, said in a statement at the time.
"The decision to leave federal service after more than 34 years is bittersweet, but my family has sacrificed a lot in order for me to serve, and it's time for me to focus on them," he said.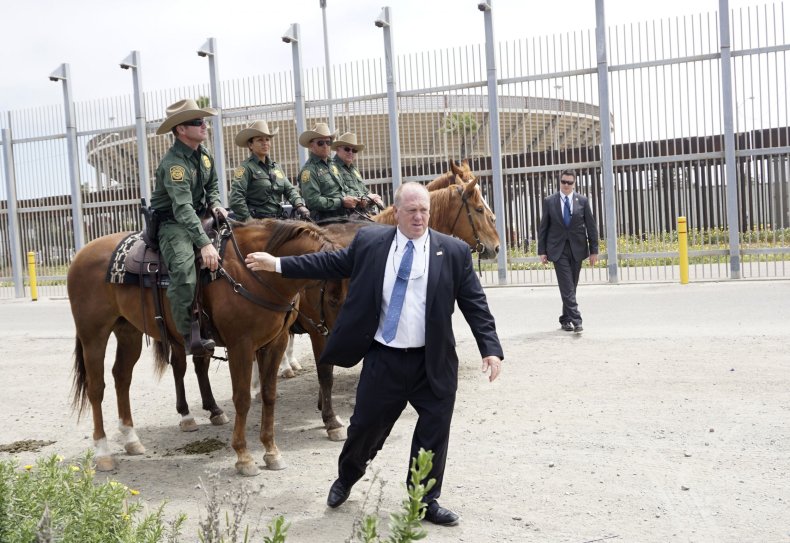 While there have been reports that Homan's decision to retire was at least in some part due to an increasingly tumultuous relationship with his boss, Homeland Security Secretary Kirstjen Nielsen, Homan has maintained that the claims are "not true."
"I heard that. That's not true," Homan said, during a May interview with Fox and Friends. "You know, Kirstjen Nielsen, she's a patriot in her own right," he said, adding that the Homeland Security secretary has been "very supportive" of him and ICE's overall mission.
"I'm leaving for the right reasons—to spend more time with my wife and kids, who have sacrificed as much as I have in the last 34 years," the ICE chief said.
Homan had previously planned to retire from ICE in January 2017 but was asked by now Chief of Staff John Kelly to stay on board at the president's request on the very night of his retirement ceremony.
Asked who would replace Homan as acting director, Elzea said no "additional announcements" have been made at this time.
Peter T. Edge, who currently serves as the executive associate director of Homeland Security Investigations (HSI) and as the senior official performing the duties of the acting deputy director, would be one of the obvious prospects to assume Homan's duties as acting director.
However, Edge lacks Homan's background experience and focus on enforcement, which could inspire the administration to look elsewhere, given its current mandate of cracking down on undocumented immigrants.
Loyal Defender
Despite widespread criticisms of the Trump administration's "zero tolerance" crackdown and growing calls to "abolish ICE," Homan, who has served with the agency for three decades, including working as immigration officer in Dallas and San Antonio, has been steadfast in his commitment to enforcing—and defending—the government's hard-line policies.
The ICE chief made headlines when he issued a warning almost exactly one year ago, putting undocumented immigrants living in the U.S. on notice that they "should be afraid" of the crackdown he vowed to lead.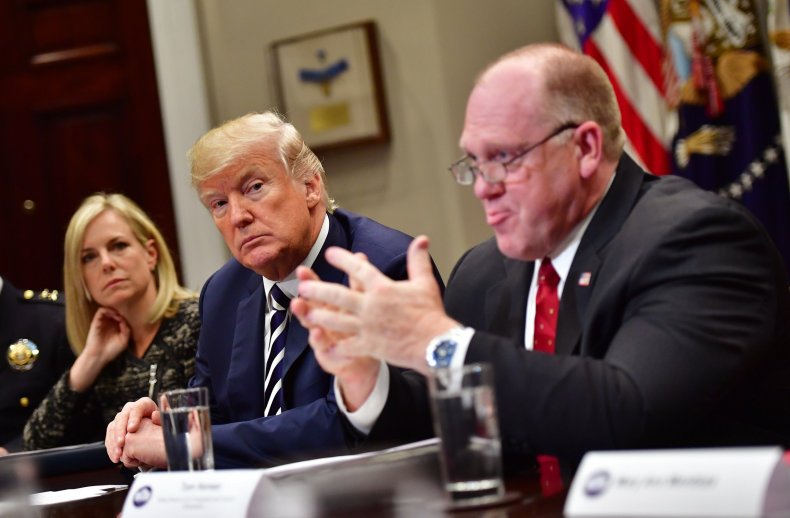 It was no empty threat. Under Homan's leadership, immigration arrests quickly surged by 40 percent after an Obama-era practice of targeting serious or violent criminal offenders was done away with, allowing agents to cast their nets far and wide across the country.
In 2017, ICE made 143,470 arrests, which, according to the agency, was the "highest number of administrative arrests over the past three fiscal years."
Homan vowed to be even more productive in 2018 and has appeared to live up to that promise in the months since, with the acting director spending his last months with ICE overseeing widespread raids across the country targeting "sanctuary cities," which prevent local law enforcement from cooperating with federal immigration authorities.
In a March interview with Newsweek, former ICE Deputy Chief of Staff John Amaya, who stepped down after Trump's inauguration to make way for the new administration, said that with Trump's election, the "gloves were off" for Homan, meaning there was "really no limit to who he [could] pursue."
"The numbers will tell that story," Amaya said. "We can look back in a year at how fruitful they have been."
The former ICE deputy chief of staff described Homan as an "intense" leader who was "very passionate" about carrying out ICE's mission.
"Tom is a very direct, unapologetic person, okay?" Amaya said. "He lives his life deliberately, with intensity and that's in both his job, and, I think he would be proud to hear, in his personal life."
The ICE chief has also earned praise from law enforcement groups, including the National Sheriffs' Association (NSA), which lamented the loss of "a fine public servant who has served multiple administrations proudly and effectively" in a statement published online.
"He always had the country's best interest in mind and understood the importance of local law enforcement and the sacrifice those men and women make each day," the NSA said. "The next director has large shoes to fill, but we look forward to continue working with ICE to keep our communities safe."
"Sadistic Monster"
Homan's dedication to his role will also not be forgotten by his detractors, however. The ICE chief's short time heading up the agency has earned him his fair share of enemies, with the acting director being branded a "monster" more than once.
"Remember this name: Thomas Homan. ICE director. Inhuman sadistic monster," Norman Ornstein, a resident scholar at the American Enterprise Institute and contributing editor for the Atlantic wrote earlier this month. "We cannot let the perpetrators slide without remembering their horrible actions."
Many have echoed that sentiment, with calls across social media demanding Homan be tried at the Hague before the International Criminal Court for crimes against humanity for his role in the suffering of undocumented immigrants detained and deported by ICE.
Immigrant rights activist and journalist Gabe Ortíz branded Homan "one of the most dangerous men in America" earlier this year, and referred to the ICE chief as a "mass deportation architect" in a tweet pointing out a moment when Homan appeared to freeze when asked by CNN's Wolf Blitzer if the Trump administration's family separation practice could be considered "humane."
"I think..." Homan started to respond to Blitzer's question, before taking a lengthy pause. "I think it's the law."
Asked again, the ICE chief appeared to be unable to call the practice humane, maintaining only that it was "the law."
Humanity and the Law
The public may never know how Homan personally feels about the practice—or about the legacy he will leave behind at ICE, but what is clear is that in his final month as the agency's chief, he has used his time to staunchly defend the Trump administration's hard-line immigration crackdown and ICE's role in enforcing it.
Speaking earlier this month an event hosted by the Center for Immigration Studies, which has been branded an "anti-immigrant hate group" by the Southern Poverty Law Center, the ICE chief laid the blame for the consequences of the family separation practice squarely at the feet of the thousands of parents and children who have been affected by it.
"Those who choose to come between the ports of entry are committing a crime," Homan said, during the event.
The ICE chief said that he felt "bad" after being shown a video by a reporter of a father being arrested as his children cried, but he said ICE agents and officers "have a job to do."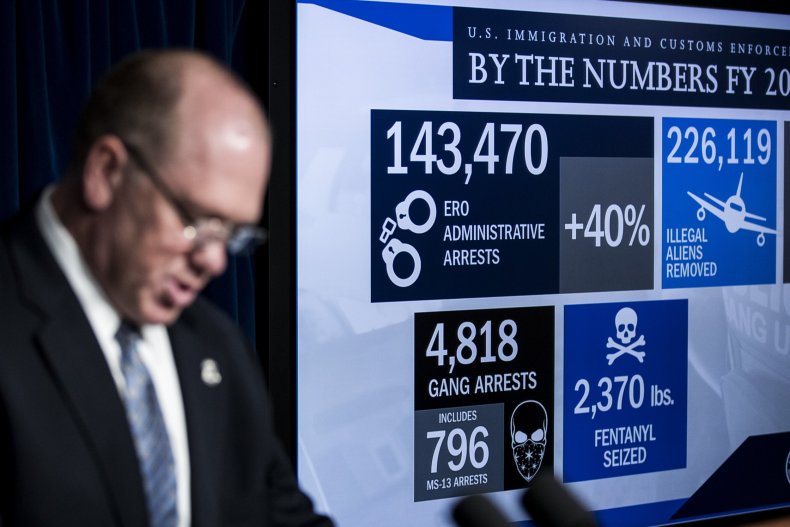 "One thing you got to remember, for that parent who was arrested and his child crying and feeling bad about it, I get it, but what responsibility does he have in this? He chose to enter the country illegally in violation of federal law. He chose to do that intentionally," the ICE chief said. "He put himself in the position.
"Children and parents get separated every day across this country when a parent is charged with a criminal offense. It's sad to see children cry when you take a parent out of a home, but because it's sad, doesn't mean that we ignore the law."
Related: ICE chief defends separating families at the border after U.N. condemns practice as rights violation
Homan, who has repeatedly stressed that it is the U.S. Customs and Border Protection agency, and not ICE, that has been responsible for separating families at the border, expressed his exasperation in dealing with increasingly negative perceptions of his agency, suggesting its detractors take their criticisms to Congress.
"A lot of people want to attack ICE. I see it every day. They want to call ICE racists, Nazis," Homan said. "If you think ICE is racist, is Congress racist because it enacted these laws? I mean think about that for a minute. The men and women of ICE deserve thanks."
The former senior ICE official who spoke with Newsweek said that under the Trump administration and under Homan's leadership, ICE has "gone too far in the enforcement direction," adding that much of the work the agency did under the Obama administration to build relations with local communities "has been undone."
While they said they did not agree with "some" of Homan's views on immigration," they believe that the ICE chief has "earned his retirement."
"He's basically spent the entirety of his adult life in public service," the former official said. "Those jobs, they take a toll on your body and on a person, so he has earned the right to retire, regardless of what you think of his particular policies."