ICE Chief Defends Separating Families at Border After U.N. Condemns Practice as Rights Violation
Immigration and Customs Enforcement Acting Director Thomas Homan defended the Trump administration's contentious new practice of separating families at the border on Tuesday, hours after the United Nations condemned the policy as a violation of human rights.
Speaking at a discussion hosted by the Center for Immigration Studies, which has been branded an "anti-immigrant hate group" by the Southern Poverty Law Center, Homan said: "Children and parents get separated every day across this country when a parent is charged with a criminal offense. It's sad to see children cry when you take a parent out of a home, but because it's sad, doesn't mean that we ignore the law."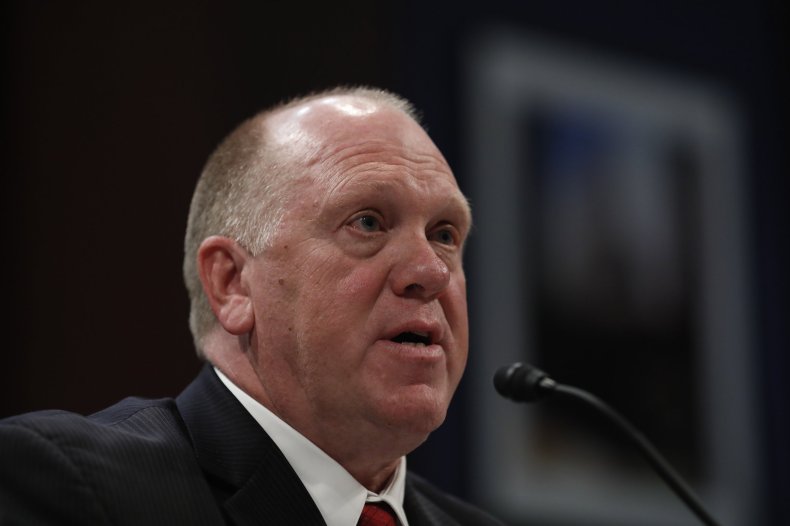 "Those who choose to come between the ports of entry are committing a crime," said Homan, who is set to retire later this month, after 34 years in federal law enforcement.
Homan's comments came after the United Nations urged Washington to immediately halt its new "zero tolerance" practice of separating families caught crossing into the U.S., with parents taken to federal jail and children taken into the custody of the Department of Health and Human Services.
The U.N. human rights office said it was deeply concerned over the policy announced by Attorney General Jeff Sessions last month, with spokeswoman Ravina Shamdasani writing in a statement that the practice "amounts to arbitrary and unlawful interference in family life and is a serious violation of the rights of the child."
"The use of immigration detention and family separation as a deterrent runs counter to human rights standards and principles," Shamdasani said.
"The child's best interest should always come first, including over migration management objectives or other administrative concerns," she asserted. Shamdasani added, "It is therefore of great concern that in the US, migration control appears to have been prioritised over the effective care and protection of migrant children."
Related: U.N. calls on Trump administration to stop separating immigrant children from parents
In early May, as many as 658 children were separated from their parents at the border.
The ICE chief said that he felt "bad" after being shown a video by a reporter of a father being arrested as his children cried, but he said ICE agents and officers "have a job to do."
"I feel bad. Law enforcement officers throughout this country see sad things every day, but we have a job to do. It doesn't mean it's sad, so we ignore it," Homan said.
"One thing you got to remember, for that parent who was arrested and his child crying and feeling bad about it, I get it, but what responsibility does he have in this? He chose to enter the country illegally in violation of federal law. He chose to do that intentionally," the ICE chief said. He added, "He put himself in the position."
However, Homan also said that he believed there is a lack of understanding about ICE's role in separating families, arguing that Border Patrol is largely responsible for enforcing the new policy.
"First, ICE isn't separating families. It's happening on the Border Patrol," Homan said, adding that he did not mean to "throw CBP [U.S. Customs and Border Protection] under the bus" and supports the policy.
"CBP decides who we're getting. Because of that prosecution, they are separating families. I transport the children to a [Department of Health and Human Services] facility. That's our job," he said.
The ICE acting director explained that because ICE is not allowed to detain children for more than 72 hours, "they must be given over to Health and Human Services."
"If families come to the board of entry to claim asylum, which they have the right to do, they won't be separated because they have a right to claim asylum," he added. "But those who choose to violate law between the ports of entry are committing a crime."
The ICE director compared the separation to families he saw separated as a police officer in New York whenever a parent was arrested for a criminal offense. He stated, "Children and parents get separated every day across the country when a parent is charged with a criminal offense."
Related: What is the Center for Immigration Studies? ICE head Thomas Homan criticized for addressing hard-line group
The ICE acting director said he is tired of public perceptions of ICE, saying people should be focusing on Congress instead.
"A lot of people want to attack ICE. I see it every day. They want to call ICE racists, Nazis," Homan said. "If you think ICE is racist, is Congress racist because it enacted these laws? I mean think about that for a minute, but the men and women of ICE deserve thanks for this country," he added.
Asked whether ICE will "ever get back to the days of 400,000-plus removals," Homan said: "First of all, there is no quota."
"I don't put a quota on it. It's more difficult," he said. "If you look at it, 400,000 if there is 11 million illegal aliens, that's 3 percent. We need more resources to do that, more officers."
"Will we get to 400,000? I don't know. We'll keep enforcing the law we're supposed to the way it is on the books. Whatever results are there is the results. I have not put any quotas out there other than saying you can increase enforcement," Homan said. He added that he believed sanctuary cities, which prevent local law enforcement from working with federal immigration authorities, are making it more difficult for the agency to carry out its mandate.