Trump's Pick For ICE Director, Thomas Homan, Says He Will Step Down In 'Bittersweet' Decision
Acting Director of the Immigration and Customs Enforcement (ICE) Thomas Homan has announced he plans to retire this summer to focus on his family, less than six months after President Donald Trump nominated him as his pick to take on the role permanently.
"It has been the honor of my life to lead the men and women of ICE for more than a year," Homan, 57, said in a statement, adding that the decision to leave the agency was "bittersweet."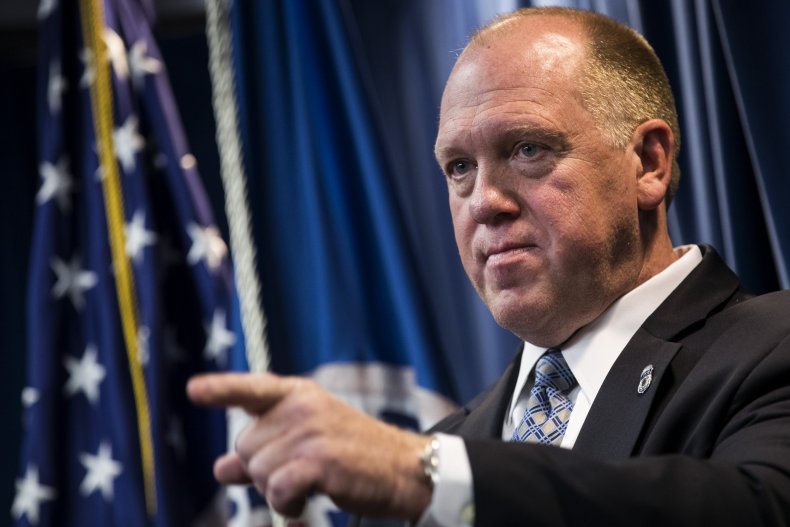 "The decision to leave federal service after more than 34 years is bittersweet, but my family has sacrificed a lot in order for me to serve and it's time for me to focus on them," he said.
Homan, who has served as ICE's acting director since Trump took office in January 2017, announced his retirement on Monday evening while accepting the award for "National Law Enforcement Leader of the Year" from the Federal Law Enforcement Officers Association Foundation.
In his statement, Homan praised the work of his agency, while also taking the opportunity to lash out at politicians who have criticized his leadership, as well as the media, writing: "I am humbled and inspired by the 20,000 American patriots who serve this agency and protect our nation, increasingly in the face of unfair and false criticism from politicians and the media.
"Because of their tremendous dedication and hard work, we have made significant progress this past year in enforcing our nation's immigration and customs laws, and in protecting public safety and national security," he said, adding: "I will continue to be a strong advocate for the workforce and for the ICE mission."
This will be the second time Homan has announced his retirement from ICE. He had already announced his retirement in January 2017, but was asked by now Chief of Staff John Kelly on the night of his retirement to stay on board at Trump's request.
"I retired January 27 and at the end of my retirement ceremony I was in the hallway with my wife shaking hands with people leaving the ceremony, I got a call from John Kelly, secretary then, American hero in his own right, saying the president would like you to stay around the agency," Homan said, speaking on Fox and Friends on Tuesday.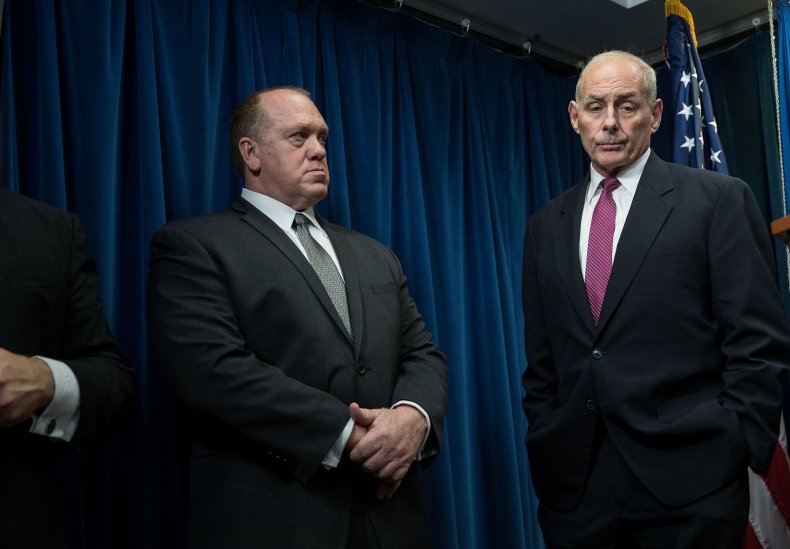 "I already had something set up in the private sector with a lot more money than I make now, but if I'm nothing, I'm a patriot. The president of the United States asked me to serve, he's a great president, he's doing the right thing for this country, so I want to come back and help him," he said.
This time, Homan said he was sticking to his plans to retire for his family. "They deserve it," he said.
He also sought to dispel rumors that his decision to step down came as a result of discord between him and U.S. Secretary of Homeland Security Kirstjen Nielsen. "I heard that, that's not true. You know, Kirstjen Nielsen, she's a patriot in her own right," Homan said, adding that "she's been very supportive of me" and the mission of ICE.
"I'm leaving for the right reasons—to spend more time with my wife and kids who have sacrificed as much as I have in the last 34 years," the ICE chief said.
Over the past year and a half, the ICE chief has emerged as a strong defender of the Trump administration's immigration policies, overseeing a widespread crackdown on undocumented immigrants across the U.S.
Homan stoked fears across the country of Trump's immigration clampdown a year ago when he told Congress that undocumented immigrants in the U.S. "should be concerned" about deportation. In the months since his announcement, the ICE chief has lived up to the threat.
Under Homan, ICE administrative arrests spiked by more than 40 percent last year, with arrests of immigrants without criminal records doubling.
The agency leader had vowed to be even more proactive in 2018 and has overseen a number of widespread raids in recent months, targeting "sanctuary cities," which prevent local law enforcement from cooperating with federal immigration authorities.
ICE arrested as many as 225 people in raids across New York last month in "Operation Keep Safe," and arrested hundreds more in a four-day sweep of Northern California in March.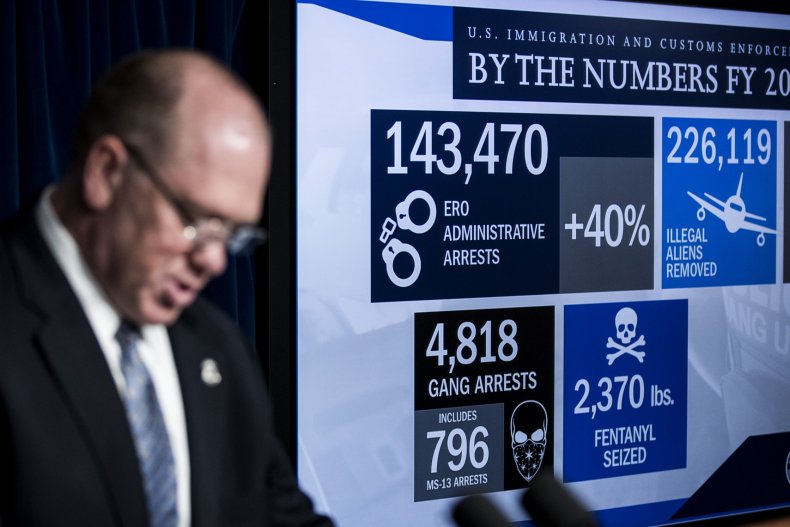 While news of the ICE chief's plans to step down might inspire feelings of relief in some, law enforcement groups have lamented the loss of his leadership.
"The government and America is losing a fine public servant who has served multiple administrations proudly and effectively," the National Sheriffs' Association (NSA) said in a statement.
"He always had the country's best interest in mind and understood the importance of local law enforcement and the sacrifice those men and women make each day," the NSA underscored. "The next director has large shoes to fill, but we look forward to continue working with ICE to keep our communities safe."
In a March interview with Newsweek, former ICE Deputy Chief of Staff John Amaya, who stepped down after Trump's election to make way for the new administration, described Homan as an "intense" leader who was "very passionate" about ICE's mission and equally passionate about his family.
"If you look, Tom is a very direct, unapologetic person, okay?" Amaya said. "He lives his life deliberately, with intensity and that's in both his job, and, I think he would be proud to hear, in his personal life."
With Trump's election, Amaya said the "gloves were off" for Homan, meaning there was "really no limit to who he [could] pursue." Amaya added, "But the numbers will tell that story. We can look back in a year at how fruitful they have been."