Top ICE Official Matthew Albence Claims Family Detention Centers Are Just 'Like Summer Camps'
A top Immigration and Customs Enforcement official compared family detention centers for immigrants to "summer camps" during a Tuesday congressional hearing on the Trump administration's efforts to reunite families separated at the U.S.-Mexico border.
Asked at the Senate Judiciary Committee hearing to describe the family residential centers, or FRCs, where detained immigrant children and their parents have been held, ICE's Enforcement and Removal Operations chief Matthew Albence said he would say the facilities were more "like summer camps" than jails.
"These individuals have access to 24/7 food and water. They have educational opportunities. They have recreational opportunities, both structured as well as unstructured," Albence said in his response.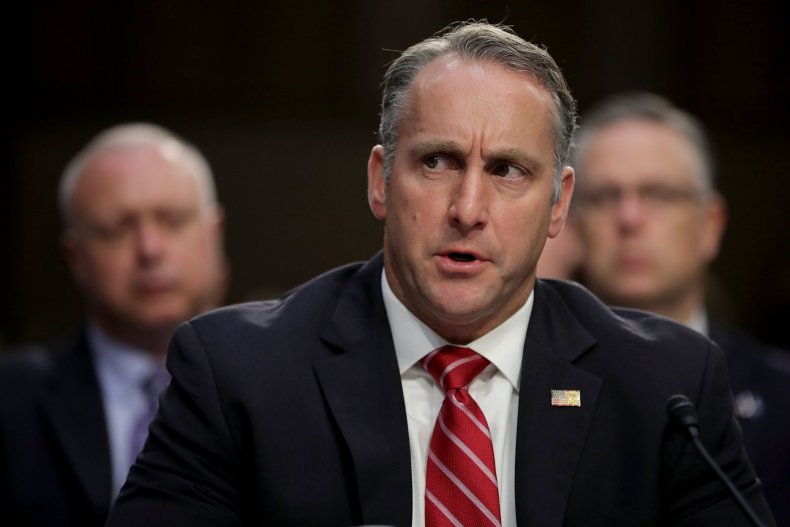 "There's basketball courts, there's exercise classes, there's soccer fields that we put in there," he continued.
He said detainees also had "extensive medical, dental and mental health opportunities," while being held in federal custody. "Many of these individuals, the first time they've ever seen a dentist is when they've come to one of our FRC centers," he said.
Later in the hearing, Senator Mazie Hirono, a Democrat from Hawaii, asked panelists, including Albence, if they would feel comfortable sending their own children to a family detention center.
Albence said Hirono's question was "missing the point," adding: "These individuals are there because they've broken the law."
Another panellist, Jennifer Higgins, the associate director of refugee asylum and international operations at U.S. Citizenship and Immigration Services, said it was a "difficult question to answer."
"It's difficult to put myself in the position of an individual who takes a dangerous journey in which their child could be harmed, let alone whether I would send my children."
Under the Trump administration's family separation policy, about 2,500 children were separated from their parents at the U.S.-Mexico border.
Thousands of families try to come to the U.S. each year, with many fleeing violence, political persecution or instability in their home countries.
Lee Gelernt, project director at the American Civil Liberties Union Immigrants' Rights Project, said comparing detention centers to summer camps was "shocking."
Speaking with CNN's "At This Hour" on Tuesday, Gelernt said: "It doesn't matter what the facilities look like. The trauma is from separating the child from the parent."
Albence was not the first to make this comparison, however.
Read more: Top Trump Official Blames Sessions for Family Separation Policy
Democratic Representative Eliot Engel of New York told The New York Times that a shelter he visited in Yonkers seemed "like summer camp."
The Times report, however, described the strict rules of these facilities. The children were made to wash and mop bathrooms, including scrubbing sinks and toilets, according to the report, were told not to touch one another, even if they were family members, and not to share food, for example. The story also pointed out that the detention centers varied widely in terms of what amenities and facilities were available to detainees.