Former Joint Chiefs Chairman Breaks Silence on Trump's Leadership, Says Trump Shows 'Disdain' for Peaceful Protests
Mike Mullen, the former chairman of the Joint Chiefs of Staff, called President Donald Trump's Monday visit outside of St. John's Church in Washington D.C. a "stunt" while saying he thinks Trump has "disdain" for peaceful protests and will dangerously politicize the military against American citizens.
"It sickened me yesterday to see security personnel—including members of the National Guard—forcibly and violently clear a path through Lafayette Square to accommodate the president's visit outside St. John's Church," Mullen wrote in an op-ed published in The Atlantic.
Mullen says he has been "reticent" to criticize Trump's leadership until now, "but we are at an inflection point, and the events of the past few weeks have made it impossible to remain silent," he wrote.
"Whatever Trump's goal in conducting his visit, he laid bare his disdain for the rights of peaceful protest in this country, gave succor to the leaders of other countries who take comfort in our domestic strife, and risked further politicizing the men and women of our armed forces," Mullen wrote.
"There was little good in the stunt," he added.
Mullen denounced violence, vandalism and looting that has occurred alongside the protests for George Floyd, the 46-year-old black man who died in police custody.
While acknowledging the institutional racism and police brutality that sparked the nationwide protests, Mullen wrote that he doesn't trust Trump to wisely use of armed forces to enforce domestic laws nor does he think the protests have warranted a heavy reliance on military troops yet.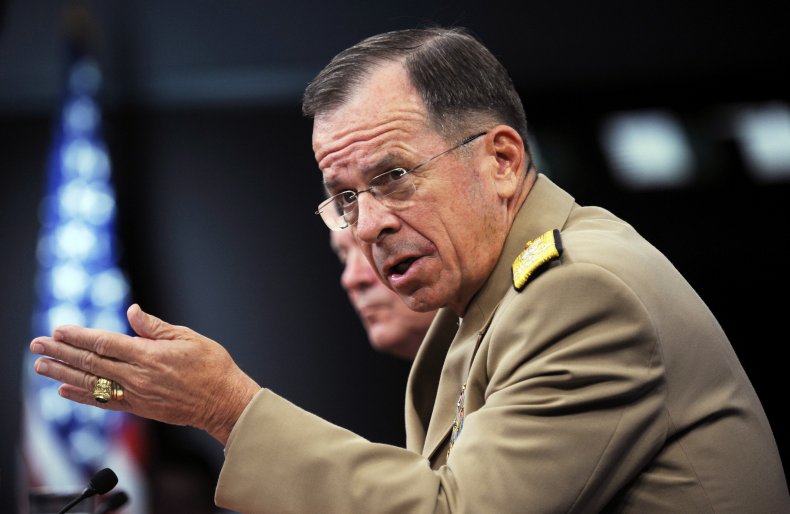 In a public briefing on Monday evening, Trump referred to rioters as "domestic terrorists" and said he had recommended state governors to deploy the National Guard "in sufficient numbers that we dominate the streets." Trump also promised to deploy the military if governors don't comply said the government will pursue severe criminal penalties for organizers of protests.
Before Trump's comments, U.S. Park Police and the National Guard used tear gas and concussion grenades to clear a peaceful protest out of Lafayette Park so Trump could walk to a photo-op outside the historic St. John's Episcopal Church after his public briefing.
The U.S. Park service claims no tear gas was used on protestors, but Rev. Gini Gerbasi, a former assistant rector of St. John's who was present during the protest, says it was.
"I remain confident in the professionalism of our men and women in uniform," Mullen wrote. " But I am less confident in the soundness of the orders they will be given by this commander in chief... Furthermore, I am deeply worried that as they execute their orders, the members of our military will be co-opted for political purposes."
Mullen served as the 17th Chairman of the Joint Chiefs of Staff from October 1, 2007, to September 30, 2011. The Joint Chiefs of Staff is a body of uniformed leaders in the U.S. Department of Defense which advises the president, the defense secretary, the Homeland Security Council and the National Security Council on military matters.