Former Labour Leader Jeremy Corbyn Suspended Over Anti-Semitism
The former leader of Britain's opposition Labour Party has been suspended following a damning report that found his party acted unlawfully in its treatment of Jewish members.
Jeremy Corbyn has had the whip removed following a report by the Equality and Human Rights Commission (EHRC) that found Labour, while under his leadership, committed unlawful acts of harassment and discrimination.
The EHRC today outlined the findings of its 18-month investigation and said: "Our analysis points to a culture within the [Labour] Party which, at best, did not do enough to prevent anti-Semitism and, at worst, could be seen to accept it."
In response to the report, the ex-Labour leader said: "One anti-Semite is one too many, but the scale of the problem was also dramatically overstated for political reasons by our opponents inside and outside the party, as well as by much of the media. That combination hurt Jewish people and must never be repeated.
"My sincere hope is that relations with Jewish communities can be rebuilt and those fears overcome. While I do not accept all of its findings, I trust its recommendations will be swiftly implemented to help move on from this period."
Jewish groups reacted in anger at the statement, which they argued again made reference to complaints of anti-Semitism being "fake or smears", despite that very response being ruled unlawful as part of the EHRC's investigation. The Campaign Against Anti-Semitism has submitted a formal complaint against Corbyn's statement.
A spokesperson for Labour said: "In light of his comments made today and his failure to retract them subsequently, the Labour Party has suspended Jeremy Corbyn pending investigation.
"He has also had the whip removed from the Parliamentary Labour Party."
Corbyn responded on Twitter, saying he will "strongly contest the political intervention" to suspend him.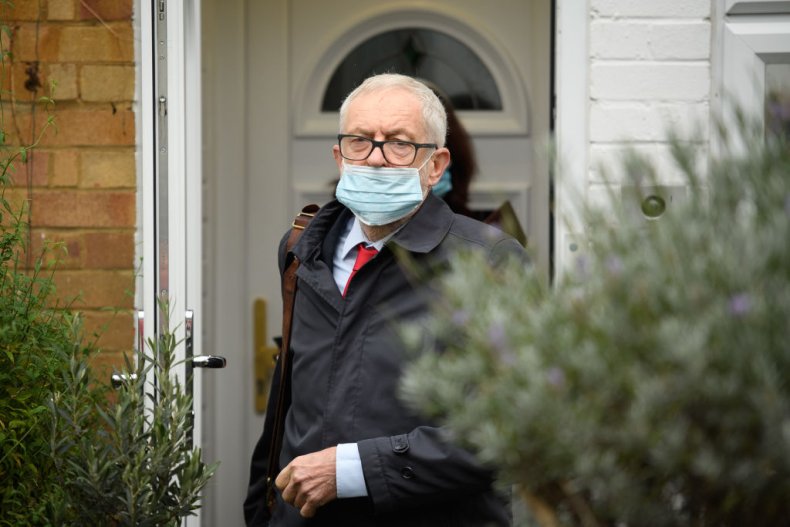 Former MP Luciana Berger quit the Labour Party in 2019 over the anti-Semitic abuse she suffered. Following the publication of the report, she said: "Anti-Jewish discrimination was a real and widespread phenomenon across the party, from top to bottom.
"It was not invented, concocted or exaggerated. It took place in plain sight. Party processes gave the anti-Semites cover. The party facilitated a culture of bullying, bigotry, and intimidation against Jewish people from within its ranks. At every step of the way, Jeremy Corbyn enabled this to happen."
She said she was "appalled" by Corbyn's response and said he should instead "take responsibility, rather than seek to continue to obfuscate".
Withdrawing the whip is one of the most severe punishments a party can impose on one of its MPs. It means the MP is effectively expelled from the party but hangs on to their seat. They must sit as an independent MP until their party decides to restore the whip.
Corbyn's successor as leader, Sir Keir Starmer, has already said the party will work to implement the commission's recommendations and publish an action plan within six weeks. Starmer said the findings amounted to "a day of shame" for Labour.
In response to questions over Corbyn's reaction, the opposition leader said: "Those who deny there is a problem are part of the problem. Those who pretend it is exaggerated or factional are part of the problem."
Starmer told a press conference: "I found this report hard to read. And it is a day of shame for the Labour party. We have failed Jewish people, our members, our supporters, and the British public. And so, on behalf of the Labour party, I am truly sorry for all the pain and grief that has been caused."
In his initial response, Corbyn said that anyone claiming there is no anti-Semitism in the Labour Party "is wrong", and expressed his regret over how long it took to "deal with it", as Jewish members wanted, and "deliver that change".
The EHRC report did not explicitly name Corbyn but "identified serious failings in leadership and an inadequate process for handling antisemitism complaints". It said it found "specific examples of harassment, discrimination and political interference" in the Labour Party, while "a lack of leadership" made it "hard to reconcile with its stated commitment to a zero-tolerance approach to anti-Semitism".
EHRC lead investigator Alasdair Henderson told a press conference that the blame could not be placed "solely on one person", but said "ultimate responsibility" lay with Corbyn.
When asked if he accepted some blame for previously being part of Corbyn's shadow cabinet, Starmer insisted he had spoken out in the past, but added: "We all have to accept responsibility."
He said: "This report is painful to read, but I urge everyone to do so as it must be a line in the sand."