Cheryl Gould, the former Vice President of NBC News, has publicly criticized the network for agreeing to host Republican President Donald Trump's town hall after Trump refused to attend a virtual debate against his Democratic presidential nominee Joe Biden.
"I am dismayed—more like disgusted—by NBC's decision to air Trump's 'I won't play by the rules so let me make my own rules' town hall opposite Biden's," Gould wrote in a public Facebook post. "Is this what the new leadership at NBC thinks is the right thing to do? To be complicit in Trump's tantrum? A shameless grab for ratings!"
"I wouldn't be shocked if this were Fox News. But NBC? My former home?" Gould continued. "I've never been happier to say the word 'former.'"
NBC announced that it will air Trump's town hall on Thursday at 8 p.m. E.T., the same time as Biden's town hall on ABC.
Trump refused to debate Biden in a virtual debate format after the non-partisan Commission on Presidential Debates (CPD) said the second debate, originally scheduled for this Thursday, would occur virtually to minimize any potential COVID-19 exposure following the announcement of Trump's positive coronavirus diagnosis on October 2.
The Trump campaign accused the CPD of changing the already agreed-upon debate format as well as threatening to cut the president's microphone if he tried to interrupt Biden's responses as he did repeatedly during the September 29 debate.
Trump also alleged that Biden would try and cheat during a virtual debate by using a computer to provide his answers, though Trump provided no evidence to back his allegation.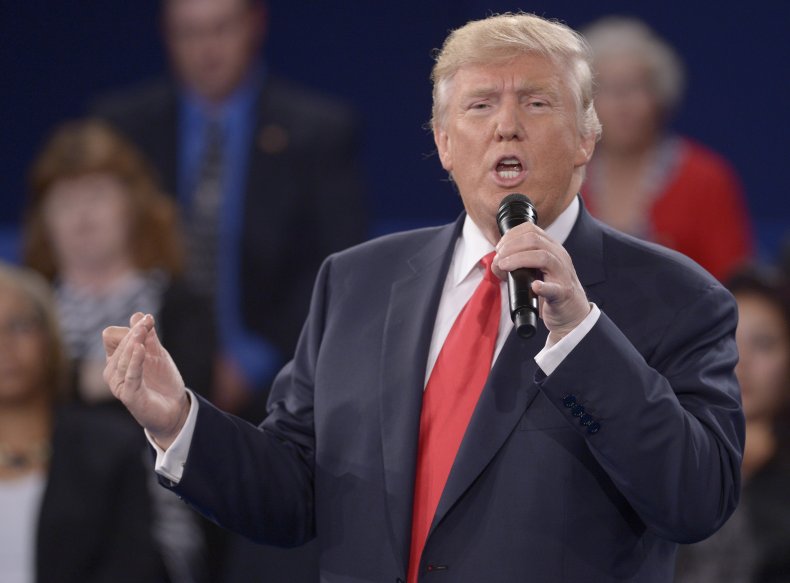 Gould isn't the only former NBC head to criticize the network for its decision.
Vivian Schiller, former chief digital officer at NBC News, wrote in a Wednesday Twitter post, "The point of a news organization is to serve the public. This is the opposite. @NBCNews could literally run this any other day, or any other time. Shameful."
Mark Lukasiewicz, former senior vice president of specials at NBC News, wrote in his own Wednesday tweet, "This is a bad result for American voters, who should not be forced to choose which to watch. So much is still going wrong with how TV journalism copes, or still fails to cope, with @realDonaldTrump."
Today show co-host Savannah Guthrie will moderate Trump's town hall.
Because NBC will simulcast the event on MSNBC, CNBC and online, it's likely to get a wider audience than Biden's ABC town hall, according to CNN. NBC is also the network that used to broadcast The Apprentice, the reality show that helped give Trump national media recognition.
Newsweek contacted NBC News for comment.