During a Friday night interview with FOX News medical expert Dr. Marc Siegel on Tucker Carlson Tonight, Republican President Donald Trump said that he would welcome the next presidential debate to be held outside rather than virtually so that Democratic presidential nominee Joe Biden can't read his answers off of a computer.
"So I have a question and this is my own fantasy, Mr. President. All of this back and forth controversy about the next debate. And if you test negative, and you've said you want it to be in person, how would you feel about a debate outside on Miami Beach?" Siegel asked.
"Well, I'd have no trouble with it at all. In fact, when we have rallies outside, we've had no problem whatsoever. Outside is better than inside, as you know, with this crazy thing that's gone on," Trump answered.
During the first presidential debate, Trump also said his political rallies, which largely violate city rules requiring masks and social distancing, have never resulted in any COVID-19 outbreaks. However, on Friday, Minnesota state health officials said at least nine attendees of Trump's September rally in the city of Bemidji later tested positive for COVID-19.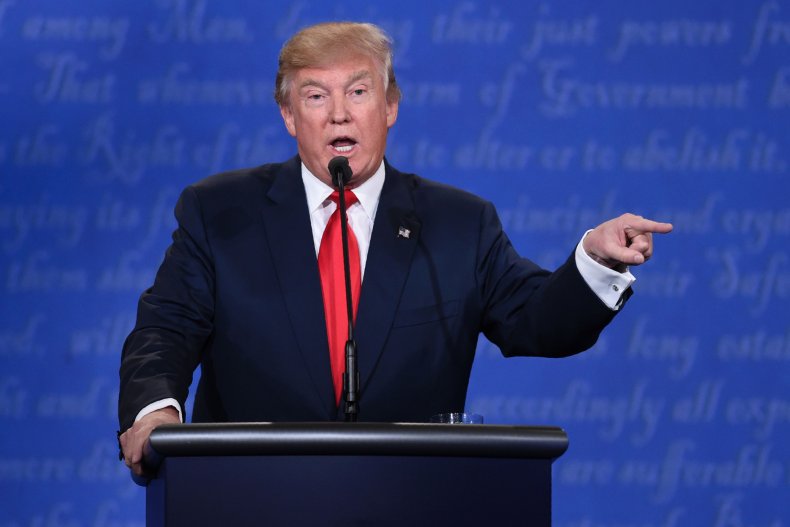 "But, you know, we've always had a problem with this commission—this commission's been ridiculous, frankly," Trump continued. His comment was a possible allusion to the nonpartisan commission's desire to impose additional rules, such as cutting off the president's microphone, if he continually interrupts his opponent.
This week, the Trump campaign also refused to participate in an online format for the second debate. The commission wanted to go online to avoid potentially exposing Biden and other attendees to COVID-19 since Trump tested positive for the virus last week.
"But who wants to do a debate on a computer?" Trump rhetorically asked during the Friday night interview. "I don't. Virtual debate—you got to be there. We did great in the last debate. You have to be there, you have to see the person. You can't do it on a computer," he continued.
"Besides that, you know Joe has a tendency to get the answers and read them off a computer when he's asked questions. So I'd rather—I would love to do it. Outside would be fine as far as I'm concerned," Trump concluded.
Trump has accused Biden in the past of using a TelePrompTer during the debate or using an earpiece to be fed answers, however, no evidence exists to back up these claims. Biden has denied using either during debates.
Moments before the first presidential debate, Trump's campaign allegedly asked for Biden to be checked for hidden earpieces before taking the stage. Such a request implies that Biden would need to cheat in order to perform well.
A similar conspiracy theory arose about 2016 Democratic presidential nominee Hillary Clinton during her debates with Trump, but the fact-checking site Snopes.com rated the theory as "false."
Newsweek contacted the Biden campaign for comment.