Former NFL Executive Says He Would Not Be Surprised 'To See Antonio Brown Be a Dallas Cowboy'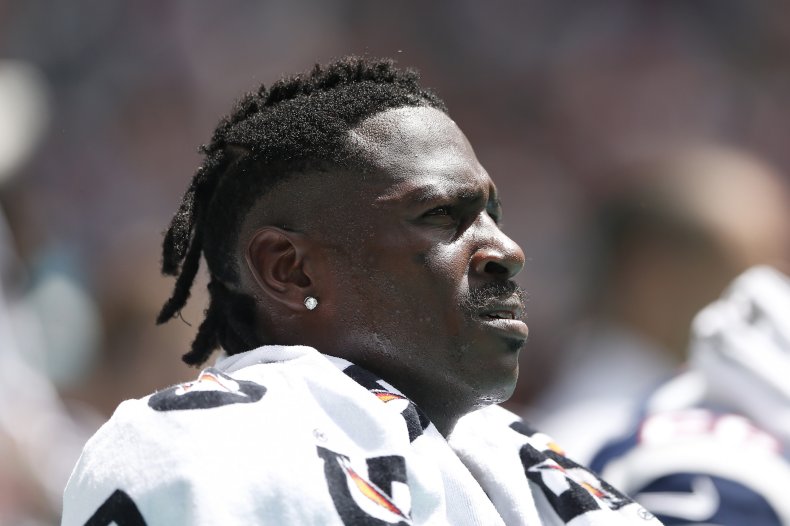 On Monday morning, former NFL executive Mike Tannenbaum stated that he believes some of the recent comments by Dallas Cowboys owner Jerry Jones could lead to the team signing free agent wide receiver Antonio Brown.
"If and when his eligibility is cleared up by the league and the players association, and he is available to play, reading between the lines of Jerry's comments, I would not be surprised to see Antonio Brown be a Dallas Cowboy between now and the end of the season," Tannenbaum said while appearing on ESPN Radio's Golic and Wingo.
Tannenbaum is speaking about the comments made by Jones following the Cowboys 26-15 loss to the Buffalo Bills on Thanksgiving. While speaking to reporters at the end of the game, Jones stated "there aren't too many things I wouldn't do financially to win another Super Bowl. I'll tell you what – it would be something indecent. There isn't much I wouldn't do."
After the Cowboys' previous loss to the New England Patriots, many believed that the team would consider parting ways with head coach Jason Garrett. Jones disputed those claims during his Thanksgiving press conference, by saying "I'm just not going to make a coaching change." The comments led Tannenbaum to believe that a player addition may be more likely than a change in coach.
"We all listened to Jerry Jones after the game, he talked about 'I'm gonna do whatever it takes to get this team in the playoffs' including keeping Jason Garrett as the head coach," Tannenbaum said.
Tannenbaum went on to talk about how if the Cowboys stick with Garrett as their head coach, signing Brown could help Jones' plan to do anything it takes to make a Super Bowl push. "If all my chips are in, I'm doing everything I can to win this season, why wouldn't they sign Antonio Brown," Tannenbaum said.
Brown has only played in one game this season after being released first by the Oakland Raiders and then by the New England Patriots. His most recent stint with the Patriots ended after he was accused of sexual assault by his former personal trainer.
The former NFL executive made sure to say "if" Brown's eligibility is cleared up because it is likely that he may not be able to play for the remainder of the season.
Brown recently had a meeting with the NFL to discuss these allegations, but afterward, ESPN's Adam Schefter reported that "barring a significant turn of events, Brown is not expected to play again this season."
Despite this claim, Brown's agent Drew Rosenhaus told ESPN that he believes Brown will play again this season.