Former Pence Aide Bemoans 'Snake-Oil Salesmen' Advising Trump Before Jan. 6
The former chief of staff to Vice President Mike Pence said that former President Donald Trump received "a lot of bad advice" ahead of January 6, 2021—the day Congress convened to certify President Joe Biden's election victory and rioters descended on the U.S. Capitol.
Pence's former aide, Marc Short, was asked about legal advice Trump received ahead of the certification of the 2020 election during an interview on NBC's Meet the Press Sunday.
Host Chuck Todd asked if Trump had "gotten legal advice that said, 'Well, you can't decide which electoral votes are yes and no, but you can adjourn this session and delay things.' Had he gotten legal advice to do that? Was the vice president considering it?"
"No, Chuck. I think unfortunately the president had many bad advisers who were basically snake oil salesmen giving him really random and novel ideas as to what the vice president could do," Short responded.
"Are you chalking this up to bad advisers, or was the former president seeking the bad advice?" Todd interjected.
"I don't know the answer to that question. I think that honestly he did get a lot of bad advice," Short said.
"But I think that it was not something that the vice president—from the very beginning, he counseled the president that 'I don't think I have that authority.' Always willing to look at something that you want to send our way, but never thought he had that authority," he added.
Short's interview came days after the former vice president gave a speech rebuking Trump's claim that in his position, Pence could have overturned the 2020 election results. Trump has baselessly contended that widespread election fraud took place during the election.
In his interview on Sunday, Short said that Trump's claim that Pence had the authority to overturn the election "merited response."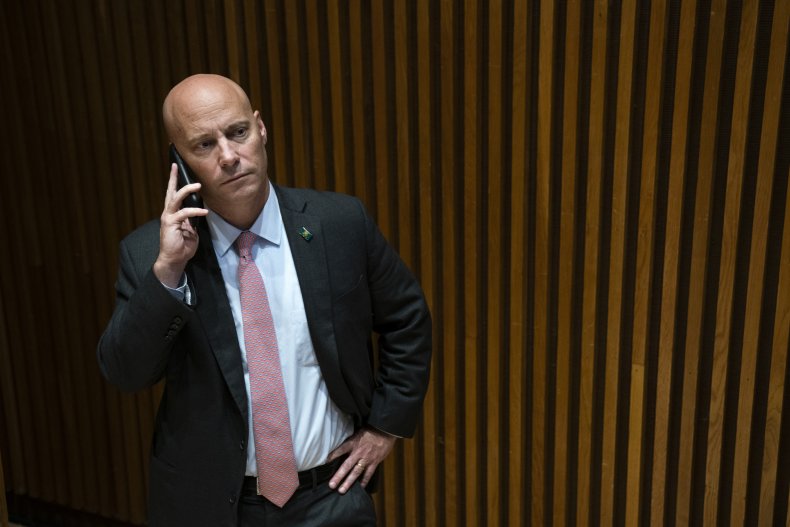 "Of course, there's nothing in the 12th amendment or the Electoral Count Act that would afford a vice president that authority," he said, noting that Republicans wouldn't want Vice President Kamala Harris to be able to use authority to reject election results in 2024.
Todd also pressed Short about why Pence didn't go further in his speech.
"Why did he stop there? Why didn't he say 'Look, it's been a year. There's just no evidence out there. This was a free and fair election. The Trump-Pence ticket lost.'"
Short said that "like a lot of people the vice president has significant concerns about the election."
Todd pointed out that there has been no evidence of widespread voter fraud in the election
Short responded there were "significant concerns" about what "transpired" with election policies in states such as Georgia, Pennsylvania and Wisconsin.
However, Short noted that Constitution is clear about what the process is for challenging election results: "At the point of the Electoral College meeting on December 14, at that point, the process has concluded."
Newsweek reached out to Trump's press office for comment but did not receive a response before publication on Sunday afternoon.