Former Pizza Bully Reaches Out to Elementary Classmate in Heartwarming Clip
The public apology of a man who used to steal his elementary school classmate's pizza has gone viral and resulted in a reunion about 15 years in the making.
Joe Erwin, 24, of Tulsa, Oklahoma, posted a pair of TikTok videos, including one that has been viewed over 7 million times, discussing how he used to steal pizza during lunch from his former friend, Dylan.
The video from March 15 began with Erwin asking viewers, "What's a terrible thing you did as a child that you feel really bad about as an adult?"
"I used to steal a kid's lunch every day and eat it right in front of him," Erwin admitted, referring to Dylan. Erwin said he would simply misdirect Dylan and put his pizza slice on his plate. "We both always got pizza and we always sat next to each other. We actually played at recess together; we were friends.
"But he was a little guy and—surprise—I was a fat kid," he continued. "I thought, 'Since he's such a little guy, he doesn't get hungry like I do."
Dylan would tell Erwin, "I don't really like when you do that." Erwin would reply by saying he was just very hungry.
At the end of the video, Erwin asked his viewers if any of them knew a guy named Dylan in his mid-20's who attended Jenks West Elementary in Jenks, Oklahoma.
"Dylan, if you're out there, I'm sorry man," Erwin said. "I want to take you out to the most expensive pizza place you could think of. I know it's not gonna completely make it right, but I at least want to say I'm sorry."
Erwin told Newsweek he had been thinking about reaching out to Dylan for years, and making a video now made sense considering his social media footprint on TikTok and YouTube.
He said it's his most-viewed video he ever made "by far."
"I don't know if I thought [the video] would get as big as it did," Erwin told Newsweek. "I knew basically if anything I could make some people laugh and maybe encourage them to reach out to people whenever they were young. Stuff like that, people don't forget and sometimes people have trauma. It's never too late to say sorry."
He said it has probably been 14-15 years since he last saw Dylan, who left Erwin's elementary school after first grade.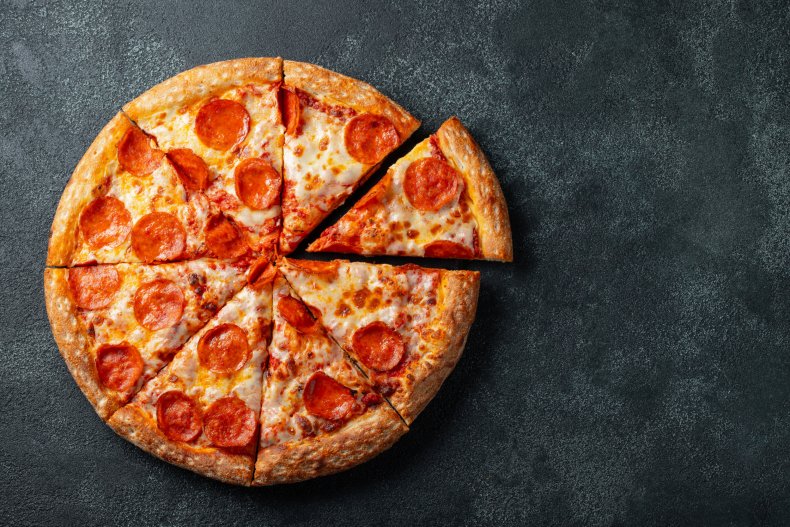 There were jokes posted in response, including that Dylan grew up to be Papa John—or that he would accept Erwin's offer only to have the same situation occur again.
"I used to have a cousin named Dylan who lived in that area, would be about that age now but he died of starvation before the 2nd grade," one user joked.
Others referred to Erwin as a "bully," to which he responded that atonement was part of his video's intent.
"I'm not trying to hide that at all," Erwin told Newsweek, adding that the video was part of his personal growth and he hoped he could encourage others to do the same. "If I need to come out and say that's bullying, absolutely. Did I know when I was 6 years old? No, not at all."
According to data compiled from 2019 by PACER's National Bullying Prevention Center, one out of every five students reported being bullied—with 41 percent of those students saying they expected bullying to reoccur.
Six days later, Erwin posted a video saying that he got in touch with Dylan. A friend of Erwin's provided a yearbook that led to finding out Dylan's last name, which made an online social media search quite easy.
Dylan did respond, saying "of course" he remembered Erwin but that he didn't know it was him who stole his pizza slices. He added that he's seen some of Erwin's old TikTok videos.
The video was viewed 447,000 times.
"Next time I'm in Tulsa (where Erwin lives), pizza's on you," Dylan responded.
On Monday, or three weeks after Erwin posted the video saying he found Dylan, Erwin posted a comment on the video saying that a date had been set between him and Dylan.
Erwin told Newsweek he was confident in Dylan getting his message, due to "the power of social media." Now, the pair plan to meet May 14 in Kansas City—or about four hours from Tulsa. Erwin will record the meet-up and upload it on YouTube.
"We literally haven't seen each other since first grade," he said.
Many TikTokers have become invested in the saga of Erwin and Dylan.
"You weren't a terrible person, you were a kid...kids make mistakes...you grew up, learned from them & are trying to make amends," one user said. "good for you!"
Reunions are quite popular on the platform, representing at least 2.2 billion videos.
Updated 04/12/2022, 4:54 p.m. ET: This story has been updated with the verified TikTok video.
Updated 04/12/2022, 3:22 p.m. ET: This story has been updated with comments from Joe Erwin.