Former U.S. President Jimmy Carter on Wednesday said he is "distressed" by the Trump administration's decision to suspend funding to the World Health Organization.
"I am distressed by the decision to withhold critically needed U.S. funding for the World Health Organization, especially during an international pandemic," Carter said in a statement. "WHO is the only international organization capable of leading the effort to control this virus."
Carter's remarks come one day after President Donald Trump announced that the U.S. government would halt funding for the WHO while his administration conducts a review to determine whether the organization "covered up" the coronavirus outbreak in the early stages.
"The world depends on the WHO to work with countries to ensure that accurate information about international health threats is shared in a timely manner," the president said during the White House Coronavirus Task Force briefing on Tuesday.
Newsweek reached out to the White House for comment but did not receive a response in time for publication.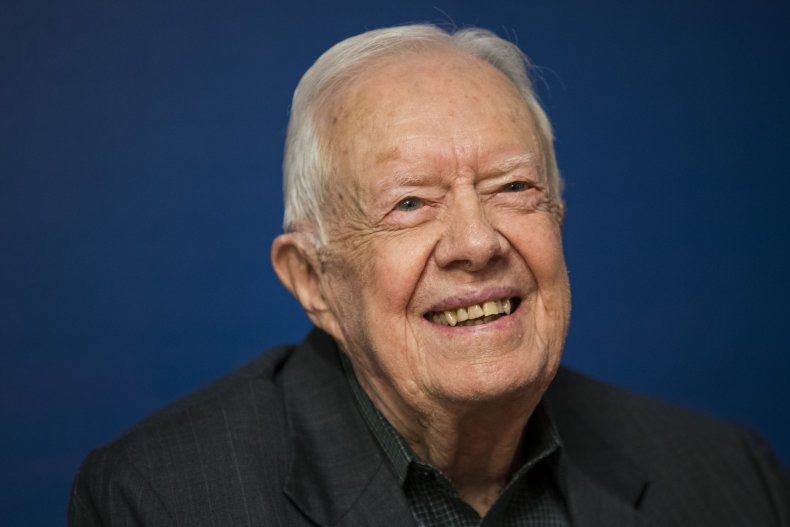 The announcement came as the president continued to defend his handling of the worst global pandemic in decades from critics who called his early response inadequate. Trump has also lashed out at the media on numerous occasions over questions about whether he downplayed early warnings from health officials and members of his own administration.
Trump said the U.S. contributes around $400 to $500 million to the WHO per annum, while China only funds "roughly $40 million."
"Had the WHO done its job to get medical experts into China to objectively assess the situation on the ground and to call out China's lack of transparency, the outbreak could have been contained at its source with very little death," he continued.
In response, WHO Director-General Tedros Adhanom Ghebreyesus said that while there will be time for United Nations member countries, such as America, to probe its handling of the COVID-19 pandemic, the focus now should be on addressing the outbreak.
Ghebreyesus did not address every issue raised by Trump but admitted that he has "no doubt" the agency could improve on certain areas. "But for now, our focus, my focus, is on stopping this virus and saving lives," he said, before calling the U.S. a "long-standing and generous friend."
"This is a time for all of us to be united in our common struggle against a common threat, a dangerous enemy," he added. "When we're divided, the virus exploits the cracks between us. We're committed to servicing the world's people and to accountability with the resources we're entrusted."